This wake homily for Mr. John Gokongwei, Jr. was delivered on 11 November 2019.
I was instructed by Robina to keep this homily short, so like an obedient Jesuit, I will keep it short and sweet.
No doubt, in the next few days, much will be said about Mr. John. People will certainly talk about his extraordinary life, for indeed it has been an extraordinary life on so many levels.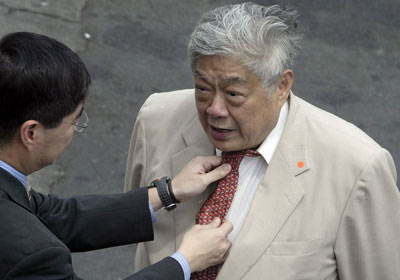 People are bound to mention his privileged Chinese-Filipino background growing up in Cebu, where his father had owned the largest and only air-conditioned movie house in the city, followed by the unexpected years of hard struggle after his father's death, when despite his hard work with his mother selling roasted peanuts in their backyard, they had no choice but to send the other children to China. People will recount the often-told story of how during those difficult years, the fifteen-year old boy would wake up at 5 every morning to bike to the old Carbon Public Market to sell spools of thread, soap, and candles.
People are sure to pay him tribute for a truly remarkable business acumen that led to all his accomplishments, building, among others, a snacks, sweets, and beverage business empire operating in several countries across Asia. What is most notable in his business endeavors, however, was that he also always somehow managed to keep his eye on the ordinary Filipino's plight–like the way he came up with Blend 45 because the leading brand in instant coffee during the post-war years was too costly, and of course, in more recent years, Cebu Pacific Air–today the country's largest domestic carrier–because to put it simply, he wanted every Filipino to fly.
His speeches will be reread, his words re-quoted, and I suspect that his stubborn hope in the future and unwavering faith in the Filipino will be mentioned. In his 2007 commencement address to graduates of Ateneo de Manila's John Gokongwei School of Management, he minced no words about the problems the country was facing in light of globalization, but against every expectation, he shared his infectious excitement about the future and his fervent hope that the graduates of the school bearing his name would work hard to turn the Philippines around.
My favorite story about Mr. John, however, has to do with–of all things–a job interview. Once he invited a friend of mine to his office for a job offer. When I asked my friend about it afterwards, all he could say was that Mr. John spent half the time talking about how proud he was of his children. Among the many important roles that he played in his life, the one he made sure to play well, the one that he considered his defining role in life, was as father to his children and as head to his family.
Of course the best stories about Mr. John–the stories that will matter the most–will come from those who have known him personally. It is said that it is only when someone passes on to the next life that the meaning of that life will be fully disclosed and understood. So as we gather these days to pray for the repose of Mr. John's soul, let us also gather our personal memories of him, picking out the best of our memories because our faith tells us that once we pass from this life, once we are united with Christ, we become our best selves. For Christ's love transforms us to our loveliest and most lovable self.
Finally, let us make sure to count the many blessings that we have received through the life and person of Mr. John. Together we give thanks to God for the difference he has made in our lives and all the good that he has done for our country.