This homily is based on John 1:35-42.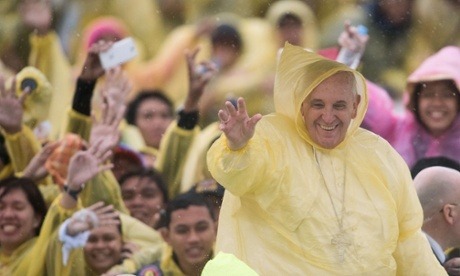 Like many Filipinos these days, I am infected with Francis-mania, and I offer no apologies or explanation for it. Even if I am miles away from the Philippines, I exhibit all the symptoms of this collective infatuation with the Pope that's sweeping the Philippines. I've been watching every possible online coverage of the papal visit, reading every homily, and scouring the Internet for every possible picture of the Holy Father.
This morning I watched Pope Francis' Mass at Tacloban. Braving wind and rain, he stood before thousands of Yolanda survivors, significantly clad in a yellow plastic raincoat like the crowd that had gathered there to see and hear him. Pope Francis spoke to them about how learning about the catastrophe 14 months ago, he had wanted so much to be there with them and though late, finally made it. His words of consolation were simple–spoken in his native Spanish. They touched the heart. The thousands who watched and listened to this man in the rain–their eyes were wet, and not from the rain.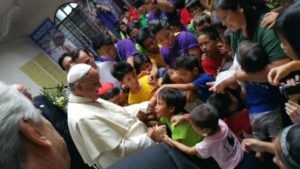 Teary-eyed myself, I couldn't help but remember the words of our Lord today: "You will be called Peter."
As Pope, Francis–the former Jorge Bergoglio, the Jesuit Cardinal of Argentina–is the successor of Peter, the head of the Catholic Church, although he has always preferred to refer to himself as the "Bishop of Rome." Since his election, he has spoken and acted in exactly the same way as we imagine Peter would in the world today–like, in the Pope's own words, "a shepherd who smells like his sheep."
On his way to the stage for his meeting with families at the Mall of Asia, the Holy Father went out of his way to greet and bless some well-wishers. Among them was a young couple who had brought with them their three-year old son, who was suffering from pulmonary arterial hypertension. Like Pope Francis, the boy has only one lung, and the parents, beside themselves with anxiety about their son's health and future, just wanted to see the Pope to get some inspiration. What they didn't expect was how their shepherd saw their boy in that crowd of thousands, bestowed his blessing, and turned to the mother to say, "Do not cry." Later the mother wrote: "Three words and everything just becomes a little bit easier to bear.
I may not be in the country for the papal visit, but as someone who has closely followed–and been constantly surprised–by this papacy from the beginning, I am grateful for this wonderful opportunity for our people to encounter the Holy Father. A few months ago, I had the chance to attend one of Pope Francis' public audiences at St. Peter's Square, and even if many of us in the crowd didn't understand a word of his talk (which was in Italian), we were inspired beyond words and moved to tears. Clearly, there is something special about this successor of Peter, in whom a journalist has written, "the papacy was made man."
His very ordinary and very human touch is what makes every encounter with him–even from a distance–so extraordinary and divine. So many of my friends in the Philippines have been trooping to the different events, waiting for hours under the sun or even in the rain just to catch a brief glimpse of Pope Francis, even from a distance. Every single one of them tells me that the mere sight of the Pope, his very presence even on TV, inevitably brings them to tears. They all swear that it's a virtual religious experience, a unique inexplicable sense of God. In a talk I heard years ago, the eminent Jesuit theologian, Fr. Catalino Arevalo, said, "Many people wonder why we almost always cry when we get an experience of God. What could be the reason? I think it's because God is infinite tenderness."
If we cry at the sight of Pope Francis, if tears well up in our eyes because of his sheer presence, as so many did during his Mass at Tacloban and in every single appearance he made during this visit, it's because through this humble shepherd of ours, we experience the infinite tenderness of God.
During his inaugural Mass as Pope in March 2013, as Pope Francis delivered his homily, Cardinal Christoph Schonborn of Vienna sat among the cardinals, helplessly reduced to tears. Leaning over to Cardinal Timothy Dolan of New York, he explained, "He speaks like Jesus!" To which Cardinal Dolan quipped, "I believe that's his job description."
The papal visit in the Philippines–now on its final day–has shown that this Pope has been fulfilling his job description in an exemplary way, speaking with authority and compassion, as Jesus did, and stopping in his tracks, as Jesus was accustomed to doing, to turn and be close to his people, come rain or come shine. May this Successor of Peter teach us that to speak and act like Jesus in the world–that's actually every Christian's job description.