This reflection, which is based on Luke 21:5-19, was written on 12 November 2016. It's interesting to read, so in lieu of a new homily, I'm re-sharing this today. Equally telling are the comments. 🙁
I don't know about you, but for me, this last week has been tough. It's like just when I wasn't looking, the rug was pulled out from under me. And not once, but twice!
I'm of course referring to: (a) the disappointing Supreme Court ruling on the Marcos burial–a classic case of cowering behind the letter of the law instead of being faithful to its spirit; and (b) the stunning result of the US presidential election when someone who has been described as a narcissist-bigot-misogynist–all rolled into one–has been voted as the most powerful man in the free world. "A double whammy!" a friend texted from Vancouver.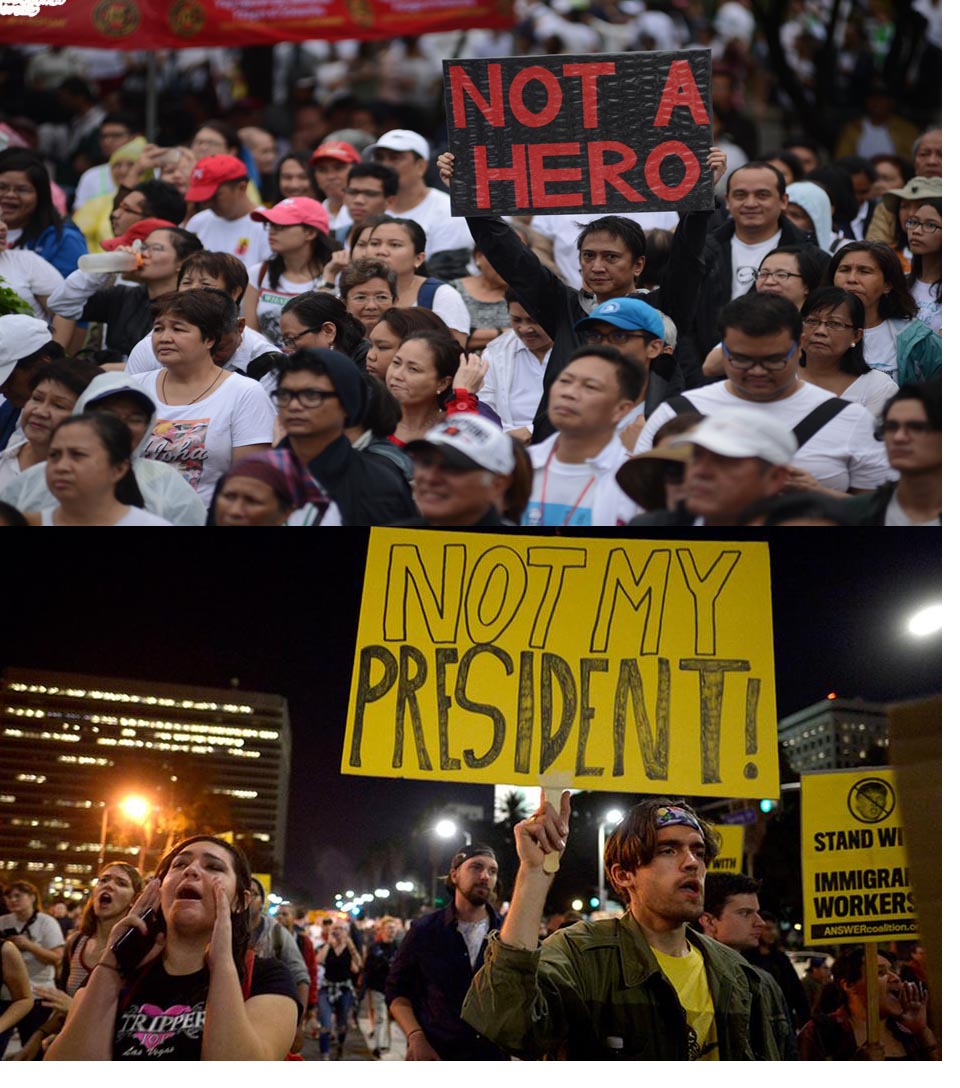 I suspect a number of like-minded people felt the same way. All you need to do is note the striking parallelism between the street protests in the Philippines and those in America. For many people, it felt like the end of the world as we knew it. I, for one, felt dazed, bewildered, heartbroken, even afraid. One metaphor that comes to mind is that of waking up to some kind of zombie apocalypse and walking among ruins.
What lies in ruins? Many of the things that we cherish, values that people have fought for, lived and died for, lie as wreckage: The justice we hope for, and the decency and rationality that are the very foundations of society. Specifically, our very notions of heroism and statesmanship have been demolished. How do we explain this to our children? It feels like a betrayal that we never saw coming.
So, I so get it when our Lord today talks about temples being torn down, "when there will not be left a stone upon another stone that will not be thrown down." When our Lord warns his listeners about being deceived, misled. and persecuted, when he talks of terrifying events that can make one feel like the world has come to an end, when he warns us of being handed over by those closest to us, by the very people we trust–he speaks to me. I understand. I think I know exactly what he is talking about!
But amidst all these dire prophecies, our Lord also leaves us a promise: "Not a hair on your head will be destroyed. By your perseverance you will secure your lives."
In other words, don't feel let down too long. Don't give up. And that all-important, much-needed word: Persevere.
I know: Easier said than done! But this week I also came across inspiring and consoling words from a brother Jesuit that gave my spirit a much-needed life.
Fr. Danny Huang SJ, General Counsellor to the Jesuit Superior General and Regional Assistant for Asia Pacific posted the following on his Facebook page: "9.11.16. The world seems to have become a darker, more dangerous place. I guess we just have to light whatever lights we can, trusting, hoping."
And then Father Danny quotes from J.R.R. Tolkien's The Lord of the Rings:
Gandalf said, "Always after a defeat and a respite, the Shadow takes another shape and grows again." "I wish it need not have happened in my time," Frodo said. "So do I," said Gandalf, "and so do all who live to see such times. But that is not for them to decide. All we have to decide is what to do with the time that is given us."
Indeed. We are told what we most need to hear in these trying times: Persevere.
So for our prayer, we may do well to ask the Lord: Given all that has transpired, what would He like us to do with this time that He has given us?
In times like this, it's consoling to recall this old prayer…
Song excerpt from India.Arie.