This homily is based on Matthew 28:16-20 for the Solemnity of the Holy Trinity (and the occasion of Entrance Day for the Jesuits in the Philippines).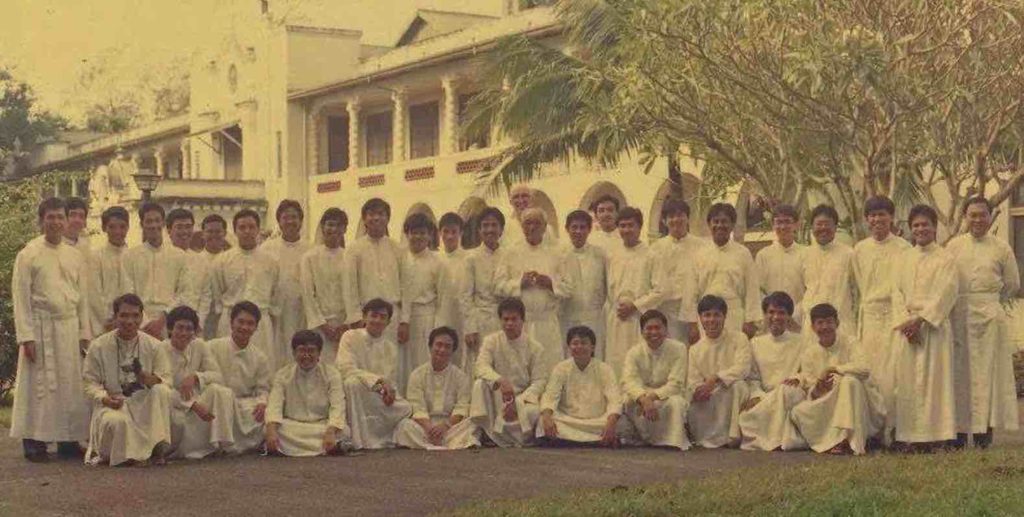 Someone posted this photograph on Facebook yesterday. It's our one and only complete class picture as Jesuit novices taken three decades ago at Sacred Heart Novitiate. It was probably retrieved from someone's hard drive because the 30th of May is coming up and it was for many years "Entrance Day" for Jesuits in the Philippines: the day when accepted applicants lug their carefully packed suitcases to Sacred Heart Novitiate and say their goodbyes to family and friends as the novitiate gates are shut dramatically. This closing of the doors signals the start of two years of religious formation and relative isolation from the world.
The caption on Facebook said, "May 30, 1987: Sixteen of us, primi, joined eighteen of our secundi brothers to form one of the biggest batches of novices to enter Sacred Heart Novitiate of the post-EDSA era." If my memory serves me right, we posed for this picture after the morning Mass on our Habit Day, when we as first-year novices were finally permitted to wear cassocks for the first time. If some of the novices look uncomfortable in their cassocks, it's probably because we were all wearing hand-me-down cassocks from dead Jesuits.
It was my very first experience of Jesuit community life, and because of the numerous colorful characters in the class, some of whom became good lifelong friends, I really enjoyed living with that community despite the rigors and uncertainties of novitiate life.
We would drag ourselves out of our cubicles at 5:30 in the morning and shuffle to the chapel for morning prayer before going our silent separate ways for individual prayer. The magnum silencium that began the night before could be broken during breakfast only if our novice master announced, "Deo gratias" after saying grace. After breakfast came manualia, which was a fancy Latin name for janitorial work. Thankfully, our assignments changed every day; my favorite assignment was anywhere but the toilets and bathrooms. The only thing I liked less was laborandum–novitiate jargon for field work: Since my thumb was far from green, our laborandum senior invariably handed me a sickle to cut weed.
We usually attended morning classes on Ignatian spirituality and Jesuit history. One day a week, a philosophy professor, who was as terrifying as he was legendary, would commute all the way from the Ateneo de Manila campus to teach us Greek, not to mention the fear of God. For some reason, the soccer games we played after those classes seemed more manic.
We were assigned to groups with whom we organized liturgies, cooked supper, and any other chore the novice master thought would help us in our formation. And as he used to say, "Everything is formative."
Every Sunday morning we left the novitiate grounds at the crack of dawn, laundry bags slung over our shoulders, and hopped onto those minibuses that raced to Sapang Palay, a government resettlement site, for our weekly apostolate. It was agreed that to help the needier parishioners, we would pay them to do our laundry.
During the week, we prayed together and shared a lot about ourselves with each other: the blessings we received, which were many, as well as the struggles we were undergoing, which were also just as numerous. I had never sung so much in my life nor laughed as hard though the times we cried together were not too few and far between either.
For me, it was a wonderful and seldom-surpassed experience of religious community life. Some years after my novitiate, a theology professor, lecturing on the Blessed Trinity, offered us some tips for his exam: "Just remember these three things: Distinction, equality, and unity. The three Divine Persons of the Blessed Trinity are distinct, equal, and united!"
When you think about it, those three words also just about capture one of my best experiences of Jesuit community life. The Holy Trinity is really a model of what true community is. You would not find a better community than in one where people are united, but each one is treated as distinct and equal.
I had an experience of that sort in the novitiate: There was never assembled a cast of characters more different from one another. Yet our novice masters treated us all equally–from the most experienced professional to the youngest college undergrad–and taught us all to do the same. And though as expected in any relationship, there were the occasional conflicts, we always remained united in our quest for a deeper knowledge and love of God.
The three attributes of the Persons in the Trinity could well serve as a checklist for our community lives. They represent our best dream of what a community–or any personal relationship–should be like. Almost three decades after those years in the novitiate, even after losing contact with those who have left the Jesuits or some who have stayed, I still look back at those two years with gratitude for such a rare and precious grace,
Wherever you are in your journeys, happy 31st anniversary to my fellow ex-novices!