This homily is based on Matthew 28:16-20 for the Solemnity of the Holy Trinity (and the occasion of Entrance Day for the Jesuits in the Philippines).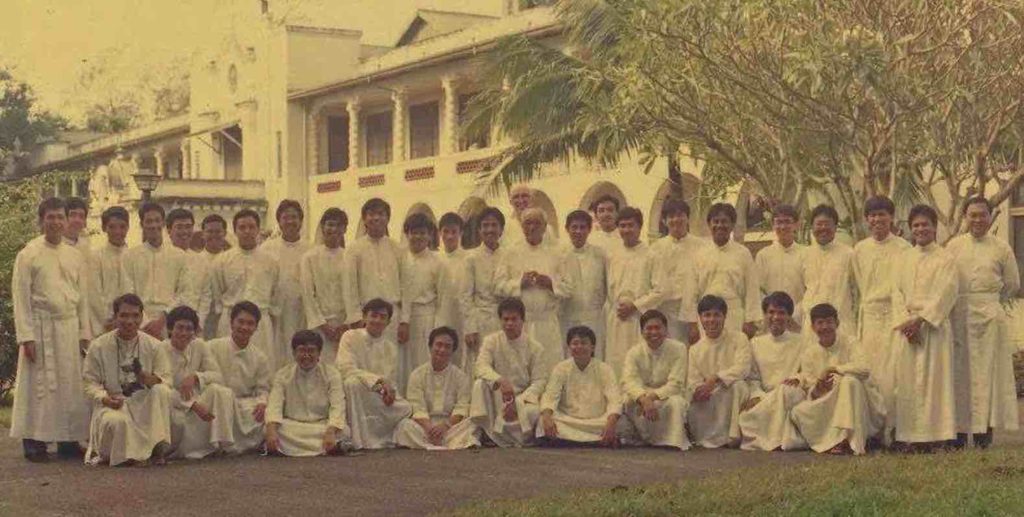 Someone posted this photograph on Facebook yesterday. It's our one and only complete class picture as Jesuit novices taken three decades ago at Sacred Heart Novitiate. It was probably retrieved from someone's hard drive because the 30th of May is coming up and it was for many years "Entrance Day" for Jesuits in the Philippines: the day when accepted applicants lug their carefully packed suitcases to Sacred Heart Novitiate and say their goodbyes to family and friends as the novitiate gates are shut dramatically. This closing of the doors signals the start of two years of religious formation and relative isolation from the world.
The caption on Facebook said, "May 30, 1987: Sixteen of us, primi, joined eighteen of our secundi brothers to form one of the biggest batches of novices to enter Sacred Heart Novitiate of the post-EDSA era." If my memory serves me right, we posed for this picture after the morning Mass on our Habit Day, when we as first-year novices were finally permitted to wear cassocks for the first time. If some of the novices look uncomfortable in their cassocks, it's probably because we were all wearing hand-me-down cassocks from dead Jesuits.
It was my very first experience of Jesuit community life, and because of the numerous colorful characters in the class, some of whom became good lifelong friends, I really enjoyed living with that community despite the rigors and uncertainties of novitiate life.
We would drag ourselves out of our cubicles at 5:30 in the morning and shuffle to the chapel for morning prayer before going our silent separate ways for individual prayer. The magnum silencium that began the night before could be broken during breakfast only if our novice master announced, "Deo gratias" after saying grace. After breakfast came manualia, which was a fancy Latin name for janitorial work. Thankfully, our ass