The homily for the Divine Mercy Sunday is based on John 20:19-31.
This, I must say, is one bizarre reunion. 
I suppose you could say they've had some kind of falling out. When they were most needed, the disciples deserted their master and left him to the mercy of his enemies. Of course they couldn't have saved him even if they had wanted to, but you can't help but ask: Couldn't they have accompanied him at least, elbowed their way through that mob, and stood there under his cross till his last breath?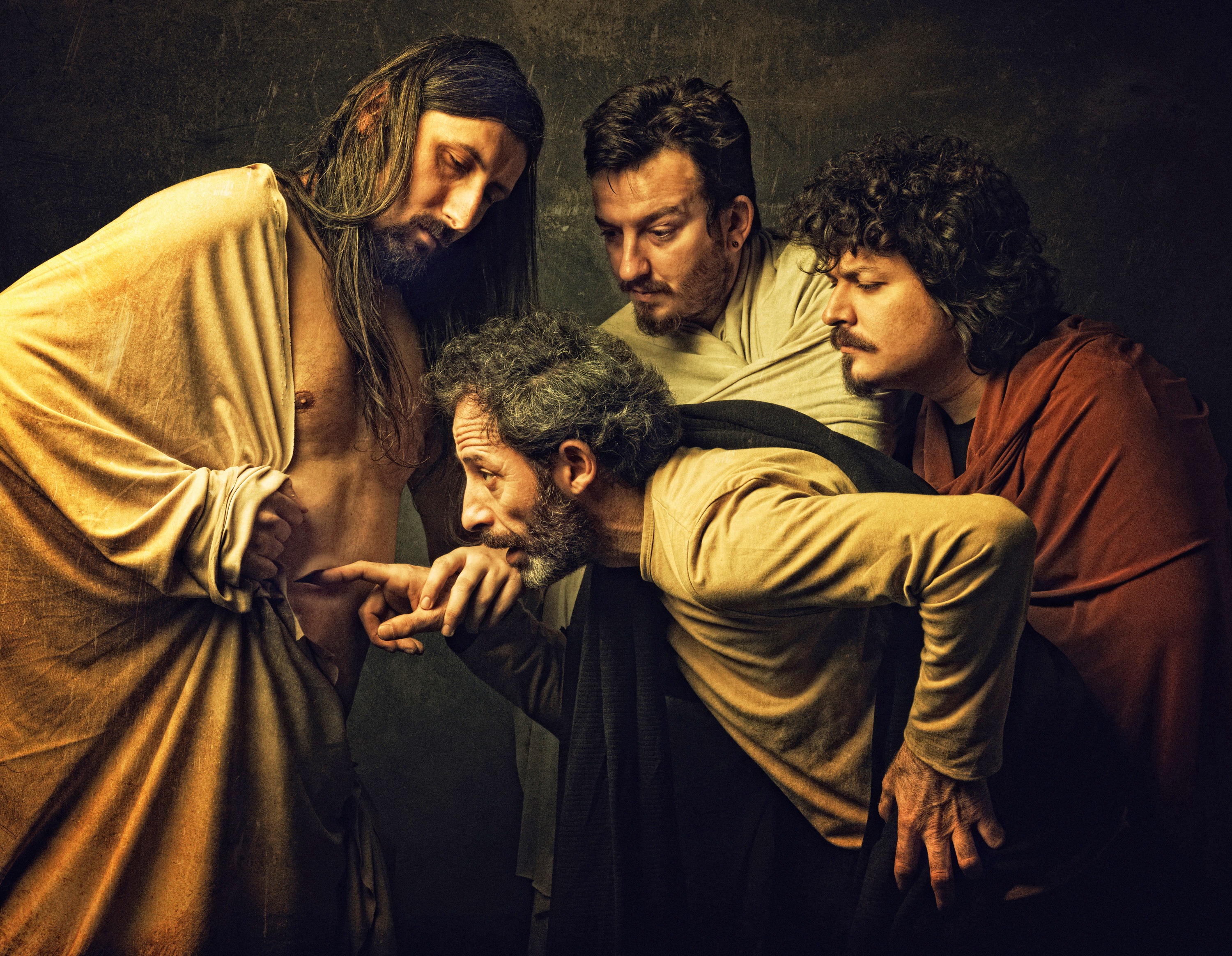 Well, there was fear—a fear that, we are told today, continued to grip them so that even after his death, they were still hiding behind locked doors.
So imagine their joy over his surprise reappearance: Incredible as it might sound, he was no longer dead! But imagine also their sorrow and shame because hadn't they abandoned him? They must have huddled in a far end of that room, waiting for his first move, holding their breath for his first word. 
As expected, because he could, as always, read their hearts, he decided that his first word to them would be "Peace." What was totally unexpected was his first move: He reopened old wounds.
Now we know that it's the last thing you should do if you want to heal. Don't mess with the wound–especially if it's still fresh. But that's exactly what Jesus does: He not only showed them his three-day old wounds, but even asked Thomas, who, having missed the first reunion, had expressed his doubts, to put his fingers not on—but into–his wounds. 
Did it hurt? Maybe not because the Resurrection provided the Lord a different kind of body: It was a material body (you could touch him, and in other accounts, he could eat!), but different because the Risen Lord could go through locked doors and apparently didn't quite look the same because the disciples didn't always immediately recognise him. 
But it only makes me wonder more: Given the option of a brand new body, why would the Risen Lord choose one that bore his old wounds?
Who would want to keep his wounds—especially wounds received from such a violent and painful death? And who would want to show them off, not to mention reopen them?
The answer to all that, of course, is "Only Jesus." Only Jesus would want a constant reminder of the most traumatic event of his life because only then could he be sure that he would never forget the people he did all that for: us. Only Jesus would not mind having those very wounds reopened to remind us of the reason he did all that: love. 
Jesus' love for us is as unconditional as our faith in him is often, like Thomas', conditional. Thomas had famously declared to the other disciples: "Unless I see the mark of the nails in his hands and put my finger into the nail marks and put my hand into his side, I will not believe." But we, too, often have our own sets of terms and conditions, our own share of "unless…"
The love of our Lord Jesus have no "unless." If we let him reopen his wounds for us, our "unless…", all our terms and conditions for believing and loving him, might just melt away.