This homily is on the healing of the blind man as recounted in John 9:1-41.
This healing miracle, unlike others, did not happen instantaneously. While the other healing of our Lord was achieved with almost just one word or a single touch, this one involved several steps–including the use of the bizarre mixture of saliva and spittle.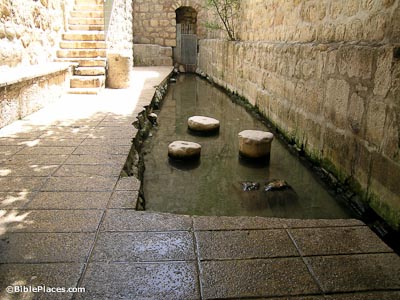 But what struck me the most about this healing miracle was that after the Lord's elaborate healing ritual, the man wasn't healed yet! He had first to find the Pool of Siloam to wash his own eyes.
If we read between the lines, as we are always expected to do when we read the Scripture, we will realize that in this particular instance, the blind man was not merely a receiver of his healing; he was also an agent of it: He to do some work so that he would be healed.
There's an important message here for us who seek healing in our lives. We can't just sit around waiting for the Lord to do all the work. It takes two, the Lord seems to be telling us. We need to pray as hard as we can to ask Him to perform the healing, but that's not all there is to it. Perhaps there is something that we need to do. Some illnesses require at least a decision on the part of those afflicted to be well. Call it "positive thinking" or simply the will to live, but it is a necessary ingredient in healing.
Now, don't get carried and think that all we need is positive thinking. Some pastors or priests preach the so-called "wealth and health gospel"–i.e., all you have to do is believe and you will be rich and healthy. That's really over-simplifying–and distorting–reality. That's not how the real world works–unfortunately. A lot of factors apart from your thoughts about being wealthy and healthy interact to determine whether or not you'll be either wealthy or healthy. Positive thinking and the efforts we exert to be wealthy or healthy are necessary elements, but they're not enough. God also has to bless our efforts the way our Lord sent off the blind man to the Pool of Siloam to wash his eyes.
So, some questions to ask ourselves today: What kind of healing do you need in your life? And are you willing to do your part to achieve this healing? Where is your pool of Siloam?