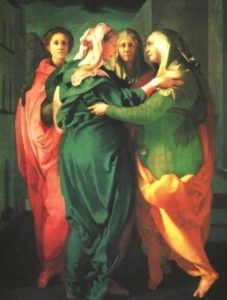 This Simbang Gabi homily is based on the Gospel reading for the 4th Sunday of Advent, Luke 1:39-45
Today we have the account of the so-called Visitation–probably better known to us as the Second Joyful Mystery of the Holy Rosary.
Most of us are familiar with the story: Upon learning of her cousin Elizabeth's pregnancy from the angel Gabriel, Mary makes a trip to Judah not only to confirm the angel's news, but also to help the elderly Elizabeth out in what we can only imagine would be a difficult pregnancy.
It's tempting to regard the Visitation as a relatively unimportant event, a minor Joyful Mystery squeezed between the two earthshaking mysteries of the Annunciation and the Nativity. But today, the Church in her wisdom invites us not to rush to Bethelehem yet, but to make this necessary detour to Judah with Mary. There must be a grace waiting for us here. 
What strikes me today is Elizabeth's question the moment she lays her eyes on Mary: "How does this happen to me, that the mother of my Lord should come to me?" It is a question that bursts out of her because as she explains to her much younger cousin, as soon as she hears Mary's greeting, the infant in her womb, the future John the Baptist, leaps inexplicably with joy.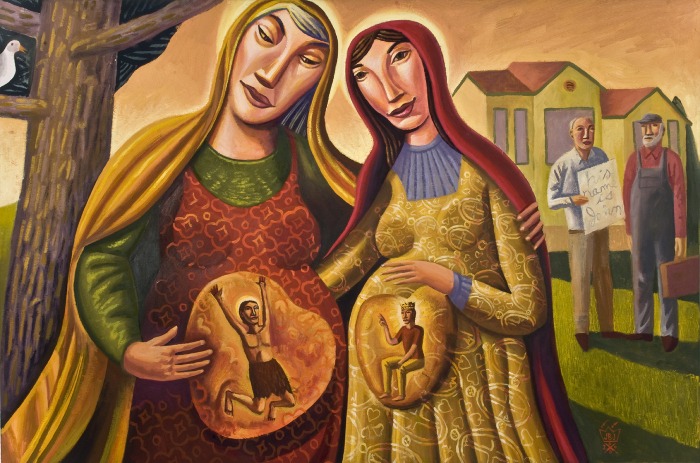 More than anything else, hers is a question of amazement and awe. Elizabeth and the child in her womb are seized by the unbelievable fact that someone like Mary–she who bears the Lord in her very womb–would actually come and visit them. "How does this happen to me?" is Elizabeth's way of saying "I can't believe this is happening to me? It is too good to be true!"
But when you think about it, this question applies not only to this visitation by Mary, but also to two prior–immeasurably more unbelievable–visitations by God!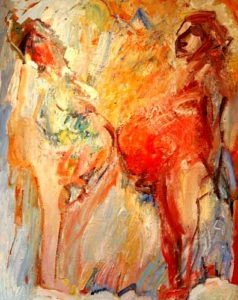 Remember, the Visitation is the meeting of two women with very unexpected pregnancies. On the one hand, we have Elizabeth, surprised by her very late pregnancy. After enduring years of waiting and praying, and after being dismissed by others as "the barren one," she bears this child in her old age, a blessing that God finally gives long after its parents have given up. It has been such a surprise that Elizabeth's husband Zechariah literally becomes speechless when he first hears the news from the angel Gabriel!
Elizabeth and Zechariah must have asked themselves the same question: "How does it happen to us that the Lord has visited us now?" Unbelievable news like that is too good to be true.
And then we have Mary, surprised by her own very early pregnancy. The question she asks the angel at the Annunciation is strikingly similar to Elizabeth's: "How can this be since I have no relations with a man?" When the angel explains to her that "the child to be born will be called holy, the Son of the Most High," she must have uttered the same question with even greater amazement and awe: "How can this be? How does this happen that the Lord has visited me and His people with a blessing beyond any imagination?" Unbelievable news like that is too good to be true.
The Visitation is a story about our God of unimaginable surprises, the God who is the giver of things too good to be true–or as the late Filipino Jesuit Horacio dela Costa has put it about the mystery of Christmas, "too good to be false." Today's Gospel reading is an invitation to amazement and awe at the unbelievable–and unthinkable–act of God out of His great love for us: God transcends His very transcendence by letting the Son of God pry Himself from heaven and take flesh to be Emmanuel–God with us and one of us.
Even if we've heard the Bethlehem story countless of times before, can we, together with Elizabeth and Mary, ask with no less amazement and awe: "How can this be? How can this happen to us?" Mary's detour to Judah reminds us to weed out whatever over-familiarity or even jadedness that might have infected us about the great unbelievable mystery of Christmas that may cause us to take it for granted.
But the Visitation isn't just about the mystery of Christmas, but also about the mystery of our own lives! We are also invited to a similar amazement and awe over God's abundant blessings upon us. For Christmas to be a true season for thanksgiving, we must first retrieve the amazement and awe over the unbelievable gifts that God has lavished upon us: our family, our friends, our very life, our joys, and every treasured memory that enriches and defines our lives. Confronted with such unbelievably extravagant blessings, we may be moved to ask the two pregnant women's question with the same amazement and awe: "How can this be? How can this happen to us?"
Elizabeth tells Mary, "Blessed are you for you have believed." Only when we allow ourselves to be amazed and awed by the unbelievable things God has done in history and in our own lives can we, like Mary, believe–and be blessed.