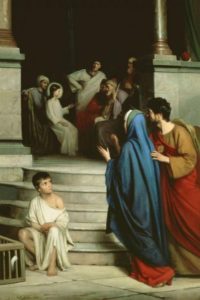 This reflection is based on Luke 2:41-52 for the Feast of the Holy Family.
Just two days after we've celebrated the birth of Jesus, we have Mary and Joseph losing him today. Of course this event in the Temple of Jerusalem–found only in Luke–happens when Jesus is already twelve years old. Be that as it may, the account gives us some kind of rude awakening, similar to yesterday, when we commemorated the martyrdom of St. Stephen, the very day after Christmas.
There must be some wisdom to this sequencing of feasts and readings. Resisting the temptation to accuse the Church of being a killjoy, let's try to figure out what reason the Church must have for inviting us to recall this puzzling event of Mary and Joseph losing Jesus barely two days after our celebration of his birth.
If you ask me, I think it teaches us that the gift of our Lord Jesus has not been given to us for us to grasp and to possess. This is the painful lesson that Mary and Joseph learn here. Although the Son of God has been entrusted to them and although they have actually invested much–and suffered much–in bearing him and making sure he is born into the world, he is not theirs to keep. Even as a child, long before the beginning of his public ministry, the Child Jesus already declares in no uncertain terms that "he must be in my Father's house?" To put it bluntly, not in theirs–i.e., Mary and Joseph's house.
This is an important reminder for us who try to follow Jesus. Faith in Jesus is not so much something that we can possess once and for all; it is not something we can claim to have just because we've received the sacraments of the Church or just because we declare that he is "our personal Lord and Savior." Rather, faith in him is a process we have to keep working on, a journey we have to keep making. We are called the "followers" of Jesus not only because we are asked to imitate him and to serve him, but also because we will never be able to keep up with him: We will always be fumbling after him, falling at least a couple of steps behind him.
So if for any reason, you are experiencing some difficulty in your faith life, take heart and do not be discouraged. Even Mary and Joseph couldn't always figure out their son–or keep up with him. Even the Holy Family was far from perfect. What defined their holiness was their constant pursuit of Jesus even if they could never really keep up with him. For us, what matters is that even if we don't always understand what's going on, we keep trying to discern what they mean, just like Mary, who treasured everything in her heart–including and especially the things she did not understand.