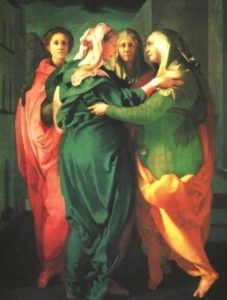 This Simbang Gabi homily is based on the Gospel reading for the 4th Sunday of Advent, Luke 1:39-45
Today we have the account of the so-called Visitation–probably better known to us as the Second Joyful Mystery of the Holy Rosary.
Most of us are familiar with the story: Upon learning of her cousin Elizabeth's pregnancy from the angel Gabriel, Mary makes a trip to Judah not only to confirm the angel's news, but also to help the elderly Elizabeth out in what we can only imagine would be a difficult pregnancy.
It's tempting to regard the Visitation as a relatively unimportant event, a minor Joyful Mystery squeezed between the two earthshaking mysteries of the Annunciation and the Nativity. But today, the Church in her wisdom invites us not to rush to Bethelehem yet, but to make this necessary detour to Judah with Mary. There must be a grace waiting for us here.