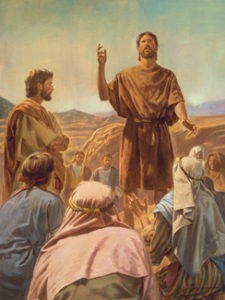 This reflection is based on Luke 3:10-18.
One thing that immediately struck me reading today's Gospel is how different kinds of people approach John the Baptist and ask him the same question. The crowds, having heard his call for repentance, ask John, "What should we do?" The tax collectors and the soldiers are also so moved by John's preaching that they too ask the same question: "What is it that we should do?"
If you ask me, it is the question for the season. If Advent, as we too often hear, is a time for "waiting for the Lord," it can't be a time for passive idleness, a time when it's simply "business as usual." If we want to take our own Advent waiting seriously, we can't just pay lip service to it; we need to do something!
The responses of John the Baptist vary depending on who was asking the question. The crowd in general was told to be generous and to share whatever extra cloak or food they have with those who are in need. The tax collectors were admonished about their greed and their practice of cheating the people. And the soldiers were told to stop abusing their power through their practices of extortion and false accusations, and to give up complaining about their wages.
But what do we need to do? John's responses are a good way for us to start because regardless of who he was addressing, they all deal with two very common roots of our sinfulness: possessions and power. The Gospel today invites us to question the way we deal with our possessions and our power: Are we generous or greedy with regard to our possessions? Do we use or abuse the power we have over others?
Possessions and power, when misused, have a way of diminishing us and keeping us away from God. Today's Gospel may well be an invitation for us to take concrete steps to reform our lives in the way we use our possessions and power.