H O L Y   W E E K   R E T R E A T S
MEETING PLACES:
THE GARDEN. THE HILL. THE TOMB
Online Lent Recollection 2008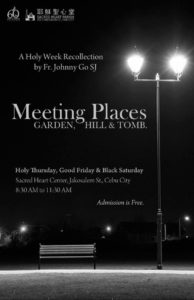 Every place is God's dwelling place. But because of the mysteries of Holy Week, there are three places that offer us special opportunities to encounter the Lord during the season of Lent:  the GARDEN (Holy Thursday), the HILL (Good Friday), and the TOMB (Black Saturday). 
THE SILENCES OF LENT:
ABRAHAM. ISAAC. GOD.
Online Lent Recollection 2009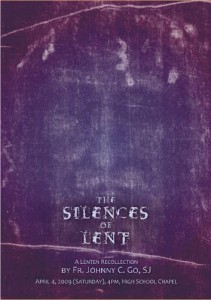 Ours is a God of Silence, but He keeps different kinds of silences. And during Lent, more than ever, He falls silent. His deepest silences are experienced in the Passion and Death of our Lord Jesus.
The silences of Lent are different from one another.  The Silence of Gethsemane, the Silence of Calvary, and the Silence of the Empty Tomb–each one has a different quality and a different meaning.  Maybe if we learn to understand God's silences in Lent, we will better understand His silences–and language–in our own lives.
GOD IN THE DUNGEONS:
LIFE, DEATH, & ALL OTHER THINGS IN BETWEEN
Online Lent Recollection 2010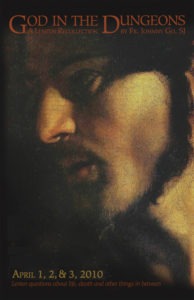 God in the dungeons?! 
Dungeons are not exactly the first place we go to when we want to look for God.  We expect to find Him in churches and the other "holier" places of our lives.  But that's exactly what Lent does not teach us about God.  In the mysteries of Lent, God enters precisely the "dungeons of our lives"—the deepest, darkest experiences of human pain and suffering—because He wants us to find Him there.

THE FUGITIVES OF LENT:
JUDAS. PILATE. PETER
Online Lent Recollection 2011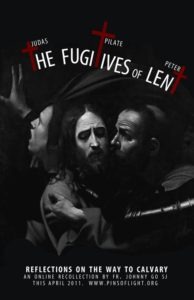 We've all been through Lenten retreats before, and they've naturally all focused on the good guys.  But what if for a change, this time we talk about the "bad guys" instead?  We just might learn a few things from them.  If we—just this once—put ourselves in their shoes, we just might discover some things about the Lord and about ourselves.
HOLY WEEK FOR BYSTANDERS AND FENCE SITTERS:
MARTHA. SIMON OF CYRENE. THOMAS.
Online Lent Recollection 2012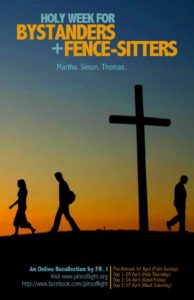 For this online retreat, we will be relying on three guides: Martha for Holy Thursday, Simon of Cyrene for Good Friday, and Thomas the Apostle for Black Saturday–selected because they were once in their lives bystanders and fence-sitters. This retreat this year has been designed for people like them. Perhaps you're one of them:  too busy to be involved, too unsure to be committed. Whatever.  If you open your eyes and hearts, you might just learn from our three guides.
"ASK AND YOU SHALL BELIEVE":
QUICK QUESTIONS FOR LENT
Online Lent Recollection 2013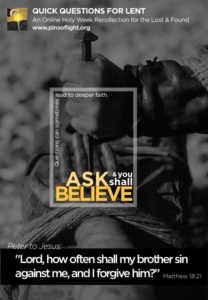 Questions are more important than we think. During his public ministry, our Lord was asked numerous questions. His life was nothing short of controversial. His work and his very person raised many questions. But every question that he was asked served like a door that opened the way to getting to know Him more.
Some people chose to walk through that door; many chose to shut it or walk away. But the truth is, questions can lead to deeper faith. As our Lord said when he spoke of prayer: "Ask and you shall receive." (Luke 11:10)  Speaking of questions, we say: "Ask and you shall believe."
"WASHING FEET & CLEANSING TEMPLES":
THE HANDS OF JESUS
Online Lent Recollection 2014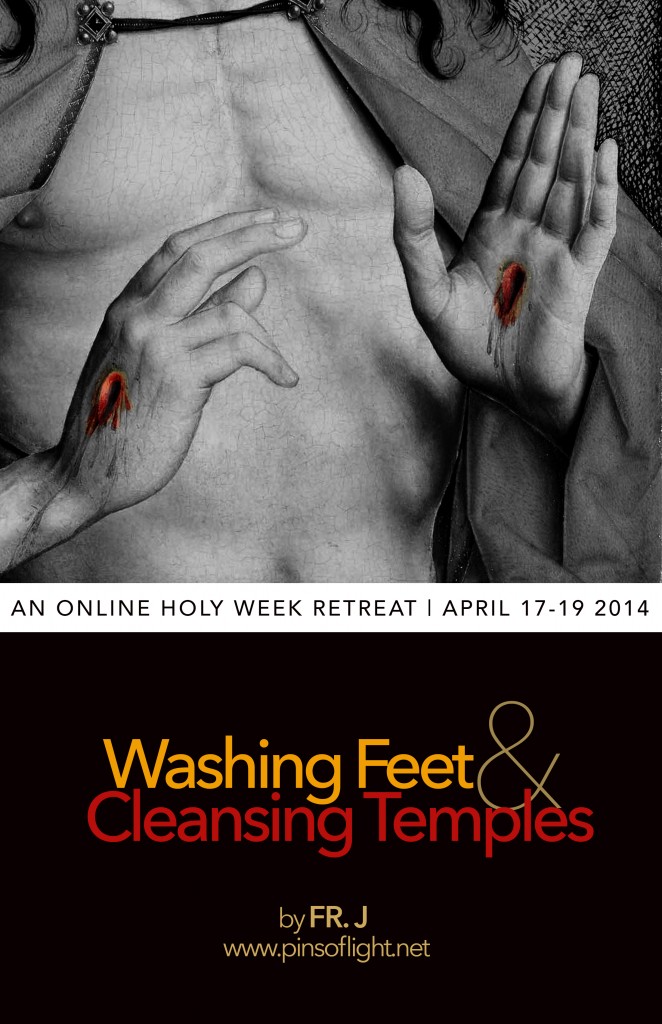 Washing feet and cleansing temples: Two significant actions performed by our Lord before His Passion and Death. What can they mean for us as we enter into the mysteries of Holy Week? Do they have something more to teach us about ourselves, our lives, our Lord?
"GOD IN A SEASON OF DISQUIET"
silence | absence | subversive presence
Online Lent Recollection 2015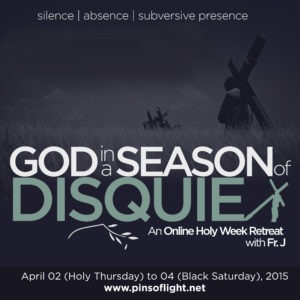 It's not easy finding God, but in times of disquiet, when our hearts are most restless and most in need of Him, they are also most open. In what should be a season of deepest disquiet, when the Father seems most silent and absent in His life, our Lord Jesus shows us how to discover God's subversive presence in the most unexpected places in our lives.
'THREE DOORS TO MERCY"
the upper room | the city | hell
Online Lent Recollection 2016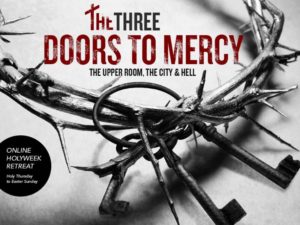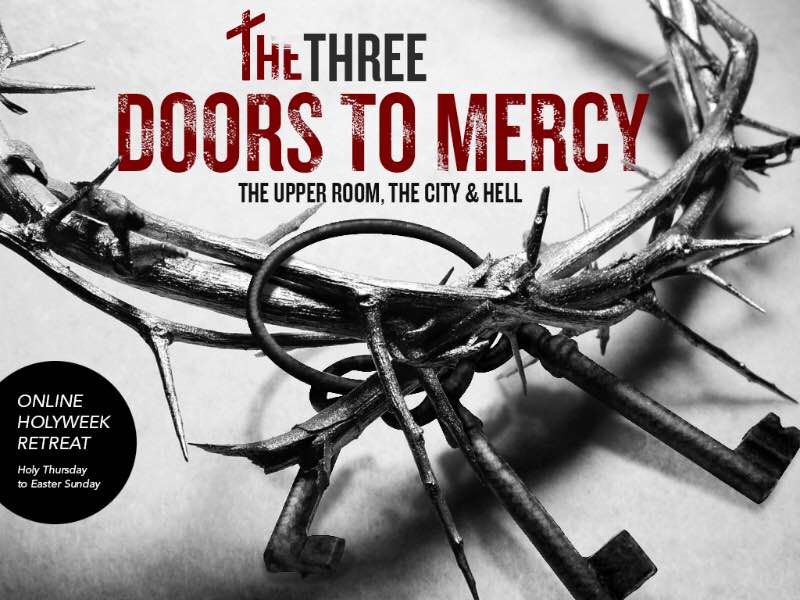 What better way to observe the Jubilee Year of Mercy this Holy Week than to join our online Lenten retreat?
This Holy Week, three special doors lead to God's mercy. They are found in the Upper Room, the City of Jerusalem, and Hell.
Each of these doors will open on Holy Thursday, Good Friday, and Black Saturday. Learn about these virtual doors of mercy. Find the key to each of them, and make the choice to walk through them.
We hope that just like the estimated 10,000 holy doors in churches all over the world, our three virtual doors will also lead those who enter them more deeply into the mercy of God.
A D V E N T   R E C O L L E C T I O N S