Imagine our Lord in prison.
He spends all of Holy Thursday night
alone–and feeling alone.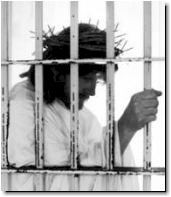 Spend a few moments
praying with the Lord,
imagining him enduring the spiritual pain
of being separated from the Divine.
We know from Scripture that
though he was sinless, Jesus could be tempted.
We can imagine that perhaps
that first Holy Thursday night,
as he languished in prison,
he too must have been tempted
to succumb,
to allow himself
to be disenchanted with the Father
who seemed nowhere to be found.
What could have been some of the questions
racing through his head?
How did he cope with the doubts
that the evil spirit must have tossed at him
that night alone in prison,
when he was most vulnerable?
Our Lord Jesus must have needed
to draw deep from his faith
to resist these temptations.
Let us stay awhile with the Lord Jesus.
Contemplate on him and what he must have gone through
that first Holy Thursday night.
You may want to watch this prayer clip
during your prayer.
Feel free to spend a few moments
speaking to the Lord Jesus.
Feel free to share your prayer
in the COMMENTS section below.
image from soulwinning.info, Passion of the Christ
song from EBTG, "Disenchanted"