Aside from the role of prayer in increasing our familiarity with the Lord, there is another important lesson that we can learn from this encounter between Mary Magdalene and the Risen Lord.
Our Lord says to Mary Magdalene: "Do not hold me… but go to my brethren and say to them…"
It seems that when Mary Magdalene finally recognized Jesus and realized that He was alive, she did what most friends would do in the same situation: She probably embraced Him in joy and wouldn't let go!
But our Lord had a mission for her: To go and tell the others the good news that He is risen!
Mary most likely didn't want to leave Jesus; she probably wanted to stay and spend more time with Him. But she did as she was told.
Here we see a third level of temptation: Temptation by the Apparently Good.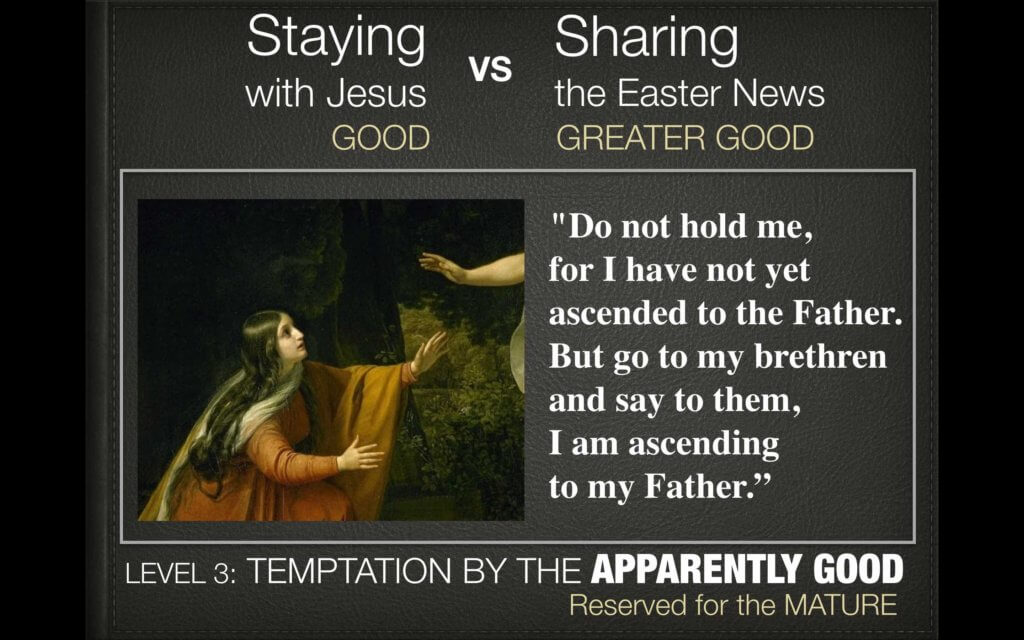 There is nothing wrong with holding on to Jesus, staying with Him and spending more time with Him. It's what friends do! It's something good!
But in this case, a Greater Good is for her to let go of Jesus and share the Easter News with the other disciples who are still mourning their Master's death.
Level 3 Temptation, unlike the previous levels, is reserved for those who are more mature spiritually, and is employed only when we are choosing between two goods in the hope that we will be tempted to choose the Lesser Good (The other two, more basic, modes of temptation are often used when we are choosing between good and evil).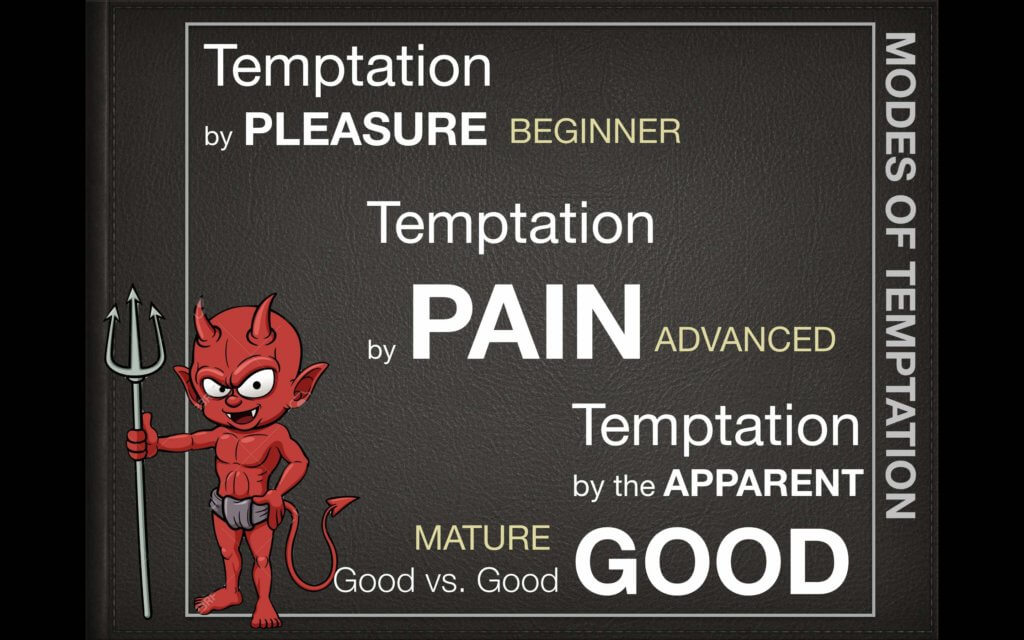 When we are spiritually mature in a particular area of our lives, the Devil will not resort to Temptation by Pleasure or Temptation by Pain. He knows that those are not going to work. Instead he will try to deceive us by tempting us with what seems good (the Apparent Good), when in reality, it is less than what God wants us to do.
In Gethsemane, our Lord must have been tempted to choose the Lesser Good. The strategies for temptation used there certainly included Temptation by Pain, but now we can also add Temptation by the Apparent Good.
Compared to death on the cross, to live a longer life of service of God and others certainly sounds like a good thing to do. It must have been tempting and can easily be rationalized as what's being asked of Him, but it is, in fact, less than what God is asking of Him.
Can you think of an experience when you were tempted with the Apparent Good? What were the options before you then? What did you eventually choose? What did you learn from the experience?
If you share it here, others might learn a lesson or two about temptations.