Play this music as a preparation for prayer.

Behold your heart and the world that it holds.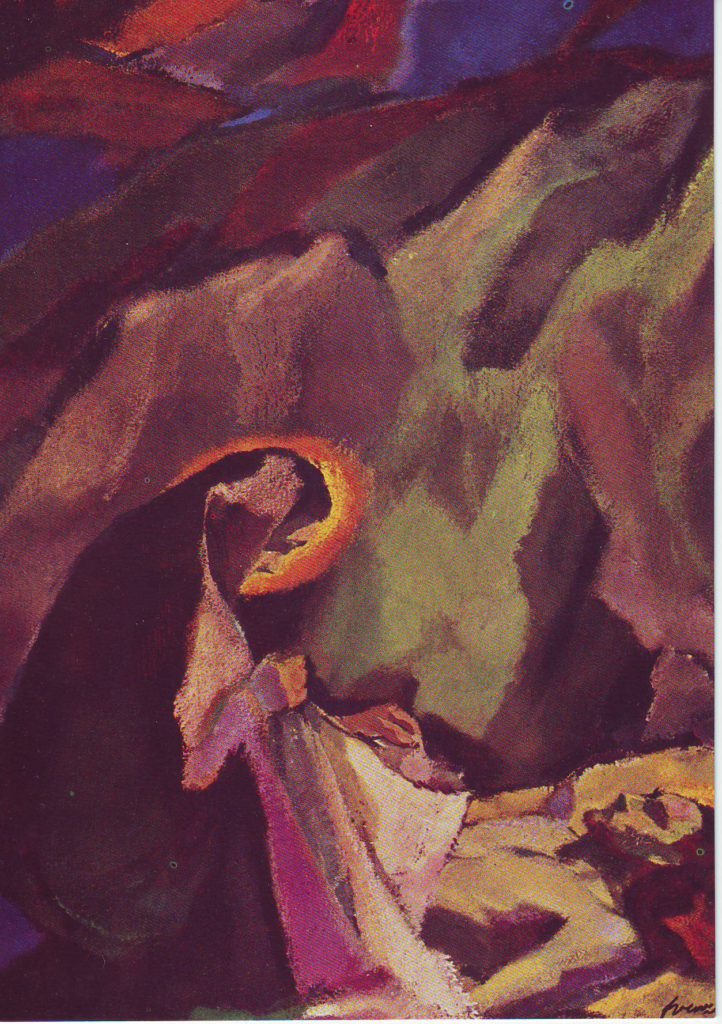 After that long harrowing day,
finally, they brought him to his resting place.
It's not the kind of burial you'd expect for a king,
not even the kind you'd want for a friend:
An unceremoniously rushed burial in a borrowed grave
with a small traumatized but loyal crew.
They couldn't even wash his body properly
as prescribed by custom.
They would have to wait till after Sabbath.
What are you supposed to do after such a trauma?
How are you even supposed to feel?
Devastated, that's for sure,
but could they have also felt some kind of relief–
that finally, the awful, awful suffering of Jesus
had mercifully ended?
These days we are no stranger
to such experiences and feelings.
People have witnessed loved ones
struggling just to breathe.
Many have agonized at the thought
of them suffering in hospitals and dying there.
And by force of circumstance,
their burials too–like the Lord's–
have to be unceremoniously rushed:
no wakes, no flowers, no Masses.
Indeed we live in times so strangely like our Lord's!
But we know what happened next.
On the third day, he would rise again.
The stone would be rolled away,
and Jesus would step out of his tomb–
changed, but also the same.
His risen body would shine,
even if it would remain a wounded body.
And because of his suffering, death, and resurrection,
this world too has been changed,
even if it still seems the same.
People would still make free choices–
even if often foolish and wrong.
Things would still go wrong,
like diseases and deaths.
It would still be a wounded world,
but this time, every nook and cranny–
even its darkest, most horrible corners–
would shimmer with the Risen Lord's presence.
He will be there
if only we seek him.
These days we have been hiding away.
Actually, it feels more like
we have been hidden away.
With a large reluctant stone,
we've sealed the entrances and exits of our lives–
only for now, we hope…
In our newfound space and silence,
we wait and wonder:
"Who will roll away the stone for us?
And how long before that happens?"
Tradition has it that in those days
between Good Friday and Easter Sunday,
the Church had only one member:
Mary, the Mother of Jesus.
Only she waited in hope.
She had no idea
what she was waiting–or hoping–for.
But wasn't it the same
when she said "Yes"
so many years ago
to the Angel of the Annunciation?

She waited and hoped
even if she wasn't sure
exactly what loomed before her then.
Today, in these most uncertain and frightening of times,
Mary our Mother teaches us to wait in hope–
yes, even if and especially because
we have no idea what's in store.
It is possible to be hopeful, brave, and loving
even if we are sad and afraid.
Let us pray that when the stone is rolled away,
we will be a changed and better people
even if like the Lord, we will still bear our wounds.
 We hope that the world too
will likewise be a changed and better world.
Thank you for joining us in this
Way of the Cross in this Time of Pandemic.
At the start of every station,
you have been invited to
"behold your heart and the world that it holds."
That is exactly what the Holy Father has done
in his extraordinary Urbi et Orbi blessing
on the 27th of March.
Walking through the empty square of St. Peter's
that rainy early evening,
Pope Francis held the world in his heart
and carried us all in his prayer.

As we close our Way of the Cross,
let us join him in silent prayer,
beholding our heart and in it,
holding this shaken and frightened world in prayer.
With heads bowed,
let us accept his special blessing.

"Behold the Wood" (St. Louis Jesuits). Image for Station (Fratel Venzo).
"Pope Francis" (Vatican News)
Feel free to share your thoughts, questions, and prayers below.
If you wish, visit ENTRUST,
our virtual prayer wall.
Post your prayer intention there.
Share your prayers with our global faith community.
Click HERE.
It's not too late
to join our online Palm Sunday Procession.
Go HERE.
Finally, thanks once again for joining us
in our Way of the Cross in a Time of Pandemic.
We will hold our annual online Holy Week Retreat
starting this Holy Thursday.
Check it out HERE.