Play this music as you contemplate the image and prepare for prayer.

Pause and hold your heart and the whole world in your hands.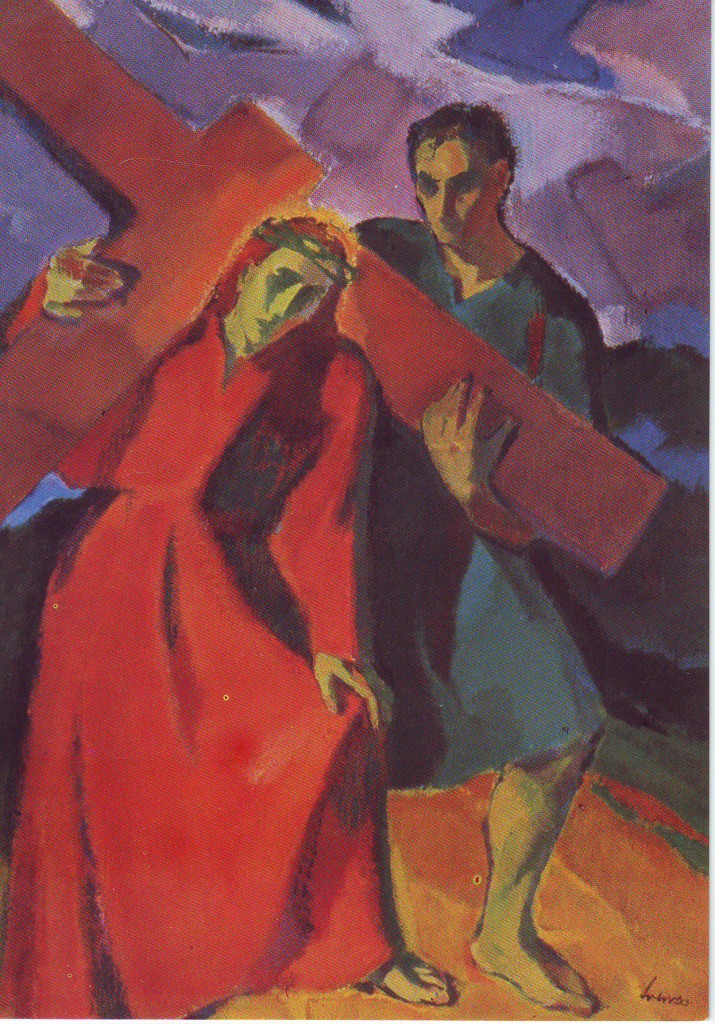 Upon his sentencing, Jesus takes his cross.
He bears his cross on his shoulder.
How often has he told his disciples
something that probably didn't make sense to them:
"If you wish to follow me, take up your cross."
Now finally, it makes sense:
To be a follower of Jesus, we need to follow his example–
We need to take up our cross.
What is your cross at this time of the pandemic?
At this time we find different crosses thrust upon us
–crosses of every shape, size, and weight.
Easily, we can think of four types of crosses:
First, there are the thousands of daily wage earners among us
who, because of the work shutdown,
suddenly find themselves without work and without pay.
Each day they are worried about what to feed their families.
Their cross is very different from those among us
whose main problem these days is the isolation
and the boredom that we're experiencing
as a result of the prescribed social distancing and lockdown.
And, of course, there are those among us
who have caught the virus and are suffering–
burning with fever, coughing,
experiencing difficulty in breathing,
even facing the possibility of death.
Many of them are afraid and feel alone,
whether they are in the ICU or in their homes.
These are the crosses heaviest and most painful to bear.
Finally, there are the heroic doctors and medical workers
working in the frontlines,
their masks pressed all day against their faces,
exhausting themselves and putting their own safety on the line.
These are the ones most like our Lord
because the crosses they are carrying are not their own.
These doctors, alongside those who are sick
and their anxious loved ones,
are the ones who most need our prayers and support.
What are we being called to do today?
After naming the cross entrusted to you,
make a decision to accept it and bear it like the Lord–
with neither complaint nor resentment,
but with courage and strength.
This will be difficult for some more than others,
but we must all try our very best–
especially if our cross happens to be relatively lightweight,
compared to what others have to suffer.
Let us take our cross today
and offer up our suffering–whatever it might be–in prayer
for those who are suffering much more than us.
The band One Republic has a song called "I Lived"
that offers us such relevant lines for today.
The lines are about choosing to rise to the occasion,
being brave and generous,
doing not just the right thing–but the better thing.

Here are some of those lines. Which one speaks to you most?
Hope when you take that jump / You don't fear the fall
Hope when the water rises/ You built a wall
…
Hope if everybody runs / You choose to stay
And I hope that you don't suffer / But take the pain.
This last line, in particular, calls us to a different kind of suffering:
Can we, like the Lord, refuse to be just a victim of suffering?
Can we "take the pain"–freely, bravely, strongly–as he did?
Remember, it is possible to be brave and strong
even when we feel afraid.
Spend a few moments
telling the Lord how you feel–
and what you can try to do today
in response to him.
"Behold the Wood" from St. Louis Jesuits. Image for Station from Fratel Venzo. "I Lived" from One Republic
Feel free to share your thoughts, questions, and prayers below.