Play this music as you contemplate the image for this station.
Pause and hold your heart and the whole world in your hands.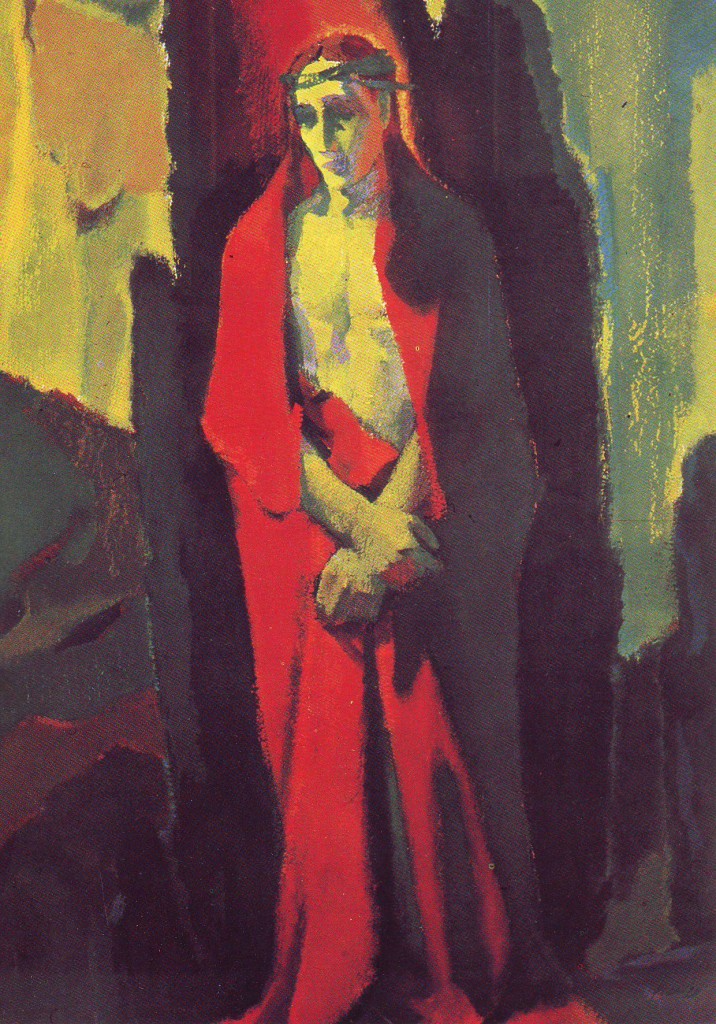 In this First Station, Jesus is handed his cross–
and with it, his fate to die
a terrifying and agonizing death on it.
You can't find a better example for injustice:
Our Lord is condemned to death
even if Pilate has just openly declared him innocent!
What must our Lord be thinking and feeling?
He must have been sad and scared,
but also, mostly bewildered:
After all, he didn't do anything to deserve this.
What have you been thinking and feeling these days?
Like so many others, you must be feeling sad or scared,
not to mention bewildered too:
What have we done to deserve this?
We don't understand–just as Jesus did not understand.
But our Lord shows us that it is possible
to keep our faith even without understanding.
He teaches us that we can be brave and strong
even if we are afraid and unsure.
We can imagine our Lord taking a deep breath
as he accepted the cross,
summoning every bit of his courage and strength and hope
as he braced himself for what loomed ahead of him.
We can try to do the same as we face this uncertain future:
We don't know how it will unfold and how it will all end.
But we need to make a choice:
We could simply join the social media bandwagon
help spread fear and frustration,
and contribute to a collective meltdown that nobody needs.
Or, we could take the same deep breath as Jesus,
brace ourselves with every ounce of courage and faith we can muster,
and choose to keep offering this world
much-needed words of encouragement,
much-needed prayers, and the much-needed hope.
This was the choice that Jesus made
when he accepted his cross.
He made this choice–
even if he did not deserve it,
even if he did not understand–
He did it for the world–for us.
And today he's telling us:
"I've been there. I've seen worse.
Hang in there. Take courage and be strong.
Do it for the world."
There is a timely phrase in English worth mulling over:
"the better angels of our nature."
It refers to the "positive attributes of the human nature."
Times like these can either bring out the worst in us
–or summon our very best selves.
Let us pray that today we choose as our Lord did
as he received his cross:
That we choose our better angels.
Spend a few moments 
telling the Lord how you feel–
and what you can try to do today
in response to him.
"Behold the Wood" from St. Louis Jesuits. Image for Station from Fratel Venzo. "Better Angels" from MV Francisco & JGo SJ.
Feel free to share your thoughts, questions, and prayers below.