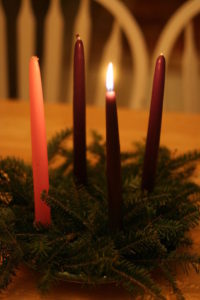 This homily for the first Sunday of Advent is based on Isaiah 63:16ff, 1 Cor 1:3-9, and Mark 13:33-37.
Today is the First Sunday of Advent, and so we light the first of four candles in our Advent wreath.
Already?! Today we begin our countdown to what should be the strangest Christmas of our lifetime… It is for this reason–amidst the global pandemic–that Advent becomes even more significant.
After all, the season of Advent has always been quite underrated. What do you expect from something that comes right before Christmas–and naturally pales in comparison to it? Yet the Church in her centuries' worth of wisdom has thought it important that before we rush and celebrate the birth of our Lord, it's worthwhile to spend some time–in fact, four weeks–just to prepare for Christmas.