Today's Sunday Gospel reading talks about the Sondheim musical and Tim Burton film, "Sweeney Todd." Stephen Sondheim celebrated his 90th birthday recently, so this is my own tribute to a songwriter who has through the years been such an inspiration and influence–and who has so often–through the haunting, profound lyrics of his songs–taken the words right out of my heart.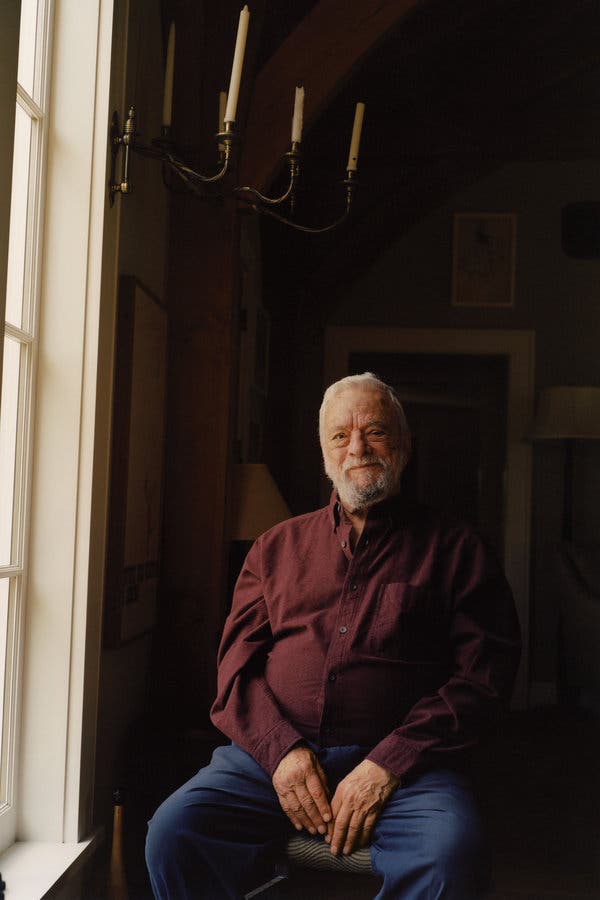 There are many things you don't expect to find in Stephen Sondheim's "Sweeney Todd." After all, it's a dark and strange musical that tells the story of an embittered barber who cuts his clients' throats, and with the help of his partner, Mrs. Lovett bakes the victims into meat pies!
In such a play (or movie), the last thing you would expect to hear is a love song as tender as "Not While I'm Around."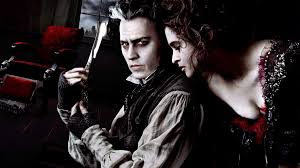 I first heard the song many years ago, and was immediately captivated by its words and music.  The song is both a warning and a promise:  In a world full of dangers and demons, the song goes, "nothing will harm you, not while I'm around."
I had forgotten that the song was from this musical, so imagine my surprise when I heard it sung in the Tim Burton's version of the play.  I was even more surprised that the song is sung not by some gallant hero to his beloved or by some father or mother to a child, but by a poor little orphan to his surrogate mother!  In one surprisingly quiet scene, Edward Sanders' character sings the song to Nellie Lovett, Sweeney Todd's adoring and unsuspecting partner.
Wise beyond his age, the boy is beginning to suspect that Mrs. Lovett, whom he loves dearly, is in danger and may soon be harmed by the very man she loves.  But how ironic that a helpless little boy like him is making such a promise–and is doing so with such spunk.  Mrs. Lovett is visibly moved (are those tears in her eyes?), but she tries her best to conceal them, as well as her growing confusion and anxiety. "Nonsense," she tells him, but the kid goes on:
"Demons are prowling everywhere,
nowadays,
I'll send 'em howling,
I don't care, I got ways."No one's gonna hurt you,
No one's gonna dare.
Others can desert you,
Not to worry, whistle, I'll be there."
In today's reading, our Lord makes a similarly ironic and spunky promise.   The scene is the Last Supper, and he promises his disciples lots of good things.  But when you think about it, in an hour or two, the Lord will be arrested and put to trial, and in less than 24 hours, he will be hanging dead on a cross.
How can a marked man like him, soon be crucified and dismissed an utter failure, dare to make such promises?  Shouldn't the disciples be reassuring him of their presence, if not protection, since he's the one whose life is in danger?
Yet that evening, as he prepares to face his ordeal, he thinks not of himself, but of his disciples.  He knows that they will be confused and frightened as a result of the coming events, so he forgets about himself and reassures them.  The Lord promises them his continued presence through the Spirit.
In one unforgettable line, he tells them, "I will not leave you orphans."  He's basically saying that no harm will come upon them–and us–for as long as he is around.  So when you think about it, the Lord may as well be singing Sondheim's love song to us!
You'll have to watch the film to find out if the helpless-looking little orphan manages to keep his promise to his surrogate mother.  But in a sense, it doesn't really matter, does it?  What matters is that no matter how ironic, no matter how foolish, the kid wants to protect the mother he has learned to love–at all costs!
We know the feeling, don't we?  There must be someone in our life–or some people in this world–for whom we would do anything in order to protect them from harm.  Especially at this time of global peril, we just want to wrap them in our arms–never mind if doing so may put ourselves in danger.  To them whom we love heroically, even naively, we are ready to make bold and foolish promises.
What else can we call this but love?  And if we have experienced feeling this heroic, even often foolish and naive love, then we have an idea of the kind of love that the Lord has for us.  Only, his is far greater.
For the love we are able to feel is but a faint reflection of the heroic/naive love that our Lord feels for us.  While many of us make such bold/foolish promises and end up with our foot in our mouth, the Lord has made his promises and basically put more than his money where his mouth is.
Every moment of our lives, the Lord watches over us in his quiet and subtle ways, making sure that we are safe because no matter how bold or foolish, he intends to keep his promise.
Can you think of one or two persons once in your life for whom you have reserved this kind of love–a heroic/naive love that promises boldly/foolishly to protect them at all costs?"  Think about it, and if you wish, share a thought, a feeling, or a question.
Here are the lyrics of the song.
NOT WHILE I'M AROUND
(Music and Lyrics by Stephen Sondheim)
Nothing's gonna harm you,
not while I'm around.
Nothing's gonna harm you,
no sir, not while I'm around.
Demons are prowling everywhere,
nowadays,
I'll send 'em howling,
I don't care, I got ways.
No one's gonna hurt you,
No one's gonna dare.
Others can desert you,
Not to worry, whistle, I'll be there.
Demons'll charm you with a smile,
for a while,
But in time…
Nothing can harm you
Not while I'm around…
Not to worry, not to worry
I may not be smart but I ain't dumb
I can do it, put me to it
Show me something I can overcome
Not to worry, Mum
Being close and being clever
Ain't like being true
I don't need to,
I would never hide a thing from you,
Like some…
No one's gonna hurt you, no one's gonna dare
Others can desert you,
Not to worry, whistle, I'll be there!
Demons'll charm you with a smile, for a while
But in time…
Nothing can harm you
Not while I'm around…