This homily was delivered on the eve of the 40th day for Immaculada "Bobing" de Leon Garcia.
I heard of Tita Bobing long before I met her. When we were kids, her son Gary used to regale his friends with all sorts of stories about his mom, like the time she made him sing in front of our school principal and how she never forgave him because he had opted to sing a Nora Aunor song. But there were many other stories, mostly about how she raised and took care of her brood of children.
Needless to say, even before meeting her, Tita Bobing, for me, was already larger than life,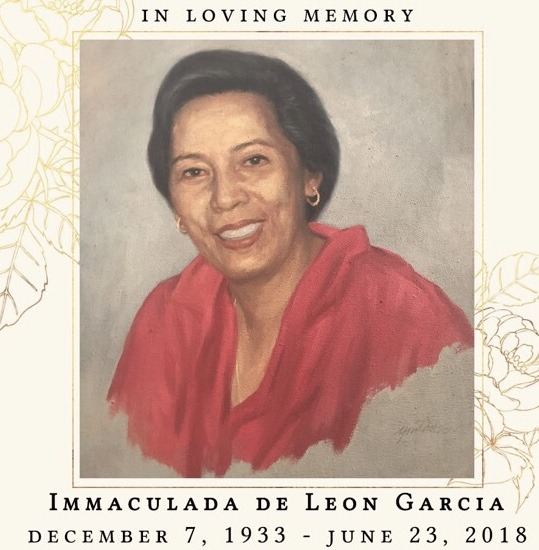 Meeting her in person made her seem even more legendary. We spent numerous weekends hanging out in their home on Scout Gandia . That was, in fact, where I watched betamax for the first time since they were among the first to have that technology. Tita Bobing always made sure to greet us: She would march into the living room on her way to mahjong or some business to attend to. 
She had a gift for making everyone feel at home. And she too always felt at home with us. She was always herself. Sometimes we would hear her voice arguing on the phone or scolding a household help. 
Or looking back now, maybe it was her daughter Chinky. 
Needless to say, those first years, we were terrified of Tita Bobing. But the strange part was, mingled with that fear was a sense of comfort and belonging. It helped that she always made sure that we enjoyed such great meals and meriendas at her table, or the endless supply of Coke (the drink, not the drug!). Maybe it was all those weekend parties that she or one of her children threw, where you could be sure to have a good time, enjoy a drink and smoke, and even sleep over if you didn't have a ride home. It was certainly the general atmosphere in their home that only Tita Bobing could create, a home that had wide open arms, where anyone could just chill and be himself or herself.
No wonder it attracted a lot of strays—like myself. Tita Bobing welcomed us all and adopted us all.
Before I knew it, Tita Bobing's home became a home to me. And she became a second mother. At my priestly ordination, she was seated at the front row in tears. It was surreal to have her and my mother both crying—for different reasons. My mother was miserable that I was going to become a priest, but Tita Bobing was shedding tears of joy.
Later I found out that my mom had come to see her for advice about my vocation, and Tita Bobing must have given my mom the assurances that she needed and said the words she needed to hear because my mother eventually accepted my decision.
When I was assigned to Xavier School, I would occasionally get a call from Tita Bobing for a favor. But never in every single one of those occasions, did she ask for a favor for herself or her family. It was always for someone else—an inaanak or a kumare or a friend of a friend. "Tulungan mo naman," she would say earnestly. "Pakinggan mo lang." This generosity of heart and willingness to go all out for a friend—that revealed a lot about her character.
When I remember Tita Bobing, the image that comes to mind is that of a lioness who would do anything to protect her cubs. This strength, I'm sure you will agree, defined Tita Bobing's character. It was a strength that we looked upon and leaned upon, especially when things seemed to go wrong, as they sometimes do in life, or when things seemed to fall apart, as they also unfortunately do in this world. Tita Bobing's strength was rooted in a mother's love that would go every extra mile to protect her children and those of us that she considered her children.
For this reason, it wasn't easy to see Tita Bobing in the last years when she grew weak. Be that as it may, you knew that beneath the weaker voice remained an inner strength.
Recently, in one quiet moment, Tita Bobing shared with Chinky a private prayer, a secret hope she nursed in her heart: That the Lord would see past her errors and shortcomings and let her good deeds outweigh them.  
Today's parable speaks of weeds and wheat, how the wheat would be gathered at the harvest while the weeds were burned. We can't help but wonder: Why wait until the harvest before doing away with the weeds? Why not eliminate them immediately. Like Tita Bobing, we want to wish away all the things that the weeds stand for—suffering, sin, shortcomings—but that is not God's way. In His wisdom, God knows that by allowing the weeds to grow, somehow the harvest of wheat would be greater. 
As Tita Bobing faces the Lord, we can be sure that the Lord will gaze at her lovingly, look past the weeds in her field, and thank her for the abundance of wheat that she has sowed in this world.
Whenever I visited, Tita Bobing would never fail to ask me, "Are you praying for me?" It was the one constant request that she reserved for herself—prayers.
Now that she has joined the Lord, I make the same request of her and ask her the same question: "Are you praying for us? Pray for us who love you and whom you love." Our faith tells us that though she seems absent, she will continue to be very much present in our lives. United with the Lord, more than ever, she can watch over us. Now, more than ever, she can protect us and sustain us with her strength.