This homily is for the Feast of the Sto Nino.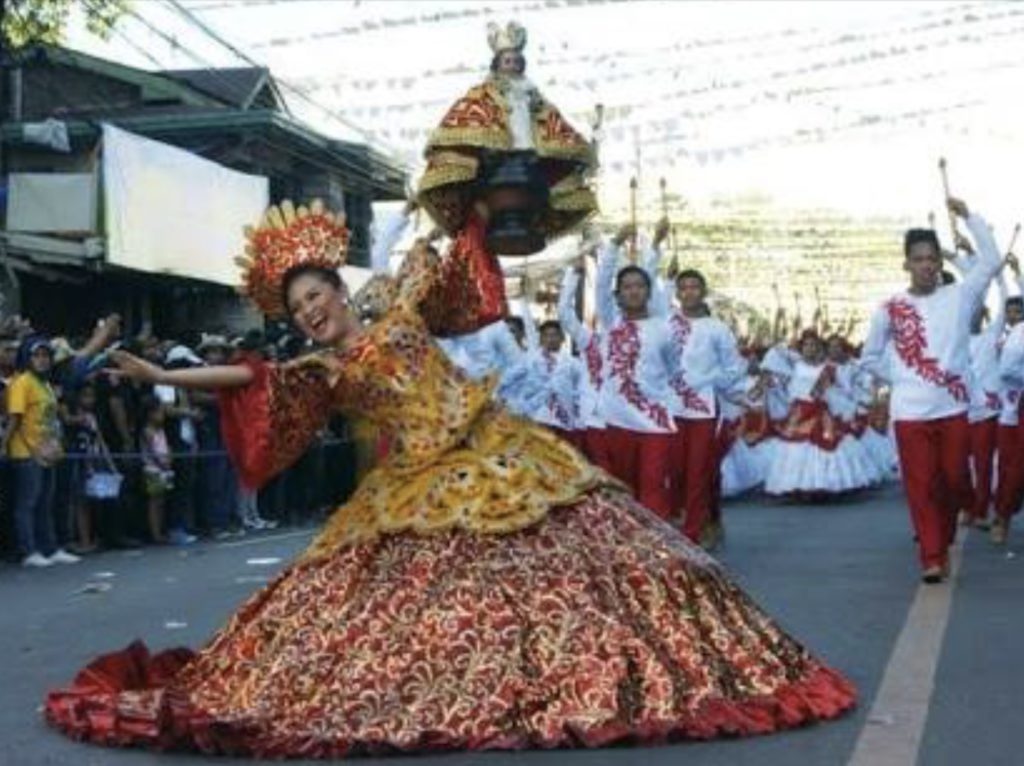 I'm not exactly a big fan of the Sto. Nino.  When I was a kid, my sister had her own private altar that featured many religious statues and pictures.  You name it, she had it.  It was a virtual nightmare for any born-again Christian.
It had a huge wooden crucifix with a bloody corpus, a small replica of the Black Nazarene of Quiapo, several images of the Blessed Mother—Lourdes, Fatima, Perpetual Help, among other titles—and last but not the least, it had the Sto. Nino in a glass case.  I remember almost all the images elicited a religious feeling in me—all the images, that is, except for the Sto. Nino.

This lack of personal devotion to the Sto. Nino has stayed with me all these years.  I don't know.  Maybe I've always found this practice of dressing up the Sto. Nino as kind of strange.  As we know, aside from the traditional Sto. Nino in red, devotees dress him up in other attires, like the Sto. Nino in green—which, I'm told, symbolizes prosperity because aren't dollars also called "green bucks"?  That's why we see the green version of the Sto. Nino displayed in many stores and restaurants:  to bring in the cash. The less charitable among us would dismiss this practice as nothing more than playing doll, like dressing up Ken and Barbie.
Another beef concerns people who claim to have been chosen as a medium for the Sto. Nino, announcing alleged messages from the Christ Child in an appropriately high-pitched pre-pubescent falsetto.
Of course, I have no right to look down on all these expressions of devotion. Just because I don't understand them doesn't mean they're not legitimate or appreciated by God.  Also, I have yet to experience a Sinulog celebration in Cebu, which people tell me, is the most profoundly moving religious experience.
Be that as it may, much to my relief, I learned that like all Catholic devotions, the devotion to the Sto. Nino is not a requirement, as it were.  Every Catholic devotion, whether to Mary or to the Sto. Nino, for example, is but a special expression of faith that can help some of us, depending on our needs and even our tastes.  A devotion is a gift from God, and if you feel devoted to any, as I do to Mary, then you ought to be grateful for the gift.  But if you don't feel particularly devoted to any, as I don't to the Sto. Nino, that's really all right as long as you respect those who do.  God has His reasons for giving one a particular devotion, and not giving it to another.
Today, on the feast of the Sto. Nino, it might be worthwhile to think about this devotion?  What is so special about the Sto. Nino?  Can it mean anything to those among us who are not into dressing it up or impersonating it?  I can think of two.
Sto. Nino is a symbol of God's closeness to us.   God did not only become human, but even went through childhood.  He got the entire package.  As a child, God invites our affection, and allows us to pour our affection on Him as we do to a child.  We can cuddle it, or dress it up.  The Sto. Nino is the symbol of God's closeness to us, and His desire that we fall in love with Him.
But lest we get carried away, let's not forget that the one and only episode in the Gospel showing the Christ Child had him telling his parents off.  In the story we know as the "Finding in the Temple," he went missing for three days, and when his parents finally found him, he said, "Didn't you know that I had to be about my Father's business?"  It wasn't a rejection, but it was a painfully clear message to Mary and Joseph:  "You do not own me.  You have to let go of me.  You cannot control me."
Second, it tells us about childhood.  Have you stopped to notice that the childhood of Jesus was far from perfect?  In fact, it was riddled with imperfection from Day 1.  He was born in a manger.  Thanks to Herod and Joseph's dream, his family was a virtual refugee, fleeing to Egypt and staying there for some time.  Most important of all, he didn't even have a normal family:  he didn't have a biological father. And all his life he was hounded by rumors about him being born out of wedlock.  "Son of Mary."
The second meaning, I think, is:  A blessed childhood need not be perfect or problem-free.  A childhood can be blessed in spite of all its imperfections.
So today, on the feast of the Christ Child, we receive two invitations—all of us, even those of us who do not feel a special devotion to the Sto. Nino:  First, we are invited to pour our love on this God, the All-Powerful One who became a child to be close to us, and to embrace this child who is our God.  Second, we are invited to embrace our childhood, with all its imperfections and problems, to befriend it, if we haven't, and to bless it by accepting it and thanking God for it, reminding ourselves that a childhood can be blessed in spite of its imperfections.
(image:  www.guides.clickthecity.com)