This homily, based on Luke 10:25-37, was delivered at the Montserrat Religious Formation Center in Silang, Cavite during the closing Mass of the Workshop on Ignatian School Leadership.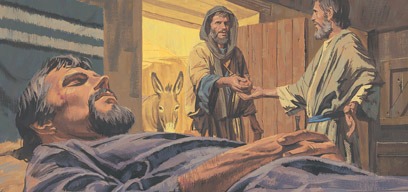 We've all heard the Parable of the Good Samaritan before, and of course, its message is loud, clear, and–given all that's going on in our world today–timely: Just like the Good Samaritan, we are each called to help those in great need–even and especially strangers, those of a different race, region, or religion.

I can't help but think, however, that such occasions do not happen frequently enough. These opportunities to save someone's life or even help someone in a grave situation come somewhat few and far between. This call to be a neighbor to others–as the Good Samaritan exemplifies–is extended to all of us, but is it possible that more often than not, we are called to be more like that other–less famous–"good neighbor" in the parable? Reading the parable today–for the nth time–my attentions was drawn not so much to the Good Samaritan, but to the Good Innkeeper.
We really rarely get to play lifesaver as the Good Samaritan does (What a relief, if I may say so!). We pray that when such opportunities do arise, we will be able to do the right thing and rise to the challenge. But is it not the case that more frequently we find ourselves with people being handed over to our care? Just as the Good Samaritan delivers the wounded stranger to the inn keeper, the Lord seems constantly to be entrusting people to us–helpless family members, broken-hearted friends, even strangers scarred by a hostile world. Although taking care of these people can take its toll on us, we are nevertheless called upon to do our part.
Those who may be feeling the burden of caring for others must take heart in the words that the Good Samaritan speaks to the inn keeper. It is the same words the Lord speaks to us: "Take care of him. If you spend more than what I have given to you, I shall repay you on my way back."
So for those who are feeling burnt out and those who are running empty on their resources, financial and emotional, as a result of caring for others, the Lord gives his word that he will replenish their resources, and–even more importantly–he shall be back. For a follower, this promise of a second visitation from the Lord is precious enough reward.