This homily, based on Genesis 18:1-10a and Luke 10:38-42, is for the Church of the Gesu, Ateneo de Manila University.
We're all familiar with the story of Martha and Mary–not only because we've heard this Gospel story before, but also because most of us have wrestled with the issue it raises in our own lives.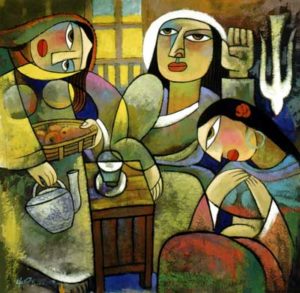 Martha is frantic in the kitchen, concocting whatever she could to serve their special guest and friend, Jesus, who, because he's very close to them, has probably shown up unannounced. She's doing what she must, but her dear sister Mary isn't. Needing help, Martha calls for Mary, but gets no answer. She peers through the smoke rising from the stove, and of course, there is Mary, sitting idly at the feet of Jesus, a special captive audience of one. If this had happened today, Mary probably would have already posted a couple of selfies with their celebrity guest on Instagram.
Martha rushes out of the kitchen and asks Jesus to order Mary to help with the chores, but in his gentle way our Lord tells his anxious friend, "Martha, Martha, there is need of only one thing. Mary has chosen the better part and it will not be taken from her."
It's a valuable reminder especially for those of us who tend to be as task-oriented as Martha–that we need to make time for prayer because without prayer, any action can be misguided, as it happens in this case: In Martha's desire to be hospitable to Jesus, she ends up prioritizing the kitchen chores over his company!
"That's quite noble and neat," you may protest. "But in real life, someone has to man–or as the case, woman–the kitchen. You can't just abandon the chores! Someone's got to do the work! What to do then?"
Fortunately today, another woman in another–more ancient–kitchen furnishes us some kind of clue. I'm referring to Sarah, the wife of Abraham, from our First Reading. They too are entertaining unexpected guests: three strangers who show up out of nowhere in the desert and who, as we find out soon enough, actually turn out to be messengers from God. Like Martha, Sarah has to busy herself in the kitchen, whipping up something to serve their guests, but unlike her New Testament counterpart, Sarah does not miss out on the conversation.
The First Reading ends quite abruptly with the messengers asking about Sarah and informing Abraham that his wife–who by the way is already 90 years old–will finally bear him a son. The very next line–which is not included in today's reading–tells us quite directly: "And Sarah was listening at the tent door behind him." In fact, hearing the incredible news, Sarah laughs to herself–the very same reaction Abraham himself had when the news was relayed to him by God himself before this day. For the laughter their son has caused them, both out of initial disbelief and eventual joy, Abraham and Sarah later decide to give their son a name that means laughter: "Isaac."
So as it turns out, we don't need to miss out on the good news even if we're slaving away in the kitchen. We don't need to abandon our chores. We can always do what Sarah did: We can eavesdrop from the kitchen.
And when we think about it, isn't that what St. Ignatius means when he invites us to "find God in all things." Prayer is non-negotiable; we need to pray at all times. We need to make time to sit at the Lord's feet whenever we can the way Mary did. But when we are not on retreat–which is most of the time–we simply need to learn how to "pray among the pots and pans", in the very fever and frenzy of life. We need not abandon the kitchen or the market place or the office. We can, like Sarah, eavesdrop and listen for God's message wherever we are.