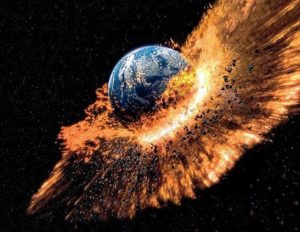 This reflection is based on Mark 13:24-32.
I received my very first catechesis from an especially religious elder sister, who–rumors in the family had it–was a frustrated nun. For starters, she kept her own private altar in her bedroom–an elaborate traditional altar peopled with enough santos to give your regular fundamentalist a Catholic nightmare.
Because she was particularly devoted to Our Lady of Fatima, my sister made it a point to remind us constantly of the messages that had been relayed to its three visionaries, Lucia, Jacinta, and Francisco. These messages included the direst warnings about the end of the world, especially as described in the so-called "secrets of Fatima," the third and last of which, at that time, remained chillingly undisclosed.
So I don't think you can blame me when as a kid, I developed some kind of weird obsession about the end of the world. I walked around with a constant sense of foreboding; my mantra was: "Not yet, Lord. Please don't let the world end yet." At my worst, I would find myself playing these crazy "betting games" each time our car approached a traffic light. I would tell myself, "If the light changes before we cross the intersection, then it will be the end of the world soon!" As expected, relief washed over me whenever we managed to beat the traffic light, but needless to say, on the days that we failed to do so–and there were many–I lost sleep trying hard not to get a nervous breakdown.
It didn't help that talk about the apocalypse–some of them particularly lurid–predictably increased whenever we approached the end of a decade, not to mention the end of the last millenium, where apocalyptic paranoia must have reached an all-time high.
Thankfully, I outgrew my own apocalyptic paranoia after enough unbeaten traffic lights and uneventful decades, finally getting the hint that maybe I should stop holding my breath for the end of the world.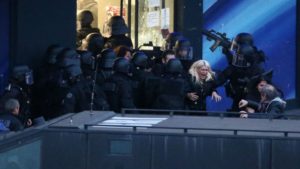 Last night, however, I was stunned by news of the terrorist attacks in Paris, where over a hundred perished and about the same number injured, many of them in critical condition. And that dark sense of foreboding that I felt as a child suddenly loomed over me, and for the first time in a long time, wondered again if the world was coming to an end.
In today's Gospel passage, our Lord talks about His second coming, which the Lord promises will happen on a day not known to the angels or even to himself. Whereas a dark sense of foreboding would have immediately taken hold of the ten-year old kid in me, these days I would respond quite differently. The reason is that thanks to a greater understanding in faith, I am now able to distinguish between what is called "prophetic eschatology" and "apocalyptic eschatology."
While both affirm God's active presence in the world to accomplish His purposes for humanity, there are some significant differences between the two. Apocalyptic eschatology assumes that humanity has become so corrupted by sin and evil that nothing is worth salvaging. The only way that God can redeem us is by destroying the world as we know it, and by starting with a completely new slate. Such a belief is hard to resist in times like ours.
Prophetic eschatology, on the other hand, holds that God's saving work will be done within human history and through human agency. Ever respectful of our freedom, God will somehow lead us to transform the world–appearances to the contrary notwithstanding! Unlike the scenario provided by an apocalyptic eschatology, this one is an invitation to hope not only in God's faithful work, but also in basic human goodness. Given what's going on in the world, it demands a lot of faith and a lot of hope. It breeds not foreboding, but foresight: God's Will will be done, or as the visionary Julian of Norwich wrote, "All shall be well!" The question, therefore, is: Shall we take part in God's work of making all things well?
It is a prophetic eschatology, rather than an apocalyptic one, that our Gospel reading invites us to. We are being called to ask ourselves how we, in our own way, can cooperate with God's work in the redemption of the world. Just as importantly, we are being challenged to keep our faith both in God and in humanity.
I use the word "challenge" because every day we hear about unimaginable cruelty and atrocities committed in every part of the world, such as those that we are still in the process of learning about in Paris. Confronted with such terrible news, we cannot help but be tempted to give up on humanity and to dismiss the basic goodness of people as nothing more than a poetic illusion. Given all that's going on in our world, we cannot help but be wrapped by a sense of apocalyptic foreboding.
But God hasn't given up on us. He continues to believe in His creatures: That with our cooperation, He will be able to accomplish His work and, appearances to the contrary notwithstanding, change the world. So as we reflect on the Gospel today, two questions we can ask ourselves are: "Given all that is going on in the world, can I continue to believe and hope–against hope!–that God will accomplish His purposes through humanity, no matter how broken it is?" and "How can I concretely take part in God's work in bringing about His Kingdom?"
Let us #prayforParis, especially the victims and families of those who were killed and injured in the terrorist attacks.
This is a song written by Jerome Kern and performed by Tony Bennett called "The Last Time I Saw Paris." For those of us who've been to the city of lights or those who have fallen in love with it in films, the news last night has been most heartbreaking. We pray that the French people face the aftermath of the terrorist attacks with defiance, resilience, and hope.