This homily is based on John 20:19-23 for Pentecost Sunday.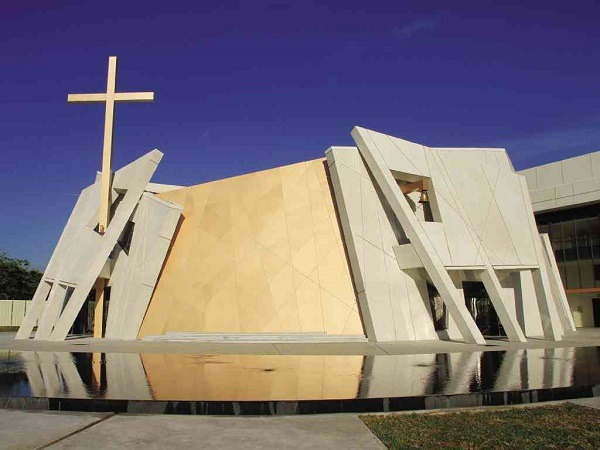 There is a mysterious, but beautiful stained glass window in the Oratory of St. Francis Xavier in Nuvali. There are over twenty such windows in that chapel, each one designed by artist Carlo Tanseco, and each one a piece of art in its own right. Every time I walk into the chapel, I never fail to be surprised to find myself suddenly bathed in the light and colors streaming through the windows.
Yet there is one particular window that you won't see unless you go into the reconciliation room, where it is installed behind closed doors. It's an image as mysterious as it is instructive because it teaches us a couple of valuable lessons about the Holy Spirit in our lives.
The window is named "The Two Standards," the title of St. Ignatius of Loyola's reflections on the battle of good and evil in the world and the choices we have to make between the two. You may not be able to guess the theme when you first catch a glimpse of this window because it doesn't give us the usual stereotypical depiction of angels battling demons. Instead you find two suspiciously identical-looking angels hovering on each side of a person who stands in the center of what looks like a maze.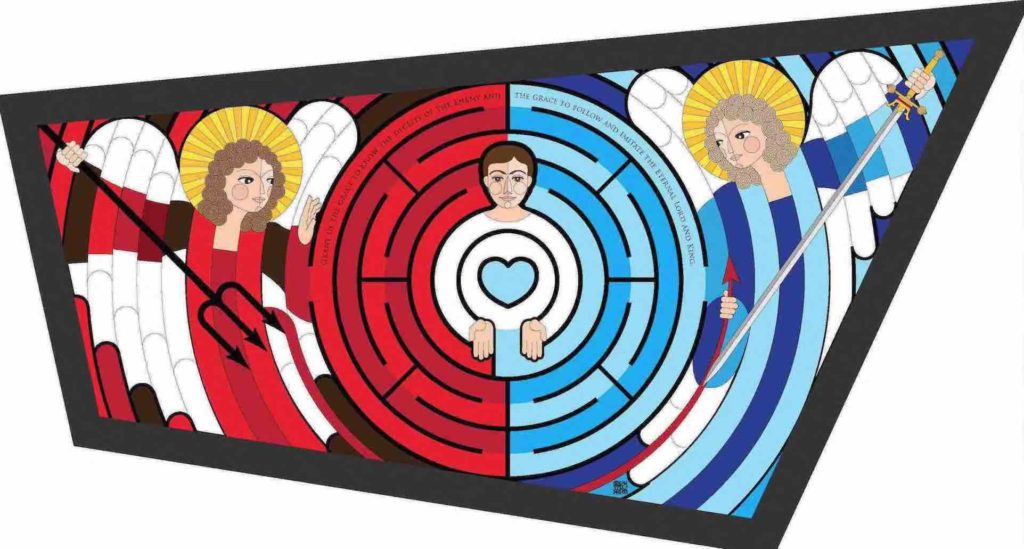 Only when you look closely do you catch the deception: The angels are far from identical: While the blue angel wields a heavenly sword, the red angel carries the devil's fork. More remarkably, the blue angel is grasping the scarlet tail of the false angel! St. Ignatius famously wrote that the evil spirit that tempts us often appears disguised as an "angel of light," and the only way to catch it is to wait patiently for it to reveal its "serpent's tail."
It's a great reminder for us to be careful because we often rationalize the things we do, invoking the best of intentions or even claiming that we are "following God's will" to justify something we want to do. Sometimes what seems like a noble thing is exactly what the evil spirit wants us to do! And I think we're pretty good at whipping up a great sounding excuse to justify any of our actions! We need to wait patiently and prayerfully, asking for the guidance of the Holy Spirit to help us discern if what we claim is God's will actually is. It's possible that it may just turn out to be our own desire as a result of the devil's temptation.
Both angel and demon will try to make their way to us and to win us over, but as shown in the window, they can do it only through the maze of our thoughts. It is through our thoughts, according to St. Ignatius, that angels and demons will attempt to influence us, and it is through our thoughts that they will try to affect our feelings and shape our decisions.
For me, this is an important lesson in discernment. First of all, it's a relief to realize that not all our thoughts should define us because they do not all belong to us. Some thoughts are ours for sure, but there are also thoughts that just literally occur to us because of our environment. More importantly, there are thoughts that are prompted by good and evil spirits–that's why again, we need to discern carefully where our thoughts are coming from so that we can follow those that come from the good spirit and allow them to influence our actions, and reject those that come from the tempter.
How do we discern? The shortest answer comes from the Lord: "By their fruits you shall know them" (Matthew 7:16). We need to anticipate where a particular decision will lead–in terms of its effect on other people, but also in terms of its effect on ourselves, including how we will feel. Will we be led closer to God or farther away from Him?
There is a third lesson hidden in the window. If you have the patience, trace the path of each angel with your finger. Both paths are equally convoluted because aren't our thoughts usually messy and complicated? But there is one important difference between the angelic and demonic paths. The evil angel will never find its way to the person's heart the way the good angel can. Every once in a rare while, St. Ignatius teaches, God will touch our hearts directly without the usual recourse to our thoughts, and we will simply feel His presence and know His Will. It is a rare and mysterious and wonderful thing, and God does it for reasons only He knows. But the truth is, in a way not possible for angels and demons, only God Himself–the Holy Spirit–has a direct path to our hearts.
Today, the Feast of the Pentecost, we recall the gift of the Holy Spirit poured onto the Church and into our hearts. We are always bathed in the light and colors of the Spirit if only we open our hearts. Let our prayer today be the words inscribed on the window, as inspired by St. Ignatius of Loyola:
"Grant us the grace to know the deceits of the enemy
and the grace to follow and imitate the Eternal Lord and King."
Happy Pentecost to all!