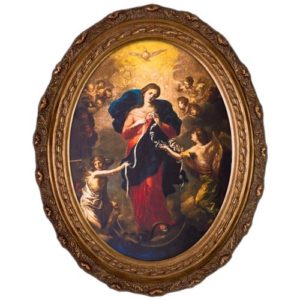 Note: This homily was delivered during the celebration of our Lady's Nativity at the Charing Cross Hospital Chapel.
Sometimes we feel like our lives are all tangled up in knots. It may be because of a major crisis that we are facing–a financial problem, a painful relationship, or a serious illness of a loved one or our own. It may be as simple as something hurtful that someone said about us or did to us, and whatever it is, it's causing us pain or anxiety. Or sometimes we feel our life is in knots simply because we feel entangled in our own needs and desires. There seem to be so many of them unfulfilled, and we feel frustrated and helpless.
In English, we have a phrase that expresses this feeling quite graphically: "I have a knotted stomach!" or "My stomach is in knots!" This image gives us an idea not only of what our fear or anxiety must feel like physically, but also of what it does to us: We are so anxious we can't "digest" or take it anymore.
Sometimes these problems descend on us almost all at the same time, and in Filipino, we say: "Nagkabuhul-buhol ang mga problema ko." Or: My problems are all tied up in knots." In other words, we feel helpless.
Anyway, I think you've probably had an experience of that sort sometime in your life, so you understand what what I'm talking about. I mention this today during our celebration of our Blessed Mother's birthday because there is a very special devotion that you may never have heard of, but one that has been personally promoted by Pope Francis for many years now even before he became Pope.
When he was still studying in Germany, he discovered this devotion at the Church of St. Peter in Augsburg. There he saw a painting from about 1700 depicting Mary in heaven, surrounded by angels. What's so special about it is that she is holding a long ribbon and is untying one of the many knots on the ribbon. It was the image of "Holy Mary, our Lady, Undoer of Knots." It symbolizes how our Lady untangles the knots of sin through her obedience to God and her willingness to become an instrument of God's saving work in her son.
The Holy Father, at that time still Jorge Bergoglio, was so moved and inspired by the devotion it became his favorite devotion to our Lady, In fact, he brought back a copy of the painting with him when he went back to Argentina, and has not stopped promoting the devotion to Mary under this title.
It is a beautiful devotion. Whenever we find our life in knots, we are invited to bring our troubles to our Blessed Mother and ask for her help to undo the knots–whether they are knots caused by our problems or by our own sins. As we know, the intercession of Mary is so powerful, so we, her children, can raise the knotted ribbons of our life to her in prayer, whatever they are, and we can be sure that she will help us untangle them.
But Mary offers us not only her intercession, but also her instruction. Her own life teaches us how to untie the knots in our own lives. Mary's life was not free from trouble; she encountered numerous knots during her earthly life. We know very well the sufferings she had to endure because of the sufferings taken on by her Son. But she also freely took on sufferings of her own from the moment she said "Yes" to God's invitation to be the Mother of God. When she agreed to bear the Son of God, she did not receive any crown; on the contrary, she received the scorn of her neighbors. And she was most certainly heartbroken when Joseph, before his dream, had decided to break their engagement, and not to mention the countless times she found it hard to understand her Son, beginning with the Finding at the Temple.
But every time she found her life entangled with problems, what did she do? The Gospel according to Luke gives us the answer: "She treasured all these things in her heart." In other words, she prayed and discerned what all this could mean. She silently and patiently did what she could to untangle the knots, and sometimes, all it mean was to wait for them to loosen.
We can all learn from her. Do you notice that whenever you find the cable of your earphone tangled in knots, the more impatient you get, the more you rush, the harder you tug and pull on the earphone, the tighter the knots get and the more they resist getting untangled. I've learned that the most effective way to undo the knots is to work on them slowly and patiently. Sometimes when there are many knots and they're really tight, you begin to wonder if you're making progress. But you are–except you can't perceive your progress. You just have to keep going, and with your fingertips keep making those very tiny movements until you find and grab hold of that one knot that loosens the whole thing.
This is what Mary teaches us. To trust God, to accept patiently the knots in our lives and to trust that with God's help, we can untangle the knots–maybe not immediately, but in due time.
As we honor her today for her birthday, we thank God for this beautiful gift of Mary. And we raise to her the knotted ribbons of our lives and ask her to teach us and to help us untangle their knots.
Holy Mary, our Lady, Undoer of Knots, pray for us, and teach us to undo the knots in our lives.