This reflection is on Matthew 21:1-11, from the Palm Sunday Readings.
A friend who has lived in London for years took me yesterday to a Catholic church hidden in a side street near Leicester Square. The church, built by the Marist Fathers and dedicated to the Notre Dame de France, features a number of religious art works by such eminent artists as Jean Cocteau (murals), Georges-Laurent Saupique (base relief carving of Our Lady of Mercy), and Boris Anrep (Mosaic of the Nativity).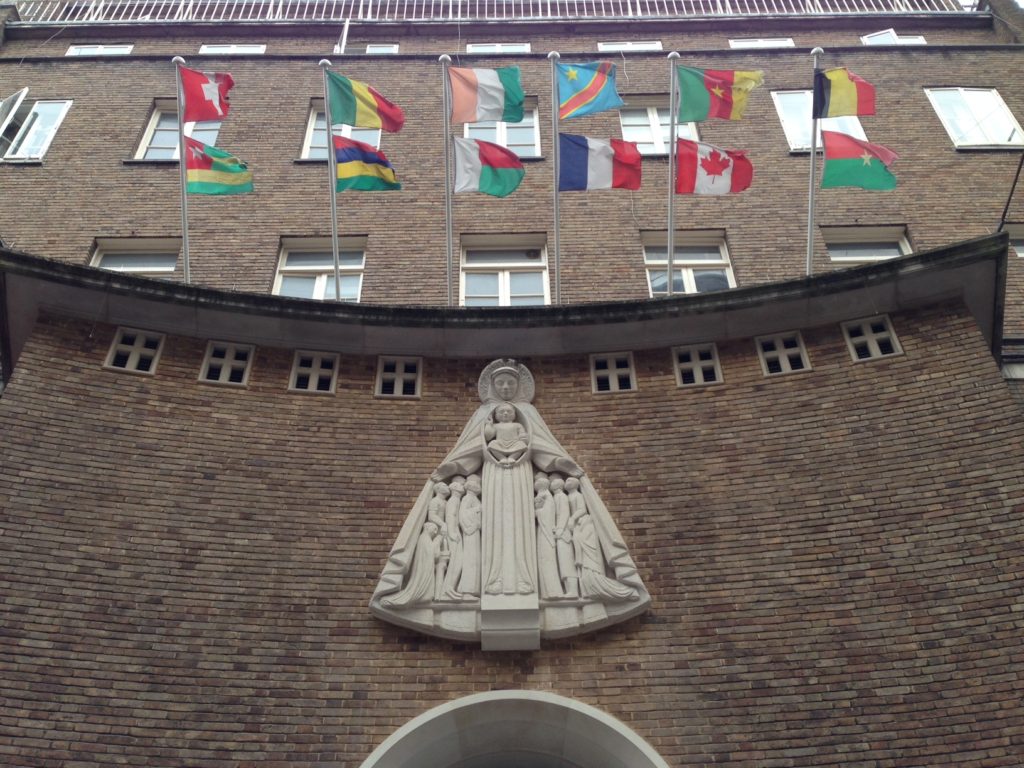 But maybe because it was the day before Palm Sunday, what appealed to me most was the series of refreshingly simple sketches on ceramic in the Stations of the Cross.
It didn't take long before I started doing what you would expect from a tourist and a regular Instagram user like myself: I took photos. It was all easy and simple enough until I found myself before the tenth station: Jesus being stripped for the crucifixion.
The light from the church altar cast the shadows of my hand and phone on the ceramic, and for some reason, I couldn't get them out of the picture. I was trying my best to find the best way to frame the picture, moving my hand in every possible way, but couldn't for the life of me get rid of the shadows.
It was then that it occurred to me: "Why even get the shadows out of the picture? Why not keep them there?" Maybe showing me photographing the artwork would make the picture more interesting!
So here's the final product: a picture of the Notre Dame de France's tenth Station of the Cross plus the shadows of my hand and iPhone caught in the act of snapping the photo.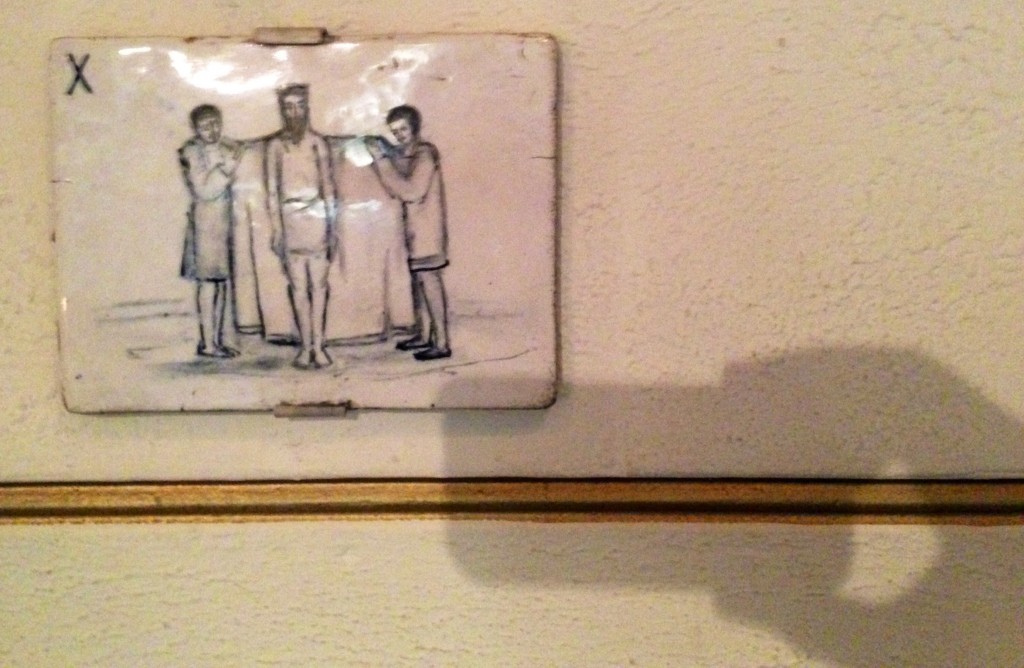 Not bad, I thought. But when I was studying the photograph later on, I realized that there might just be an important reminder here somewhere for me as I prepare for Palm Sunday. I've been concerned about going through Holy Week again this year; after all, it's something we go through every single year. It's not as if we don't know the plot or the ending. Would I find something new at all this year?
But my visit at Notre Dame de France reminded me that there will always be something new not only because the mysteries of Christ's life are unfathomably rich in meaning, but also because I'm somehow different every year, and the only way to approach Lent is through the lenses of my life. In other words, maybe the best way for us to take another shot at Lent is precisely to keep ourselves in the picture, not to get us out of the way. As we recall and pray the mysteries of those events that happened so many centuries ago, it would be important to remember that they happened not only for those who were there in Calvary, but also for us who belong to this century. We are, in every sense of the word, part of the picture!
Just as importantly, the only way for us to appreciate the mysteries of our Lord's suffering, death, and resurrection is through our very own lives. We cannot enter Jerusalem any other way. The only gate to that city this Lent is the gate of our own lives.
And so, as we prepare to enter Jerusalem with our Lord in this holiest of weeks, the last thing we should do is that routine we have been accustomed to every time we check in at an airport: Put away everything we have with us for some form of security check. On the contrary, don't put away your packages. Don't remove your shoes. Don't empty your pockets. Hold on to every single thing–every single and aspiration, and yes, every single fear and anxiety–and carry every single one of our baggage–in every sense of that word!–with us as we enter the gate of the holy city.
It is the "here and now" of our lives that will help us this year to take another shot at the mysteries of Lent.