We have no idea
what could have transpired
during such a meeting between Jesus and Judas.
We can only use our imagination,
though we must always be mindful
of what the Gospel will allow
and what the Church teaches.
Many people are happy
to dismiss Judas
to an eternity of eternal damnation,
with no hope of salvation.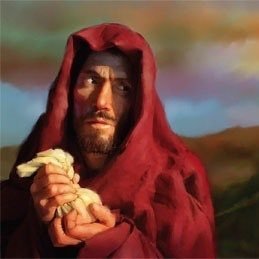 The truth is,
we don't know.
We believe that there is a hell,
but we don't know who is there–
or if anyone is there, for that matter.

The Church has canonized many as its saints,
but has so far refused to consign anyone
to eternal damnation.
What we do know is that
what Judas did to Jesus was an awful and terrible thing.
Betrayal is one of the worst–and most painful–sins
because it can be committed only
by people we love.

And Judas did it knowingly–
rejecting all the possible second chances
our Lord had given him.
Was his penitence later on
enough to warrant God's mercy?

Only God knows.
And only God can be his judge.

We also know that Judas was driven to despair
and that he took his own life–
a grave sin against God–
especially if, as the Church teaches,
it was committed with full knowledge
and full freedom.

But did Judas have full knowledge
and full freedom
in committing suicide?

Only God knows.
And only God can be his Judge.
Given all that we know
about our Lord Jesus,
is it inconceivable
that if and when they met in Hell,
our Lord still extended his friendship
and forgiveness?
Is a second chance from Jesus
ever too late?

Again, we don't know.
But the Jesus you choose
will say something about your image of God.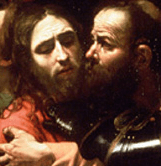 Here is the take of one of my favorite writers,
Frederick Buechner:
"Once again
they met in the shadows,
the two old friends,
both of them a little worse for wear
after all that had happened,
only this time
it was Jesus
who was the one to give the kiss,
and this time
it wasn't the kiss of death that was given."
If the reunion did happen in this manner,
the main question is:
Did Judas accept Jesus' kiss of forgiveness?
His response is what would spell the difference
between heaven and hell.

What are your thoughts?
Feel free to share.