This last prayer exercise was an invitation to remain at the foot of the cross and to try to hear the cry of Jesus.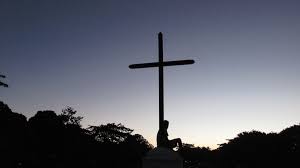 We've been through Lent a lot in our lifetime, but it is said that what actually counts is how we let the mysteries of Lent through us. Imagining how the last cry of Jesus might have sounded, letting that experience affect us, and asking ourselves what it might mean for our lives–that can be a powerful way to let Lent through us.
It's possible that you did not feel anything significant during this particular prayer. That's OK. The graces that God grants us are not always perceptible. But it doesn't mean there was no grace given. So what we need to do is to review our prayer experience and unwrap whatever gift has been given to us by God…
Regardless of how you felt praying over the cry of the Crucified Lord, what do you think is God trying to say to you, here and now, given all that's going on in the world and in your life?
If you end up not with answers but with questions, that's fine. Some of God's most valuable gifts come in the form of questions that we take away with us from our prayer.
If you feel moved to do so, share your experience, insight, or questions below.
Also, feel free to read your fellow retreatants' sharing–and respond to them if you wish. Based on past online experiences, some of the most significant retreat graces were found in the interaction among our online retreatants.
Move on to the next section whenever you feel ready.