While the gospels of Matthew, Mark, and Luke recount the breaking of the bread and the sharing of the chalice, the gospel of John tells us about something else that Jesus did that last night of his earthly life in the upper room.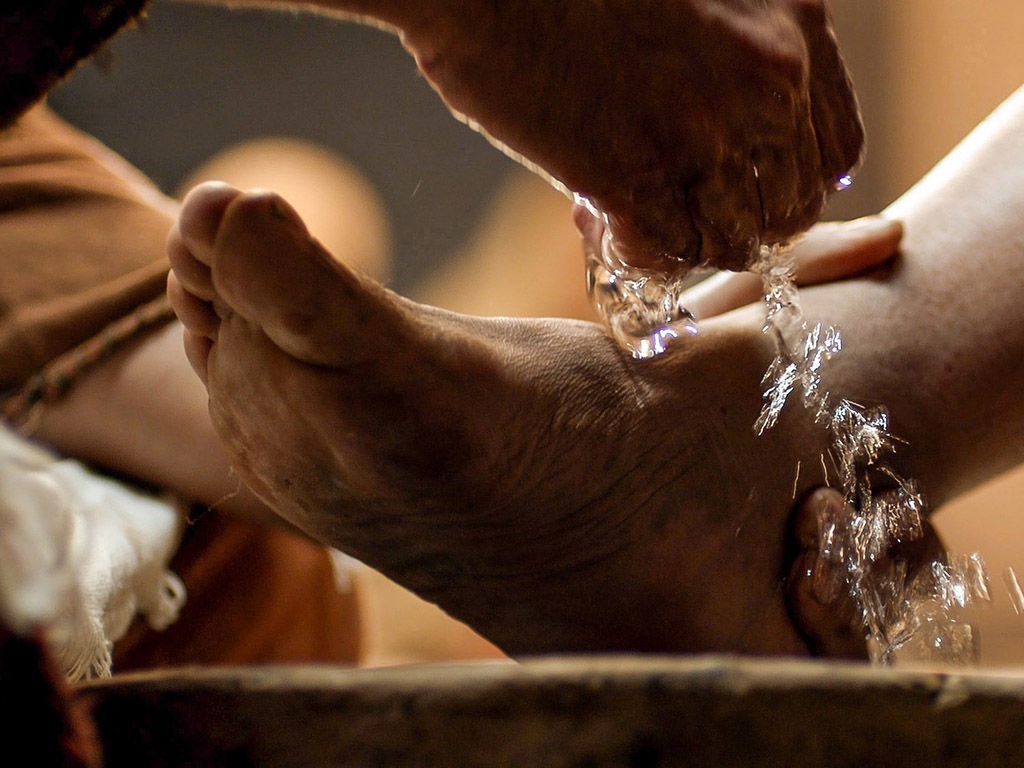 His impending betrayal by Judas is still very much bothering him, but it doesn't stop our Lord from performing an action that defines not only his ministry, but his very person.
Read the following passage on the Washing of the Feet. Again do so as slowly and prayerfully as you can, imagining the scene in a manner as detailed as possible.
A helpful way to avoid skimming or speed-reading is to let this piece of music pace you.

[scribd id=305622352 key=key-Dqf8gMsLRQ1o1Vs0iGNU mode=scroll]
Note: If you can't see the slideshow, here is the text.
[1] Now before the feast of the Passover,
when Jesus knew that his hour had come
to depart out of this world to the Father,
having loved his own who were in the world,
he loved them to the end.
[2] And during supper, when the devil had already put it
into the heart of Judas Iscariot, Simon's son, to betray him,
[3] Jesus, knowing that the Father had given all things into his hands,
and that he had come from God and was going to God,
[4] rose from supper, laid aside his garments,
and girded himself with a towel.
[5] Then he poured water into a basin,
and began to wash the disciples' feet,
and to wipe them with the towel with which he was girded.
[6] He came to Simon Peter; and Peter said to him,
"Lord, do you wash my feet?"
[7] Jesus answered him, "What I am doing you do not know now,
but afterward you will understand."
[8] Peter said to him, "You shall never wash my feet."
Jesus answered him, "If I do not wash you,
you have no part in me."
[9] Simon Peter said to him, "Lord, not my feet only
but also my hands and my head!"
[10] Jesus said to him, "He who has bathed does not need to wash,
except for his feet, but he is clean all over; and you are clean,
but not every one of you."
[11] For he knew who was to betray him;
that was why he said, "You are not all clean."

[12] When he had washed their feet, and taken his garments,
and resumed his place, he said to them,
"Do you know what I have done to you?
[13] You call me Teacher and Lord; and you are right, for so I am.
[14] If I then, your Lord and Teacher, have washed your feet,
you also ought to wash one another's feet.
[15] For I have given you an example,
that you also should do as I have done to you.
[16] Truly, truly, I say to you, a servant is not greater than his master; nor is he who is sent greater than he who sent him.
[17] If you know these things, blessed are you if you do them.
[18] I am not speaking of you all; I know whom I have chosen;
it is that the scripture may be fulfilled,
`He who ate my bread has lifted his heel against me.'
[19] I tell you this now, before it takes place,
that when it does take place you may believe that I am he.
[20] Truly, truly, I say to you, he who receives any one
whom I send receives me; and he who receives me
receives him who sent me."
[21] When Jesus had thus spoken, he was troubled in spirit,
and testified, "Truly, truly, I say to you, one of you will betray me."
[22] The disciples looked at one another, uncertain of whom he spoke.
[23] One of his disciples, whom Jesus loved,
was lying close to the breast of Jesus;
[24] so Simon Peter beckoned to him and said,
"Tell us who it is of whom he speaks."
[25] So lying thus, close to the breast of Jesus,
he said to him, "Lord, who is it?"
[26] Jesus answered, "It is he to whom I shall give this morsel
when I have dipped it." So when he had dipped the morsel,
he gave it to Judas, the son of Simon Iscariot.
[27] Then after the morsel, Satan entered into him.
Jesus said to him, "What you are going to do, do quickly."
[28] Now no one at the table knew why he said this to him.
[29] Some thought that, because Judas had the money box,
Jesus was telling him, "Buy what we need for the feast";
or, that he should give something to the poor.
[30] So, after receiving the morsel, he immediately went out;
and it was night.
When you feel ready, you may go to the next page by clicking NEXT.
Image source: http://media.freebibleimages.org/
Music: "Oblivion" from Unexpected Songs by Julian Lloyd Webber/John Lenehan.