Welcome back!

If you have not done the Good Friday module,
kindly click HERE.

If you are just starting with Holy Thursday,
go HERE.
Let us begin our Holy Saturday retreat
by recalling the mysteries of Good Friday.
This 1603 painting by Caravaggio is called
"The Entombment of Christ,"
and it portrays the moment
when the dead body of the Lord
is brought down from the cross.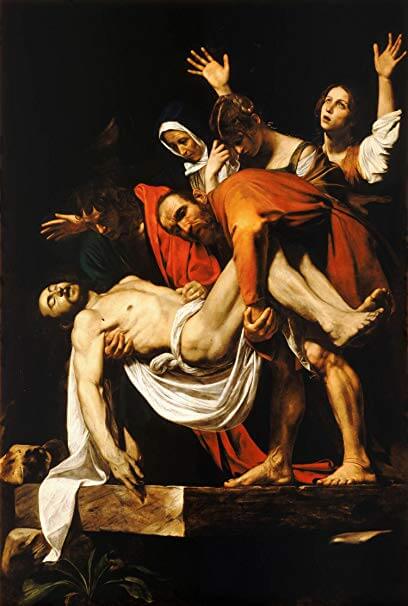 Notice the different expressions
of the people around the lifeless body
of Christ.
There is one whose face,
half-covered in shadow,
is crumpled with grief.
Another has his arms thrown up–
is it in prayer or in helpless bewilderment?
Another is lifting the legs of Jesus,
but he looks more like he's holding on to them
for dear life.
Among them, of course, is Mary his mother:
Is she calm because of a deep faith
or numb with pain–or both?
The enemies of Jesus are not in the scene.
They must be jubilant, believing–
at least for now–that they have won
and that they have buried
the memory of Jesus forever.
The death of our Lord touches us
in different ways.
The worst possible reaction is indifference—
which is probably how the majority of people
feel about that central and crucial event
in Calvary.
How about you?
How are you feeling?

The way we feel about Calvary
depends very much on
our personal relationship with the Lord
and the memories we've created with him.

Play this music
as you assess your feelings,
as well as your relationship with Jesus.
How do you feel about them?