Play this music before you begin.

Hold your heart and the whole world in your hands.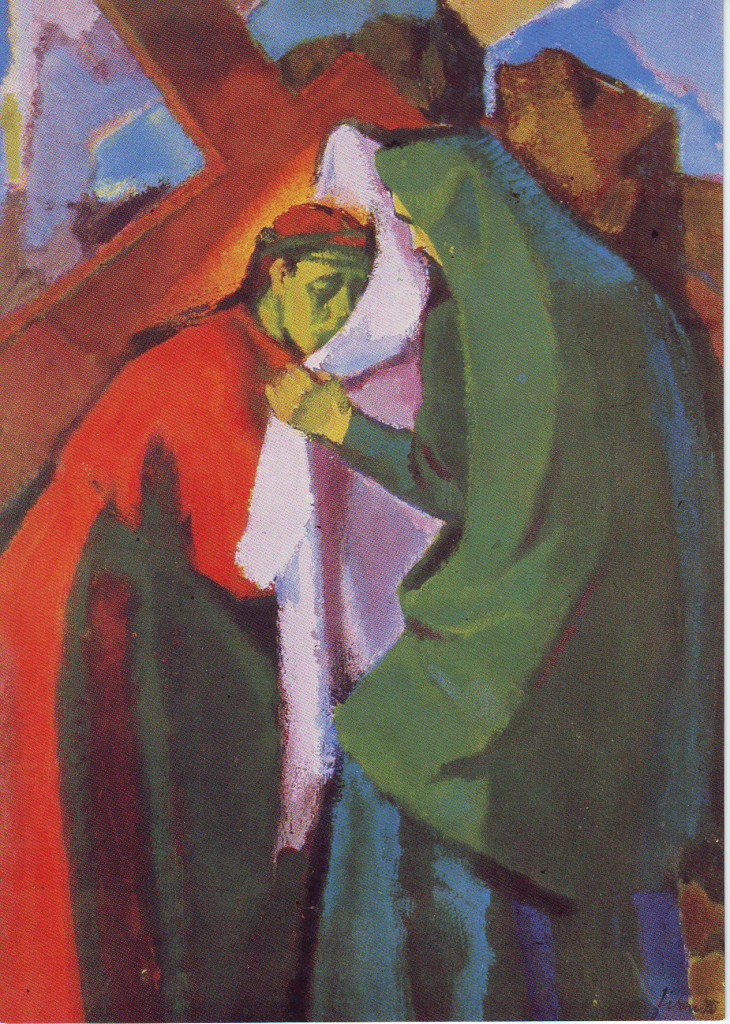 If Simon was conscripted to get involved
without any intention to do so,
today we meet a woman who actually made the choice
to get involved.
Surely it must have taken a lot of courage
to step out of that angry mob,
not to mention extending the kind gesture
of wiping Jesus' face with her veil.
But her compassion got the better of her.
She felt so much for Jesus
that she found the needed courage
to do what she did.
In return, we are told, our Lord rewarded her with a gift:
a miraculous imprint of his Holy Face on her veil.
More, legends have it that this same veil
–the cloth that bore our Lord's holy portrait–
became a miraculous relic used to bring people healing.
Veronica's story is not found in Scripture,
but the Church has always told this story
to teach a profound truth–
a message that we so need to hear today:
Compassion brings courage and cure.

Boy, do we need courage at this time more than ever!
And do we need to find a cure–and soon!
Each day we are confronted
with the rising global number of infections and deaths.
It can get frustrating because you can't help
but feel helpless and overwhelmed at times.
But the age-old and venerated story of this woman of compassion
reminds us that it is not the cold objective statistics
that will give us the courage we need;
nor the faceless numbers that will bring about
the much-needed healing.
What will matter–what will make the difference–
is our compassion,
our ability to put ourselves in the place of those suffering
and our willingness to put ourselves out there
the way Veronica did for the Lord.
So many in our midst have been exemplifying this compassion:
We have the front liners–
the doctors, nurses, and other health workers–
who have been, despite exhaustion and risk,
generously and courageously putting themselves out there.
We have the people manning the supermarkets and groceries,
pharmacies and other essential outlets:
They've been reporting to work
despite personal inconveniences and worries
just to make sure that our needs are met.
There are countless others
working hard and quietly behind the scenes
to ensure social order and survival:
law enforcement officers, farmers, truck drivers–
let's not forget the cleaners and garbage collectors!
Let's take a moment to thank the Lord for these heroes
and to pray for their health and protection.
They are–all of them–courageous agents of compassion
who bring healing in their own way.
What about us?
How can we do our part to show compassion,
to build courage and to spread cure?
Each of us will have to discern and decide
what we ought to do to help–
and there's so much each of us can do!
There are the countless volunteers
who have taken it upon themselves
to send help in the form of donations and goods,
to provide shelter and food for those displaced, and
even to improvise face shields and other much-needed protective gear.
There are also those who are holding online concerts, art classes,
and religious services just to help people cope with
their sudden change in lifestyle.

But you don't have to do anything too extraordinary:
Praying for others is a generous act of compassion.
Hoping in the midst of anxiety and negativity
is a much-needed act of courage.
Bringing the presence and face of Jesus to others
is a powerful source of healing.
Ask the Lord what you can do today:
How can you bring His Presence and Face to others?
How can you be an agent of compassion,
to let others know that they are not alone,
that no matter how hopeless or hapless they feel,
they will be found?


"Behold the Wood" (St. Louis Jesuits). Image for Station (Fratel Venzo). "You Will Be Found" ("Dear Evan Hansen")
Feel free to share your thoughts, questions, and prayers below.
If you wish, visit ENTRUST, our virtual prayer wall.
Post your prayer intention there
especially the ones we need Mary's intercession for.
Share your prayers with our global faith community.
Click HERE.