Play this music at the start of this Station to prepare for your prayer today.

Pause and hold your heart and the whole world in your hands.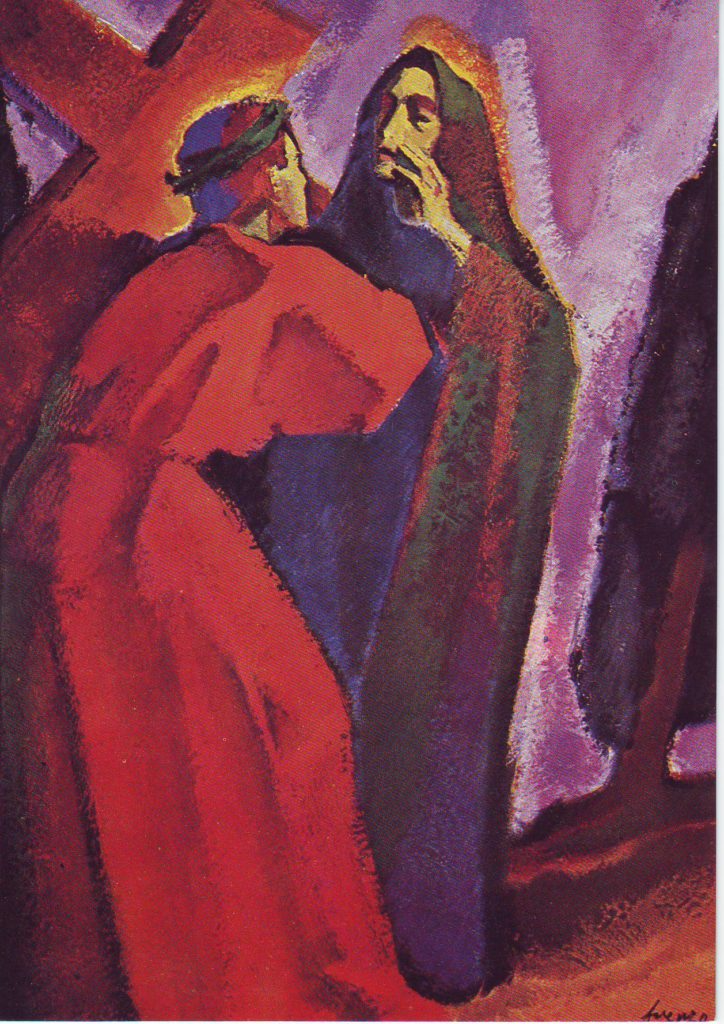 This is what mothers do:
They show up.
They will be there for their children.
It won't be easy; it's bound to be excruciating.
Who knows if she will be able to bear it?
But this is what mothers do:
They show up, and they stay.
Mary craned her neck above the crowd,
trying to catch her son's eye.
He must be the bravest man she knows,
and he must have the sturdiest faith–
but she knows it: He must be afraid. 
Who wouldn't be–
with the prospect of a humiliating
and agonizing death on the cross?
Not to mention:
How can these people hate him so much?
How can they be so cruel,
drawing pleasure from her son's pain,
revelling in his humiliation?
It's heartbreaking enough to know that her son is suffering,
but to be engulfed in this sea of hatred directed at him,
her bewildered heart shatters.
But come what may, she's going to be here for him.
She braces herself.
Her heart may break into pieces, but her mind is made up:
She will be here for him, the one shining face of love
amidst this dark turbulent sea of contempt.
And no matter her torment, she's going to stay.
We can only imagine all the mothers 
suffering in the world today:
Mothers worried sick over the prospect
of children and loved ones getting infected–
or worse, already confronted with its reality.
How many mothers have already lost sons and daughters?
How many more will?
The worst part these days is that at the most critical moments,
we are not even permitted
to remain close to those who most need us.
Those stricken with the virus worry about their future
and many fear for their lives–
but at this time of the pandemic,
they often have to worry and fear alone.
Some end up spending their last moments alone;
they die alone.
But are they?
When we can't show up, when we can't be there,
we run to Mary, the Mother of Jesus.
As she has done for her son,
she will do for her suffering children today:
If we ask her, she will show up
and she will stay.
She will be there at the side of those we love
and offer the comfort, encouragement, and love
that we may not be able to offer personally.
Let us turn to Mary in this great time of need,
appealing to her maternal heart.
Let us ask for her powerful intercession
at this time of sickness, fear, anger, and turmoil.

She's been there. She will be here.
Holy Mary, Mother of God,
pray for us sinners,
now and especially at the hour of death.
"Behold the Wood" from St. Louis Jesuits. Image for Station from Fratel Venzo. "Mary" from Patty Griffin
Feel free to share your thoughts, questions, and prayers below.
If you wish, visit ENTRUST, our virtual prayer wall.
Post your prayer intention there
especially the ones we need Mary's intercession for.
Share your prayers with our global faith community.
Click HERE.