This homily is based on John 10:11-18.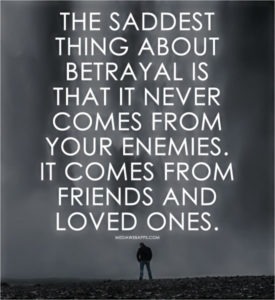 This has got to be one of the saddest and truest statements we can read anywhere. It says it so simply and quietly. And when I try to imagine the speaker or the writer, whoever it is, I detect no trace of anger or bitterness in his face or voice; just a sad, quiet acceptance or perhaps a resignation to the way the things are.
No one who has experienced betrayal can disagree with it. What makes betrayal so heartbreaking is that by its very definition, it can, as the statement goes, never come from our enemies. Betrayal is a crime reserved only for those we trust and love.
It's the most loathsome of sins. In his Inferno, the poet Dante has saved the deepest and most horrifying circle of hell for traitors, the most notorious of whom spend eternity locked in the jaws of Satan.
It's also the deepest of pains. It's hard to describe that heart-sinking moment when we finally realize that we have been betrayed. Think of Julius Caesar, who, as he bleeds, turns around and winces not so much from his fatal wounds but from recognizing his trusted ally among his treacherous foes: "You too, Brutus?" The question is soaked in deep scarlet disbelief.
Or recall our Lord in the Garden of Gethsemane, when the kiss of one of his closest friends seals his fate, an army right behind waiting to pounce. "Judas, must you betray me with a kiss?" Another question, also bewildered. Maybe the only way we can meet betrayal is with a question.
It's a moment we fight and deny until finally, hopelessly and helplessly, we give up and with great reluctance concede that yes, it does look like we have been betrayed. But the pain of betrayal lingers long after that moment–sometimes for years–resulting even in depression if only because even after recognizing our betrayal, sometimes we just can't bring ourselves to be angry.
The Gospel reading today isn't really about betrayal. It's about our Lord Jesus who, like a good shepherd, never abandons his flock and offers his life for his sheep. But maybe what made me think of betrayal is all that talk about hired men who abandon the flock and wolves that attack the sheep because yes, we've been there, done that. We've been abandoned and let down; we've been attacked and harmed, bitten by the very mouths we've fed. And we're hardest hit because betrayal can come only from the most unexpected places: hirelings who play shepherds and wolves who come disguised in a sheep's most immaculately white wool.
Years ago, a priest told me something I have never forgotten. He said, "Always remember: Your friends may come and go, but Jesus–only Jesus–chooses to stay." That priest never warned me that our dearest of friends could also actually choose to harm us in the most unimaginable ways.
But how true it is that Jesus our Good Shepherd never leaves us, no matter what. In our deepest pains, in our darkest depressions, when reeling from the blows of betrayal, we feel most broken and alone, he is there, faithfully watching over us, sympathizing with us in a way only one who has himself been betrayed can do, patiently calling out our name with a Shepherd's voice that gently gathers our scattered selves.