This reflection is based on Mark 9:38-48. was written in 2015. I am reposting this because Pope Francis needs our prayers as he faces vicious attacks even from within the Church.
I'm reading the new book from Filipino priest-poet, Fr. Albert Alejo, SJ, Nabighani. It's a lovely book of religious poetry translated into Filipino and guaranteed to make you fall in love all over again with our language. One of its gems that immediately caught my eye was a little-known piece entitled "Upang Ako'y Ngumiti sa Buo Kong Buhay" ("That I May Smile All My Life"), a prayer written by a Jorge Mario Bergoglio on the day of his ordination on December 13, 1969.
Jorge Mario Bergoglio is, of course, Pope Francis, who, as of this writing, is capturing the hearts of millions in the United States, both Catholics and non-Catholics. Last Thursday, our community gathered for our very own Pope Watch at 6 am to watch the Holy Father's historic address to a joint session of the US Congress. Just as in Capitol Hill that morning, eyes were welling up around the room as we munched on Egg Macmuffins and Voodoo Doughnuts. Pope Francis has done it again: Through his words and mere presence, he has elicited those inexplicable tears.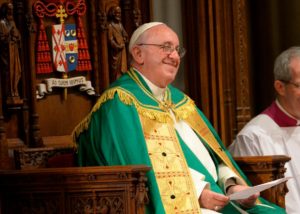 But this Pope also has a special gift for making you smile in spite of yourself. After all, doesn't he have the most infectious of smiles? With a smile that New York Times columnist Timothy Egan has described as "just shy of goofy," the Holy Father has been lighting up just about every place he visits–be it the hallowed halls of Congress or the United Nations, the sacred spaces of churches and cathedrals, the cluttered classroom of an inner-city classroom in East Harlem, or the secular streets of Manhattan. One can't help but marvel at how God has indeed granted his prayer at ordination: To smile all the days of his life.
And so it comes as a surprise to hear the remarks of his long-time friend, Enrique Gallini, about how this man had not really smiled a lot before he became Pope. In fact, recounted Enrique, his friend Jorge would smile only when they discussed football and his team, the San Lorenzo! Likewise, those who knew the Cardinal of Buenos Aires describe him as rather serious and somber and are uniformly surprised that now everywhere they turn, they see the beaming face of Bergoglio/Pope Francis.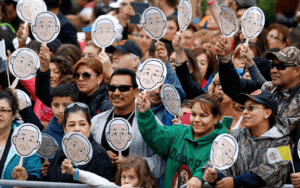 Reading Fr. Alejo's translation of his prayer at ordination, I can't help but wonder why it had taken so long for the man to find this smile–a smile that, according to America Magazine, "has traveled all around the world." But Pope Francis himself provides some kind of explanation when he describes his feelings upon his election as Pope. The fear that immediately overcame him was, in prayer, replaced permanently by a deep calm and peace, based on an appreciation of this most unexpected of missions. It is this faith that he is doing what the Lord wants him to do that enables him to smile so openly and so infectiously.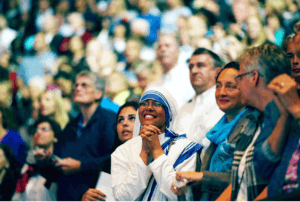 Pope Francis' smile is as open as the Church that he dreams of: Not the fortress that keeps its doors locked to leave out sinners and the undesirables, but the field hospital that offers healing to every person, especially those in greatest need of it. In every single one of his messages, always delivered in humility, Pope Francis invites us to fling open the doors of our hearts so that it excludes absolutely no one–not the poor, not the foreigner, not the condemned convict, not the divorced, not the homosexual, not the elderly, not the unborn child, and not our voiceless Mother Earth.
This inclusiveness was evident when he spoke spontaneously to the crowd from the Capitol Hill balcony after his address to the Congress: "I'm so grateful for your presence here. I ask you all please to pray for me and if there are among you who do not believe or who cannot pray, I ask you please to send good wishes my way." That simple statement made all the difference because through it, Pope Francis made even the non-believers feel that they too belong.
Both the First Reading and the Gospel correct the natural human tendency to exclude others. When Moses is told that others are prophesying, he does not condemn them in jealousy, but expresses his wish "that all may prophesy in the Lord's name!" When our Lord Jesus is told that someone who is not one of theirs is casting out demons in his name, our Lord tells them to let the man continue his work. Today the invitation God extends to us is an invitation to inclusiveness.
May the Holy Father's example–his message and his smile–move us to fling open the doors of our hearts as widely as we can, so that we too may smile as openly and as widely all the days of our life.
———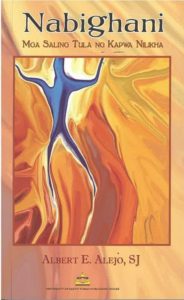 Here is an excerpt of Fr. Alejo's translation of Pope Francis' prayer at his priestly ordination 46 years ago. It tells us the source of his lifetime smile (Translation into English, albeit inadequate, mine):
I believe in God the Father
Who loves me
as a son,
and in Jesus the Lord
who pours upon me His Holy Spirit
that I may smile all my life
and arrive smiling someday
in the Kingdom of life without end.
Fr. Alejo's Filipino translation:
Loob kong naniniwala sa Diyos Ama
     na nagmamahal sa akin
     bilang anak,
at kay Jesus, ang Panginoon,
     na nagbuhos sa akin
     ng kaniyang Espiritu
         upang ako'y ngumiti
sa buo kong buhay
     at makarating akong nakangiti balang araw
         sa Kaharian ng buhay na walang hanggan.
Let us pray for the Holy Father that no trial or trouble will stop him from flashing that radiant smile to the world.