This homily was delivered at the wedding of Micah and Mindy at St. Joseph's Parish, Seattle on 23 June 2018.
At first glance, our couple today couldn't be more different from each other. She is a Catholic girl born in Manila, and he a Jewish boy born in Nevada and raised in Missouri, Texas, among others.. She's of Chinese descent; he comes from a Polish background. He's a great cook who can serve you a mean steak; she, on the other hand, is at best what you would call a microwave cook.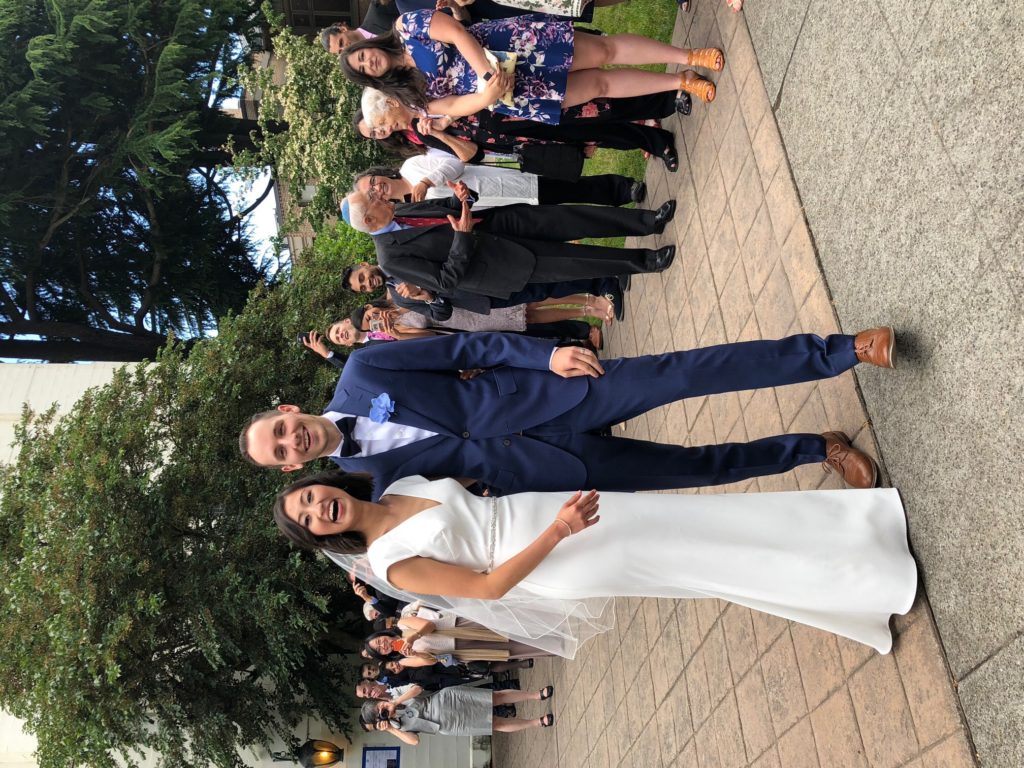 I think if our couple had first come across each other's profile on some dating app, they would have both no doubt swiped left.
But as we know, that's not how love happens. One finds love when one isn't even looking, and often the truest love grows quietly.
Micah and Mindy's story began seven years ago on their very first day of class at Northwestern University, two wide-eyed first-year undergrad college students just fresh out of their respective high schools. Mindy was a Biomedical Engineering student, and Micah was taking a course with a long complicated name that included Mechanical Engineering. But that first day of class, they serendipitously found themselves seated next to each other in the same Engineering Design and Communications class—and, as a result, ended up getting assigned to the same small group for that class.
Call it what you will—fate, coincidence, or for those of us who believe, Divine Providence, but they also discovered that they lived on the same floor in the same dorm. Naturally, Mindy and Micah ended up that first semester spending a lot of time together—collaborating on group works, studying together, ordering pizza and hanging out with the same friends, or sometimes just chatting late into the night. In fact, they virtually took every meal on campus together.
Simply put, they just felt very much at home with each other. I guess we could say that between them, it was a case of friendship at first sight. And many of us may not know this, but according to Mindy, Micah was her very first real male friend, having grown up in a protected environment.
Even if she initially found Micah a bit too vocal by Asian standards, Mindy nevertheless took an immediate liking to her new friend. It probably helped that in some ways Micah reminded her of her dad Hunter. It's almost uncanny that just like her dad, Micah always has tissue paper ready and within reach wherever and whenever Mindy needs some.
On his part, Micah was impressed by his pretty and smart friend.  He was also intrigued at how willing she was to go out of her way to help other people—maybe sometimes a little too much, he wondered. But all he knew was that he just enjoyed spending time with Mindy. He even took genuine pleasure in helping her with computer coding!
It is no small wonder that halfway through the year, the two began to wonder on their own about where this relationship was going.
The more he got to know Mindy, the more Micah had this strange feeling that he simply wanted to be with her for everything. But he was cautious and reluctant to take their friendship a step further, fully aware that one wrong move could ruin a most valued friendship. He agonized, for instance, over whether or not to ask Mindy to be his date at the formal prom of his fraternity, even consulting a friend who encouraged him to take the risk.
As for Mindy, one day a stray and surprising thought occurred to her quite out of nowhere but also in the most natural way. The thought was: she would one day marry Micah. It confused her so she did what most girls her age would do when faced with such a quandary. She didn't eat for a week! But like Micah, she also consulted some close friends, and thankfully, they, like Micah's friends, also encouraged her to be open.
It soon became increasingly clear to Mindy and MIcah that they couldn't just remain friends and they both had to take the risk. And so they finally went on a secret date—secret because Mindy didn't want their friends to know just yet. Queuing up for "Hangover 2"—not exactly the most romantic of date flicks—who should they bump into in the lobby but the very same friends Mindy was hoping not to see? They had a good laugh over that over dinner afterwards, in the same Chinese restaurant, where by the way, Micah's folks, Harold and Suzanne, used to date.
As many of us know, theirs has not been a relationship without its issues. That's to be expected given that Micah and Mindy come from very different cultural backgrounds. But Micah's family and friends know that he's not the type to give up easily. Once he has made up his mind that he wants something, and if a goal is worth pursuing, you can count on Micah to jump through the hoops.
Two summers ago, while having dinner at Mindy's, Micah observed somewhat casually that it would be nice to have a wood-fired pizza oven in the backyard. Putting on his engineer's hat, he pointed out that all they really needed was a good foundation for a pizza oven so why not build a patio? And, he added, it was a project that he would be more than willing to help build. Joyce, Mindy's mom, said, "Go ahead and dig up the backyard." They all laughed, but to Micah's surprise, she was dead serious. Long story short: If you feel like having some home-baked pizza one of these days, just  visit Mindy's backyard and you will find a proper brick patio there built over two weekends. By the way, that was also the last suggestion Micah ever made to Mindy's mom.
Seriously though, the challenges that Mindy and Micah experienced in nursing their relationship have only served to forge it and to bring them closer to each other. The hurdles they faced through the years helped them to clarify to themselves that what they really valued more than anything else was to be together and to commit themselves to each other.
And that's how love happens. You make a decision, you commit yourself to it, and you work hard—even if you have to grab a shovel and dig up a backyard.
It's been almost seven years since that first day they met in college. If it had been entirely up to Micah, he would have proposed marriage to Mindy four years ago. Even then, he already knew that he wanted to be there with Mindy and for her—always and regardless.
Some years ago, while visiting their professor at her cabin, the three of them decided to go kayaking. After kayaking out into the open water for about an hour, they decided to head back to shore. Exhausted, Mindy began to lag around 20 meters behind the others, and for a moment, she wondered if she would be able to make it back. Unbeknownst to her, Micah had been watching her, looking back over his shoulder constantly to check on her. Before she knew it, he paddled back to her, tied her kayak to his, and began to row her back to shore. Mindy sat back in her kayak watching MIcah, and that day, she knew that Micah would always have her back.
And she's right: Micah has shown her exactly that all these years, even commiting to move wherever Mindy will be assigned for her medical residency come June next year.
Dear friends, in a little while, we will witness Micah and Mindy seal their love for each other. Their separate stories will henceforth become one. As an added sign of this oneness, Micah and Mindy have decided to take on each other's names. When they step out of this church later, they will officially be known as Mr. and Mrs. Zeitz-Chua.
Our readings this afternoon cannot be more appropriate for this occasion. In the first reading, where we have some of the loveliest words found in Scripture, the foreigner Ruth shows us what true love entails when she makes a commitment to accompany her Jewish mother-in-law to a land alien to her and by promising to embrace her people, her world, and her God. Ruth's commitment, the promise that she makes—it is similar to the promise that you, Micah and Mindy, will be making to each other today, standing before God and surrounded by the beaming faces of the people who love you:
"Where you go I will go, and where you stay I will stay. Your people shall be my people. Your God shall be my God. Your name shall be my name."
Mindy and Micah, God has blessed you with this gift of love for one another. And He has blessed us, your families and friends, with your love, a love that celebrates differences but at the same time gathers us closer to one another. May the years ahead of you bring you ever closer to one another as you build your life and love together.