This reflection is based on Mark 4:26-34.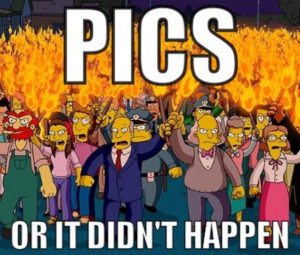 There has been a deluge of clever memes online that says "Pics or it didn't happen." It's a phrase more and more often used to challenge people who make claims that are either extraordinary or simply impossible.
Last month I casually mentioned to a friend that I had met a Hollywood actor on the set of the location shoot of his latest movie. My friend's response? "Pics or it didn't happen!"
My surprisingly defensive explanation ("But pictures are forbidden on set!") did nothing but elicit one skeptically raised eyebrow that said it all in silent judgment: "Right, no selfie…"
We have two parables today, both concerning seeds and usually called the Parable of the Growing Seed and the Parable of the Mustard Seed. It's the first one–the less dramatic of the two, in fact–that speaks to me. One particular line strikes me: "…[the man] would sleep and rise night and day and through it all the seed would sprout and grow, he knows not."
And if I may add, "he sees not."
We find ourselves living in an age when there is an ever-growing demand for "evidence" (selfies being a particularly fashionable genre). With social media increasingly penetrating and defining our lives, we are sometimes made to feel that if we don't post something on the Internet, it isn't real. Got together with your high school friends last night? Better Facebook that! Getting married this weekend? Why not tweet about it? Went swimming with the whale sharks? Quick, YouTube it! Ate your lunch today? Yes, Instagram that selfie with your half-eaten chicken sandwich!
(I say all this without judgment since I've done it all!)
The first parable is about the invisible things and events in our lives. It reminds us that every moment of our lives there occur events that we know not of, and all around us there exist beings that we see not. It's a timely reminder because we are constantly deluged with the idea that the only things that matter in the world are those that we can see and touch–or share with our online friends/followers.
The parable invites us to examine ourselves and what we use to measure the reality and value of things. Of course we all profess–or at least, pay lip service–to the basic Christian belief that God and His often invisible actions are far more important than material things and events. But do we actually decide and act accordingly? Do we tend to value things that have–to put it bluntly–the potential to get more Likes on Facebook, trend on Twitter, or go viral on YouTube? Or are we able to put a greater premium on things that may be invisible but are actually more important?
Take a reality check: What is your criterion for the reality and value of things? The perceptual criterion–i.e., whether or not something can be perceived or worse, measured–or the causal criterion–whether something, whether visible or not, has the power to make a difference in your life and in the world, as we sleep and rise day and night?