This homily is based on Luke 24:35-48 for the Third Sunday of Easter.
Today we have yet another Easter appearance. From the different appearances the Risen Lord makes to his disciples, a pattern emerges. It is the same person, but somehow he looks different because all who have seen him don't recognize him immediately–from Mary Magdalene outside the empty tomb to the two disciples en route to Emmaus, even Simon Peter and John in their fishing boats.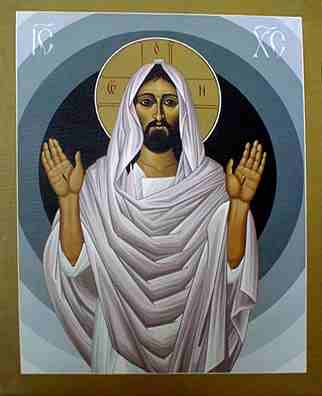 What's more, the Jesus of Easter has a different kind of body: one that can go through doors and appear out of nowhere, as he does in this Gospel account. It must be a different kind of body, one very much unlike our earthly bodies although as he goes out of his way to show his disciples, one that isn't just purely spiritual–you can touch him–and he eats! The strangest part of all, this brand new body isn't so brand new because for whatever reason, the Lord has opted to keep all those terrible wounds he received those last days of his life.
Let's stop for a while and wonder about that. Why on earth would he do that? Wouldn't those wounds and scars be the first you would do away with if you had an option for such a total makeover? Not for our Lord. Certainly he didn't keep him wounds simply for identification purposes although they certainly came in handy when he appeared to his disciples, especially to Thomas. But there are other ways of identifying yourself, the simples of which would be to look the same, right?
So here's my guess. While everything else seems new about the Risen Lord, one thing has remained the same: the person. And what is a person if not the identity shaped by one's life history, by every decision and action? By keeping his wounds in his risen state, perhaps the Lord is telling us that there will be many–and even unimaginable–changes at the resurrection, but one thing will endure and remain the same: ourselves, the selves shaped by our life histories and all our memories, even the most deeply painful ones because often it is on account of those most trying experiences that we are able to define who we are and what matters most to us.
The only difference is that at the resurrection, even as we remember the saddest, most painful memories, and even as we continue to bear their wounds, we will feel neither sadness nor bitterness, but only joy and gratitude. For we will have become our best selves. United with God and reunited with our dearest friends, we will recognize the good that have emerged even from the things that have gone very wrong in our lives. As the prayer in our liturgy so beautifully puts it: "There [in heaven] we hope to enjoy for ever the fullness of your glory, when you will wipe away every tear from our eyes. "
This is a valuable Easter message: The selves we shape through our decisions and actions will endure beyond death. Let's make a more conscious effort to define a kind and loving self through the decisions we make.