The homily is based on Matthew 15:21-28.
In today's Gospel story, Jesus meets a mother who begs him for help. Her daughter, she says, is tormented by demons. The mother is desperate, so desperate, in fact, that she herself torments the Lord's disciples, who eventually goes to Jesus to ask him to send the woman away "for she keeps calling out after us."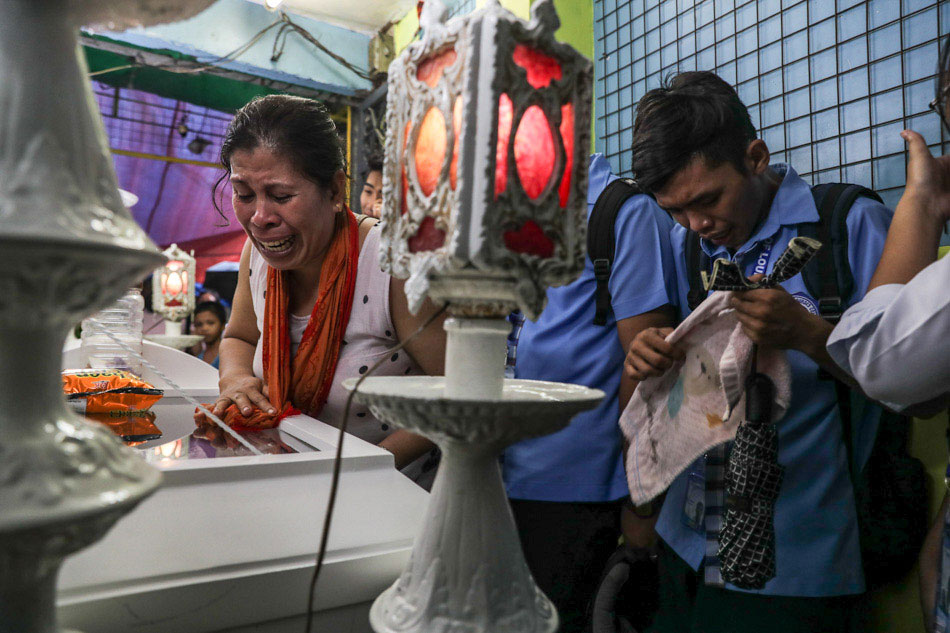 I've encountered this story so often before, but reading it this time, I am struck by the mother's pleas for her daughter. I can't help but be reminded of the desperation of another mother, Lorenza delos Santos, an overseas Filipino worker who begged her employer in the Middle East to allow her to come home because her 17-year old son, Kian, had been killed by policemen during an anti-illegal drug operation in Caloocan City.
According to police reports, Kian Lloyd delos Santos, upon noticing the cops, drew his firearm and shot at the police, prompting them to fire back and killing the student. Two sachets of suspected shabu and a .45 caliber gun were allegedly in the minor's possession.
Disturbingly, however, the CCTV footage suggests a different story: Kian was shown being dragged by two policemen to the spot where he was killed. Even more disturbingly, a visibly distraught eyewitness recounted how the cops had beaten up Kian and how the boy was overheard saying what has got to be the most heartbreaking of words: "Tama na po! May test pa ako bukas" ("Please stop! I still have a test tomorrow"). He was then handed a gun and told to run for his life: "Ito ang baril. Iputok mo tapos tumakbo ka" (Take this gun, fire it and run).
His family and friends insist that Kian could not have been involved in illegal drugs. They swear that he was a "good, sweet boy" who never gave his father any problem.
His grieving mother says: "Napakabuti po kasi niya eh… Hindi po masama ang anak ko. Ang dami naman pong taong nagmamahal sa anak ko eh, hindi po siya yun," she said. "Napakainosente po ng anak ko eh. Mahal na mahal ko yung anak ko. Diyos ko naman" (He was so good. My son is not bad. So many people love him; he's not what they say. He is so innocent. I love my son so much. My God").
The policemen, on the other hand, claim that he was a drug runner who tried to shoot them.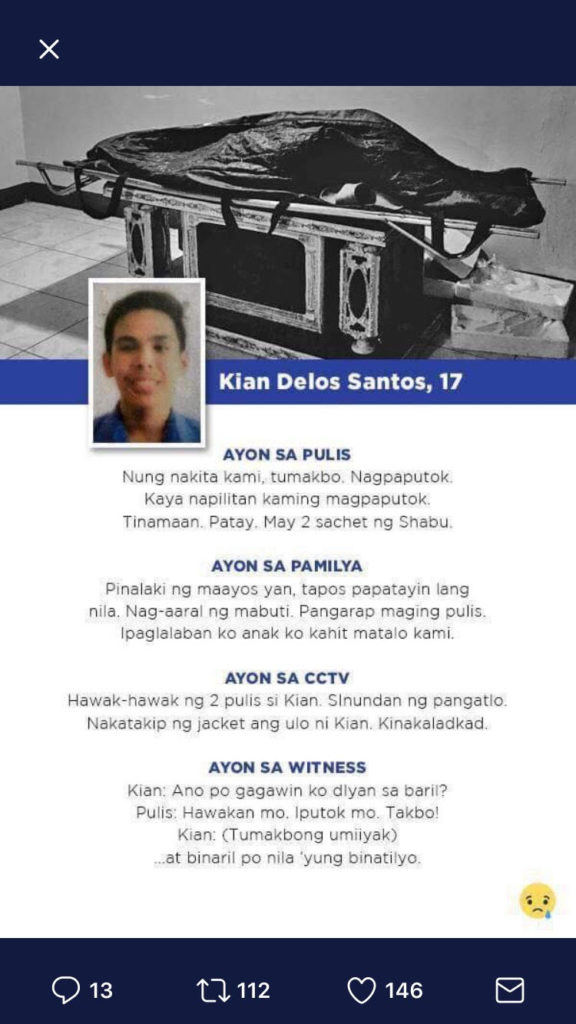 Beyond the question of any involvement in illegal drugs, no one–and certainly not a Grade 11 student–should have his life ended so abruptly and so inhumanly.  Unlike the Canaanite woman in the Gospel, it is too late for Lorenza to beg for the Lord's help for her child. But she continues to speak to the media even if her voice has gone hoarse.
"My voice has run out," she tells reporters. "I want to shout. I want to shout for justice for my son."
The death of her son should question us and enrage us. We must bring her desperation–and ours–to the Lord and plead with him the way Canaanite woman does in today's Gospel reading, calling out to him: "Our children are tormented by demons! Help us!"
And what has the Lord to say? A good friend, Laine Laudico, posted some lines on Facebook, lines from Warsan Shire's poem, "what they did yesterday afternoon."  These words, I imagine, probably come close:
later that night
i held an atlas in my lap
and ran my fingers across the whole world
and whispered
where does it hurt?
it answered
everywhere
everywhere
everywhere.
Resist evil. Protect the weak.
—————-
At 8:24 tonight, please pause in silence for one minute and join the nation in praying for Kian and all the victims of violence and EJKs. #justiceforkian