This reflection is based on Matthew 1:18-24.
Today we listen to the story of the silent man of the Gospel. All through the Infancy Narrative, Joseph, the chosen foster father of Jesus, speaks not a word. Even the father of John the Baptist, the priest Zechariah, who was stricken temporarily mute by the angel, at least manages to get two sentences recorded by Luke: "How can I be sure of this? I am an old man and my wife is well along in years." And nine months later, to his relatives he answers in faith: "His name is John."
But not Joseph, even if–when you think about it–having gone through so much, he could have said a mouthful.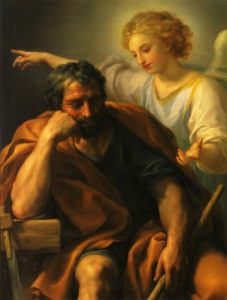 We are told that upon hearing of Mary's pregnancy (and her implausible tale!), Joseph quietly divorces her to spare her of shame. That's it?! What did Joseph feel? Does he feel furious, hurt, heartbroken? The Gospel is silent.
And when Joseph awakes from his angelic dream, he agrees to marry Mary just like that. Just like that?! Who does that–just follow what a dream tells you to do? Is Joseph convinced that the dream is an authentic message from God–or does he have some doubts? Is he actually happy doing it? Again, he is portrayed as saying nothing.
Whenever we encounter gaps in the Bible, we're not expected to assume that it's an empty silence. Often we are, in fact, invited to read between the lines and use our imagination. The silence of Joseph is not a wall we're supposed to consider as some kind of dead end. His silence rather is an open door that invites us to enter so that we may more deeply appreciate the mystery of Christmas.
In 2009, the BBC produced a series called "The Nativity," which offered a very human–and moving–portrayal of Joseph. The writer Tony Jordan, and the director, Coky Giedroyc, used their imagination to fill in the gaps in the Gospel narrative. Their Joseph, played by British actor Andrew Buchan, was a good man who, heartsick with betrayal, struggled to deal with forgiveness and faith. This Joseph took his time in coming to terms with believing Mary–even believing the angel in his dream!–and with giving up his own dreams to accept God's dream and his role in it.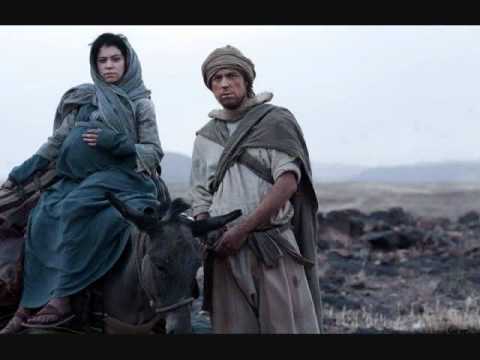 The Joseph that emerges from the series is a bewildered, vulnerable human being who fumbles in trying to make sense of the events in his life before finally making the right, albeit still uncertain, choice. In other words, a Joseph that we all of us can identify with.
The poet Rainer Maria Rilke created a little-known poem about Joseph and his dream, which he provocatively called "Joseph's Suspicion." In the poem, Joseph meets the angel in his dream "with clenched fists." While Rilke's Joseph does not take as long as the Joseph in the TV series in coming around, he is unequivocally angry and suspicious. The poet has also read into the silence of Joseph and now unwraps for us the inner world of this silent man. Again it is a Joseph who feels absolutely familiar because he sounds exactly like us. But what distinguishes him from us and defines him as a great man and saint is the pride he swallowed, the suspicion he decided to surrender, and the faith that he eventually managed to muster to accept what was being asked of him.
Here is Rilke's simple but profound poem on Joseph's dream. After reading it, make sure to say a prayer of thanks to Joseph, man of silence.
The angel spoke and patiently tried to
convince the man, who met him with clenched fists:
Can you not see that in her every way
she is as cool as God's first morning mist?
And yet the man looked at him glowering with
suspicion, murmuring: what has brought about her change?
But then the angel cried in anger: Carpenter!
Do you not yet perceive the hand of God's own doing?
Because you handle wood and know your trade,
do you in arrogance call Him to task
who from the self-same wood you handle now
can make green leaves appear and swelling buds?
He understood. And as he raised his eyes,
now full of fear, to meet the angel's face,
he was gone. Slowly Joseph removed his cap.
Then he began to sing his song of praise.