This reflection is based on Luke 7:11-17.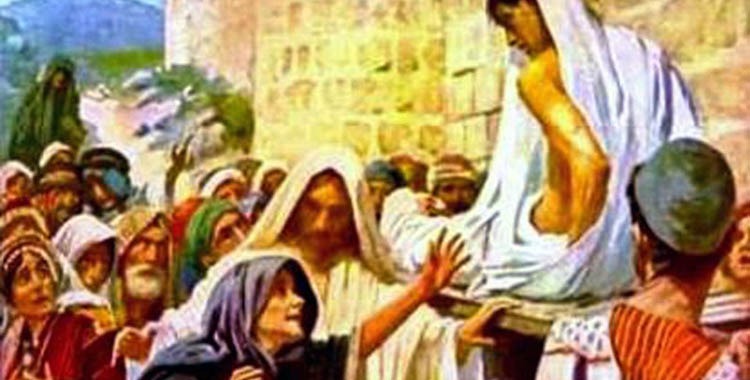 In our Gospel story today, our Lord performs one of his more awesome miracles: He raises someone back to life. He's done this before: The daughter of Jairus comes to mind, a twelve year old girl whose hand Jesus held and to whom he said, "Little girl, get up!"

And then there's Jesus' good friend from Bethany, Lazarus, the brother of Martha and Mary. "If only you had been here…" Martha had said to him in tears when she ran over to him at her brother's tomb.
So it is tempting to shrug our shoulders and say, "Just another person resuscitated from the dead!" Been there, done that!
Except there's one significant difference. The miracles that restored Jairus' daughter and Martha's brother to life were both solicited: Jairus sought Jesus out and begged him to come home with him to see his daughter. When Martha rushed to meet him at Lazarus' tomb, she relayed to him a request wrapped in accusation. She said to him in tears, "If you had been here, my brother would not have died."
Unlike those two, the miracle at Nain was totally initiated by our Lord. Also, he did it specifically for one person only–the dead man's mother. Luke points out how seeing the grieving widow walking behind her son's coffin Jesus was moved with pity for her. "Do not weep," he assured her right before raising him to life.
If we put ourselves in Jesus' place, we would have done nothing less. He met an inconsolable widow mourning the death of her only son. How could Jesus not have thought of his own mother when he laid his eyes on that weeping widow–and himself at the sight the coffin of the young man? He was quite aware that at the rate that his ministry was going, he would most probably suffer death at the hands of his enemies. And as if that wasn't bad enough, just imagine the misery that his poor mother–also a widow– would be subjected to!
It is no wonder then that Jesus should volunteer to perform this miracle for the widow. He did here what he would not be able to do for his own mother: to spare her from the unimaginable grief of burying her own son.
This miracle, therefore, is by no means just another miracle performed by our Lord. It is Jesus opening his heart and telling the mother of the young man: "Do not weep. For I will do for you what I will never be able to do for my own mother: I will bring your son back to you safe and sound the very same way I can never save myself for my mother."
What happened at Nain was as much a powerful miracle as a son's quiet, personal loving act for his own mother.
That's my theory.