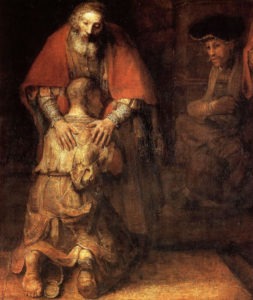 This homily is based on Luke 15:1-32.
Our Gospel reading today features what is arguably the best-known and best-loved of our Lord's parables, The Parable of the Lost Son–more commonly known as the Prodigal Son.
We know the story: A wayward son prematurely asks his father for his share of the inheritance and spends it all in loose living. He predictably finds himself destitute and miserable, and just as predictably decides to go home in remorse. What is most unpredictable is that this good-for-nothing son is, much to his own surprise, greeted by his father's embrace and is welcomed with a lavish homecoming party, complete with a roasted fattened calf.
This touching moment when son is reunited with father is poignantly captured by the painter Rembrandt in what must be one of his most famous paintings. The whole thing, in fact, is a touching parable of God's boundless mercy–touching, that is, unless you happen to be the elder son.
If you're here in church today instead of somewhere else doing something far more enjoyable, you're probably more "elder son" than "younger son." You know what I mean: While so many others are having a field day sinning left and right (and getting away with it!), you choose instead "all these years" to serve, trying your best not to disobey God's orders, even if, as the elder son so bitterly puts it, you never get so much as a goat to feast with your friends.
So I have to confess: I have a problem with this parable. I get the elder brother; I can't blame him for how he is feeling. The poor guy gets a lot of bad rap for being a party-pooper, but you have to concede that he has a point. He is probably not even against his father taking back his brother; there's nothing in the text that clearly says he disapproves of that. I suspect that what really gets his goat is, yes, that fattened calf! I mean, accepting his younger brother back into their home is one thing; but must they also throw this big welcome party on his behalf? Isn't their father getting a little too carried away?
To make matters worse, we're not even sure if the younger brother is genuinely sorry for what he has done! Sure, he's sorry–for himself, but what about the hurt he has caused his father? It seems to me that the primary reason for his change of heart is not any realization that he has wronged his father. Simply put, he has returned because he's penniless and hungry!
Standing there surrounded by pigs, salivating after their feed, he realizes–upon his own admission–that he has hit rock bottom. He knows his father's workers are better off than him. That is the reason why he has decided to go back: to apply as a worker in his father's house. And that's why he has made sure he's ready with a carefully prepared speech, one that he has probably rehearsed again and again on his way back home, worried that his father will not hire him. It's a great speech: "Father, I have sinned against heaven and against you. I no longer deserve to be called your son; treat me as you would treat one of your hired servants."
But what happens? His father doesn't even let him finish his speech. Never mind if his son might learn some much-needed humility even just by delivering the speech. Never mind if eating humble pie might in the long run actually be formative. The father is so overjoyed over his long-lost son's return that he interrupts the speech. He doesn't care about teaching him a lesson. Instead he calls for the finest robe, puts a ring on his son's finger and sandals for his feet–and serves him prime ribs! And as if to add insult to injury, he wants the elder brother to join the party.
In case you haven't noticed, the parable doesn't really end. Its very last line has the father outside the house, still pleading for his elder son to join the celebration. We're not told how the elder son eventually responds to his father's plea. According to biblical scholars, the reason why there's no ending is that we, his other audience–this present bunch of elder brothers and sisters gathered here–are supposed to provide the ending ourselves. And we do that by answering the following questions: Are we going to linger at the door, watching the celebration from a distance while nursing our cup of resentment? You know what they say about resentment: It's like ourselves drinking poison in the hope that the other person dies!
Or are we going to swallow our self-righteousness and join the party, remembering that we too–all of us–have also once or twice in our lives been lost before being found?
The choice is ours. We get to pick the ending. In so doing, we also get to choose our ending.
You see, the Parable of the Lost Son reveals to us God's unique brand of mercy. It's a disconcerting kind of mercy because it is so unreasonably lavish. It defies–and violates–every human standard and condition. God's mercy is served to all–whether you want His mercy for the right reason or for the wrong one, whether you've already learned your lesson from your mistakes and sins or you still haven't. As Jesus says in another passage, the Father's mercy is like the sun that shines on both the good and the wicked. What makes the difference is whether we accept it with open arms as the younger son does in the parable, though undeserved, or whether we hesitate like his elder brother.
Such is God's mercy, unapologetically lavish and indiscriminate. And if we have a problem with that, then I think we've got a problem.