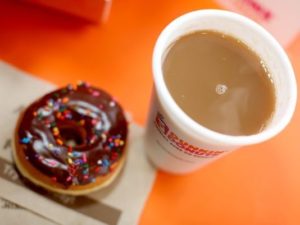 This reflection is based on John 6:1-15.
I grabbed a quick cup of coffee the other morning on the way to a meeting, and just as I came out of Dunkin Donut, there she was, a woman about my age, waiting, looking at me. "Please, sir, some change for a cup of coffee," she said.
Stunned, I instinctively shook my head and walked away, sipping from my cup. But every step made it harder for me to take another sip as my mind raced: The face of that woman, the humility of her request, me rushing away with my fresh cup of coffee.
Her intrusiion into my life was not welcome. I was running late for my meeting. All I wanted was my cup of coffee to start my day. Not a stranger and not this minor dilemma she was causing. I had some change in my pocket. Should I go back? But I had been walking so quickly that I was already two blocks away. It was no longer practical to go back; it would be ridiculous to go back now. "There will be another chance, another stranger," I told myself, "and next time I will be quicker in giving."
Compassion can be disconcerting. I remembered a quote from Fr. Greg Boyle, the Californian Jesuit who spent years working with teenage gangsters in L.A.: "Compassion is to stand in awe at what the poor have to carry, rather than to stand in judgement of how they carry it."
She saw me coming back from a distance, and there was a look of disbelief in her eyes–as in mine, surprised that I had decided to walk all the way back. "Thank you, sir, thank you!" was what she said when I handed her some money for her morning coffee. But she shouldn't thank me, I thought as I smiled at her, not without awe. The money I pressed into her hand wasn't mine; it was ours, only entrusted to me to be shared–like the five fish and five loaves at the Lord's picnic.
The Lord is right: We will never have our fill until all of us–each and every one–has had ours.