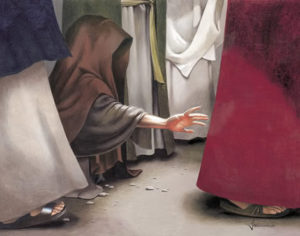 This reflection is based on Mark 5:21-43.
Today we witness two healing miracles of Jesus, one properly solicited, the other virtually stolen. The synagogue official, Jairus, worried sick over his dying daughter, pleads with the Lord to come to his home and lay his healing hands upon her that she "may get well and live." An unnamed woman with a twenty-year hemorrhage quietly pushes her way through the crowd and reaches out to touch Jesus. "If I but touch his clothes!" her simple faith tells her.
Both get their desired healing. The bleeding woman feels it almost as soon as she touches Jesus' garment. Our Lord feels it too, so much so that, to the dismay of Jairus, for whom every second understandably counts, Jesus stops in his tracks and turns around to ask his disciples who has touched him. "Are you kidding?!" his disciples reply–though not in so many words. "Are you seriously asking as we stand here pushed and shoved by this mob?"
But Jesus is serious: He wants an answer and stands his ground. Who knows how long it takes, but the woman finally steps out of the crowd and, we are told, approaches Jesus "in fear and trembling." But he only tells her, "Go in peace."
Jesus has a reason for his question: It's meant to summon the one thing this woman of faith lacks–courage. The woman walks away healed of her affliction, but also equipped with courageous faith.
Imagine, however, how Jairus' heart sinks when as he stands there enduring this delay, he hears the news that all is lost. "It's too late! Your daughter has died! Don't trouble the teacher any further." The Lord heard the news, but he also must have heard one father's heart break, for Jeus immediately gives him the same gift he has just given the woman. "Do not be afraid. Just have faith."
We know the rest of the story, but what strikes me today is the unexpected gifts that the Lord gives the woman and Jairus. Both already have faith, faith enough to approach the Lord even if in different ways: One falls on his knees in full view of the crowd to beg the Lord's help; the other hides herself in the crowd and secretly–or so she thought–reaches out to the Lord. And it is enough. All the Lord wants is faith in him; even a mere hint of it is good enough. In return, Jesus grants them the healing they desire, but he also gives them both the courage they lack.
So for me, here's the good news of today's Gospel, which is as simple as it is reassuring:
With the Lord Jesus, it matters not if you beg, steal, or borrow. Just come!