FRIENDS IN THE LORD (Mark 2:1-12):  22 February 2009 (Seventh Sunday of Ordinary Time)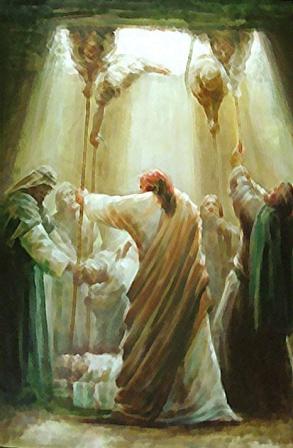 Dear Jesus,
In today's Gospel story, you healed a paralyzed man before the crowd.  For some reason though, what caught my attention was not so much the miracle you performed, but the sheer determination of the paralytic's friends to bring him to you. 
It must have been exhausting enough carrying the paralytic around.  I wonder what their first thoughts were when they first beheld the crowd that gathered around you–and blocked the way!  I'm sure they must have felt disappointed or even exasperated; maybe they even thought of going home, of postponing this task to another day.  But after the initial discouragement, the friends decided to get it done anyway.
Anyone who has attended huge gatherings knows how difficult moving through a crowd can get.  But to top it all, since the door was blocked, the friends climbed up so that they could open up the roof–risking the ire of the owner–in order to gently let their friend down right under your nose.  Small wonder that it was their faith–not the paralytic's–that moved you to perform the miracle.  After all, they clearly went the extra mile to bring their friend to you.
All this makes me think of all the people who have gone out of their way to bring me closer to you.  I'd like to take this opportunity to thank you once again for them.  Because of the effort that they have exerted–in what they've done or said, and most especially in who they have been to me–I caught a better glimpse of you and have been blessed with a greater sense of your presence and love in my life.
This gospel story also makes me think of the times when my crowded life has blocked passage to you–when my clutter of concerns and worries have kept me from approaching you and getting closer to you.  Like the paralytic's friends, I should not let any obstacle keep me from working my way towards you–and yet I realize that I have done that so often in the past.
Finally, I ask myself how I have been a "friend in the Lord" for others.  I recall the times when unlike the paralytic's friends, I have allowed myself to be discouraged and disheartened when I seemed to fail in bringing others to you:  Times when the words I preached fell short and simply scattered in the wind; times when no matter what I did, I couldn't seem to console those in mourning or no matter how I prayed, I couldn't seem to bring your healing to those who were sick–these occasions tempted me to believe less and to give up…
Today the friends of the paralyzed man are teaching me to keep the faith.  Like them, the most I can do is to help create the opportunities for people to encounter you. Lord Jesus, there will be times when they may end up right under your nose the way the paralytic did. But there will be others when the most that can happen is that they recognize you or hear your voice from a distance.  Whichever happens, the rest is up to them–and up to you.  Who knows?  After all, with you, everything is possible.  Dear Jesus, help me to remember that my work ends with opening up this possibility.  AMEN.
If you feel up to it, why don't you write a QUICK PRAYER?