"WOULD YOU REALLY FOR ME?"  (Mt 18:12-14):  11 December 2007 (Tuesday)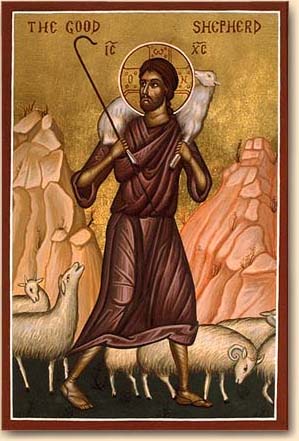 Reading:  www.nccbuscc.org/nab/121107.shtml
Whatever you do, don't fall for this trick.  In today's gospel, the Lord pulls a fast one on his disciples. He asks them:  "What is your opinion? If a man has a hundred sheep and one of them goes astray, will he not leave the ninety-nine in the hills and go in search of the stray?"  
Most of us, having heard this saying of our Lord countless of times before, would precisely fall for the trick and instinctively say, "Yes, of course!"
But is that what we really think?  Should we really do that?  When you think about it, the more prudent person should object and say, "Wait a second!  Leave 99 to search for 1 and risk losing the 99?  No way!"  Only a crazy shepherd would do that–or one who, for some strange reason, believes that the one lost sheep is really more valuable than the 99.
But the Lord seems to be telling us just that.  If we get lost, he values us so much that he would be willing to leave the 99 others.  So, my question to him is:  "Really?  Would you really do that for me?"
Let's face it:  Of all people, I know my sins and my shortcomings best.  More than anyone else, I know my weaknesses as well as–yes–my wickedness.  Why would the Lord risk losing 99 others just for me?  Deep inside me, I suspect and fear that I'm not worth it.  But the problem is, for as long as we don't believe that the Lord would be willing to leave behind the 99 others in search of us, then we haven't really been able to accept his love for us.
Another way to interpret our Lord's words is to think of ourselves not so much as one lost sheep, but as an entire flock of sheep.  In a sense, we can say that each of us has different selves.  Many times we experience within ourselves layers upon layers of desires–sometimes, even conflicting desires.  Some of these are good desires—they come from and lead us to the Lord.  Others are harmful:  They are products of the noise of the world, and if we follow them, they lead us only away from God and ourselves.
In a sense, therefore, each of us, has a flock of sheep within, and once in a while one of these strays, sometimes near but also sometimes far from the flock, as a result of our sins or simply because of our needs.  A writer whose name I forget has an unforgettable phrase for it: "the fierceness of our needs."  Those of us who have experienced enough of life and enough of ourselves understand that phrase all too well–when in spite of ourselves, againt our better judgment, we end up doing things that harm us.  Our needs, when unrestrained, are the wolves that scatter our inner flock and harm our sheep.
Today the Lord assures us that he loves and values each of the sheep within us, each of our selves–even and especially the part of ourselves that may be lost.  The problem is, we don't really believe that.  We ourselves often reject these parts of ourselves, and as a result, we do not allow him to love us completely.  Maybe one way to deeper self-acceptance is precisely to learn to listen to the Shepherd's voice, which seeks and summons every part of ourselves to return to him.
Let that be our prayer today:  that we can let the Lord gather every scattered sheep within us, so that our selves may one day become one flock that belongs entirely to Him.
(image: polymer.bu.edu)
Note:  Some years ago I wrote a "religious torch song" called "Gather Me" with Ginny Pantig, who wrote the music and eventually recorded the song.  It's a prayer to the Good Shepherd and speaks of this flock of scattered sheep in each one.   I've uploaded the song and provided the lyrics here.
GATHER ME
(PRAYER TO THE GOOD SHEPHERD)
Gather me
Every scattered sheep in me
I'd rather be
Waiting here for Your voice
I've seen the life outdoors
I think it's time to make a choice
There's no other course
Only Yours
Shelter me
Every shattered self in me
Better be waiting here for Your touch
I've been out there in the rain
I've hurt myself far too much
Come and ease my pain
Again
Such a weary world
All its ways gone wild
Save this child from the storm
I've been tossed, I've been lost, I've been broken
All my wounded days
All the bitter tears
I have shed for all these years
But You were there all my life.
Gather me, shelter me
Safe in Your arms
So please gather me
The scattered laughter in me
Only You can make me whole
Come and ease my battered soul
Shepherd me
Come and lead me home to you