Think about your prayer experience just now.
What struck you or disturbed you?
Did any detail in the story call your attention in a new way?
Focusing your eyes on Jesus, did you learn something new about him?
From our reflections today, we learn three important things about Jesus.
ELDER BROTHER
"My God, my God, why have You abandoned me?"
This prayer of Jesus on the cross, a quote from Psalm 22, was also a cry of pain and bewilderment from a dying man who had given up and lost everything–including any sense of intimacy with his God.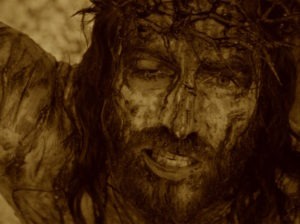 And Jesus went all that way because he is our elder brother who left home–and no stone unturned–in order to bring us, his lost brothers and sisters, home. It is up to us to follow him home or not.
Will you?
OUTCAST
Jesus died the ultimate outcast–rejected by his people, abandoned by his disciples, and betrayed by his friends.
Like the scapegoat of Yom Kippur, our Lord allowed himself to be cast out, dying a criminal's death outside the city gate.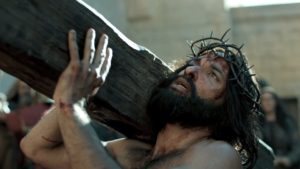 These words of the prophet Isaiah, referring to the mysterious Suffering Servant, are hauntingly applicable to Jesus (Isaiah 53):
[3] He was despised and rejected by men;
a man of sorrows, and acquainted with grief;
and as one from whom men hide their faces
he was despised, and we esteemed him not.
[5] But he was wounded for our transgressions,
he was bruised for our iniquities;
upon him was the chastisement that made us whole,
and with his stripes we are healed.
[8] By oppression and judgment he was taken away;
and as for his generation, who considered
that he was cut off out of the land of the living,
stricken for the transgression of my people?
He has taken away the burden of our sins. It is up to us whether or not we will avail of the freedom he has won for us.
Will you?
But there is more…
Image sources: "Passion of the Christ" (2004)
"Killing Jesus" (2015)