This homily, which is based on Luke 2:1-14, was delivered for the Christmas Midnight Mass at the Cor Jesu at the Sacred Heart School – Ateneo de Cebu on 24 December 2019.
This Christmas eve we are reminded of a familiar story. We've heard this story countless of times before, but the story never gets old. It is always new. If we let it, it never fails to touch our hearts because it is so simple yet so beautiful.
We've met all its characters before, but each time we meet them again, if we let them, we end up loving them more.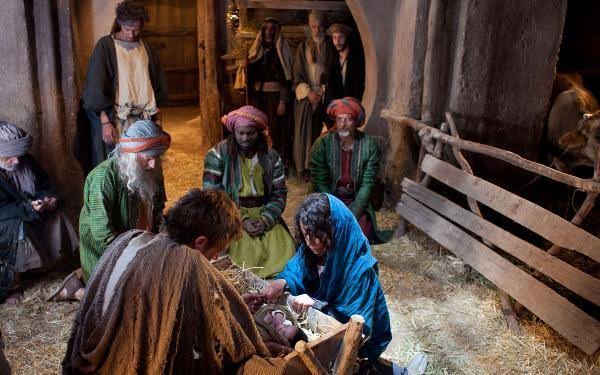 On that very first Christmas night, a young Jewish girl found herself in a stable in a strange crowded city, studying the face of her newborn baby. This girl Mary sat there, exhausted and shaken by the delivery of her firstborn, not to mention the long and stressful travel of the last few days. She pondered these recent life-altering events in her life, still not quite understanding, but holding each and every moment in her heart. She is frightened, yes–but fearless.
Standing over her was her husband Joseph. He didn't know whether to feel more relieved or more astounded as he gazed upon the baby that the angel in his dream had asked him to make his own. Against every reason and perhaps against every advice, he had decided to obey, allowing God to change his dreams and his life. He nursed many unanswered questions still, and like Mary, he too was frightened by this great new responsibility. But he was determined to keep the faith and to be strong for his family.
Surrounding them was an assorted group of shepherds, still rubbing the sleep off their eyes. They had hardly recovered from their astonishing vision of angels that had intruded into their quiet night, but more vividly than ever did they recall the angel announcing to them that even more astonishing "news of great joy": This night– yes, this night here and now,–their savior had been born–not just for anyone else, but as the angel had said explicitly, for them.
And of course, in their very midst lay the babe in the manger, wrapped in the foretold swaddling clothes. Here was the promised Christ, the long-awaited Savior.
There will be more visitors in the days to come, including more angels in Joseph's dream and those star-gazing travellers from the East, bearing their exotic gifts. And there will be fearful and frantic flights from a jealous and murderous king.
But just for now, just for this night, we are invited to bask in this peaceful Christmas scene: The babe looking up into the faces of Mary and Joseph, and holding his very first audience with ordinary folks who smelled of sheep. He himself smelled of the oxen, donkeys, and goats that surrounded him! It is the most silent of nights even if all the heavens have burst into song.
What could this lovely and familiar Christmas scene mean for us tonight?
When you think about it, there is something we know today that the shepherds did not know then, something we understand now that not even Mary and Joseph fully understood at the time. Of course they were all aware that with them was the Son of the Most High. What they did not realize was that this babe in the manger was so much more: This child was God Himself! In this infant, God Himself had gathered His infinite vastness in order to fit and enter into our space and time.
And why would God do such a thing, and what for? Because God loves us so much that He wants to be one of us and to be near us.
There is a little-known account of the first Christmas where the angel appeared to the shepherds simply saying: "Now hear this!" Much to the bewilderment of the shepherds, all the angel kept doing was to repeat what sounded like exactly the same words: "Now hear this!"
Tired of the suspense, one of the shepherds finally dared to ask: "Yes? Hear what?" But the angel only repeated the same words. And the angel kept repeating those words until finally, one smart shepherd figured out the mysterious message.
The angel did not mean "Now hear this!" as in "Now, listen to this." What the angel was trying to tell them was: Now, not later. Here, not there. This, not that."
"NOW. HERE. THIS."
Summed up in those three words is the very heart of Christmas, the very meaning of the mystery of the Incarnation: NOW. HERE. THIS. Meaning: This is God right here and right now.
This is what God has done at Christmas: To be a this here and now.
By doing so, God is teaching us and reminding us something very valuable about love, something we so often forget these days. Real love is not just a feeling we experience because as we know, feelings can come and go. Love rather is about making an effort to share your space and spend your time with those we love. Love is about making room in the inns of our hearts for those we hold dear.
Contrary to what we often mistake it for, therefore, love is not just about psychology. Rather it is about geography and history. Love is about making room in your life for those you love and creating memories with them.
We somehow already get this. That's why we make a special effort at Christmas to "share space and spend time" with family and friends. How much we share the same space and time–that's the true measure of love.
But what about the rest of the year?
Sadly, we forget this meaning of love. We forget that the true measure of love is the amount of space and time we actually spend with those we claim to love. True love entails actually being present and actually being attentive to the people we consider significant in our lives. But unfortunately, in this digital era that we live in, personal presence and attentiveness are both fast becoming endangered species.
A couple of months ago, a friend of mine called my attention to a Spanish commercial for a brand of liquor, Ruavieja. It raises some very good questions about the way we are living our lives and the way we are loving the people we claim to love.
The award-winning commercial features a number of interviews where people are asked about their most significant relationships, as well as how old they are, and how often they see each other. Then they are told that if they wanted to, a simple algorithm could be used to compute how much time they have left to spend for one another before (statistically) one of them would die.
The interviewees are stunned because the results reveal to them a heartbreaking truth: Given their technology-embedded lifestyles, they have been sharing far too little space and spending much too little time with the persons whom they claim are important and dear to them. If they simply go on acting the way they've been acting, they would have very few days left together.
This powerful and eye-opening commercial is but a reminder of the Christmas message today: that if we want to show just how strongly and deeply we love a person, we have to be willing to do what God has done and demonstrated for us at Christmas — God Who is Word made flesh. We have to decide to be willing to be present and attentive to those we love—not virtually–but like God, in the flesh, not at arms length, but like the Baby Jesus in the manger, up close and face to face.
We all of us have to be willing to share our space and spend our time with the people we love. Like God, we have to be willing to be this for them here and now.