I found out about Benny and Noey long before I should.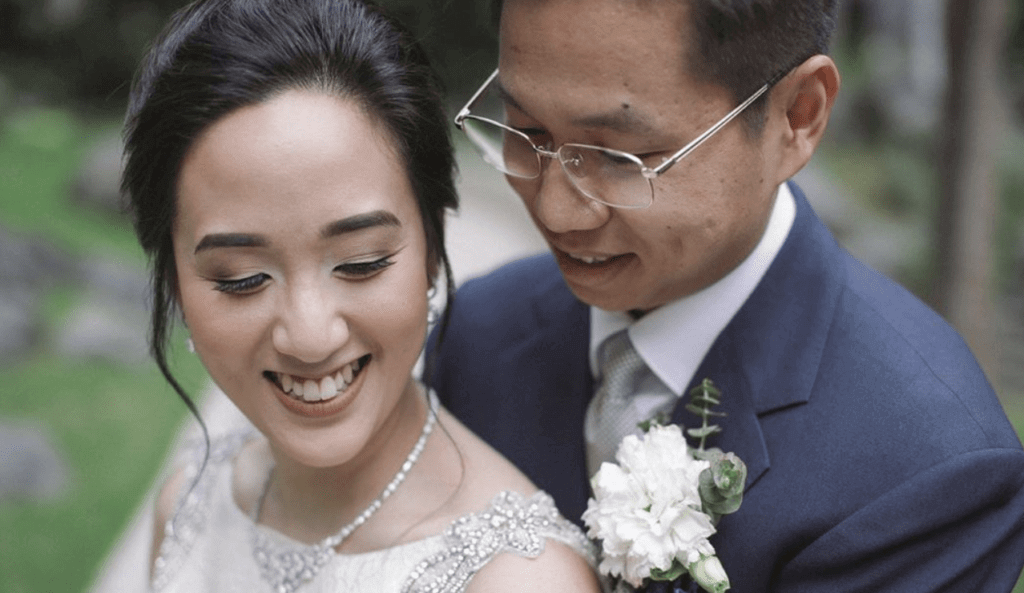 Being good friends with Noey's parents, Jeff and Wendy, I would get constant updates about their children. Once I was staying with them in Vancouver, and they mentioned that Noey was seeing someone named Benny—but they swore me to secrecy.

But as it turned out, Noey also found out that I knew about this long before she should. After repeatedly reminding me about strict confidentiality, Wendy handed me her phone so I could say hello to Noey—and of course the first thing I did was slip and ask about Benny.
Picture this if you can: Jeff and Wendy in the background, jumping and waving frantically, and performing synchronized facepalms—in complete shock but also in complete silence so that their daughter wouldn't hear them.

Needless to say, they had a lot of explaining to do afterwards—and so did I!

Anyway, to prepare for this wedding, I met up with the legitimate sources and got the insider story from Benny and Noey themselves. It is their story we celebrate today, and it is there that we may catch a glimpse of how our Lord moves in our lives.

It was four years ago when Benny and Noey met through their Aunty Cheryl. For their first date, Noey agreed to meet at Starbucks after work at 5:30 in the afternoon. Meeting up for coffee was, as she explained to her mother Wendy, a deliberate "worst-scenario" strategy. You know, just in case Benny turned out to be the blind date from hell, Noey would only have to endure an hour of his company and then come up with an easy excuse about a dinner commitment. However, almost four hours later, at about 9 pm, Wendy had to call up Noey to check if she had any plans to leave Starbucks and go home.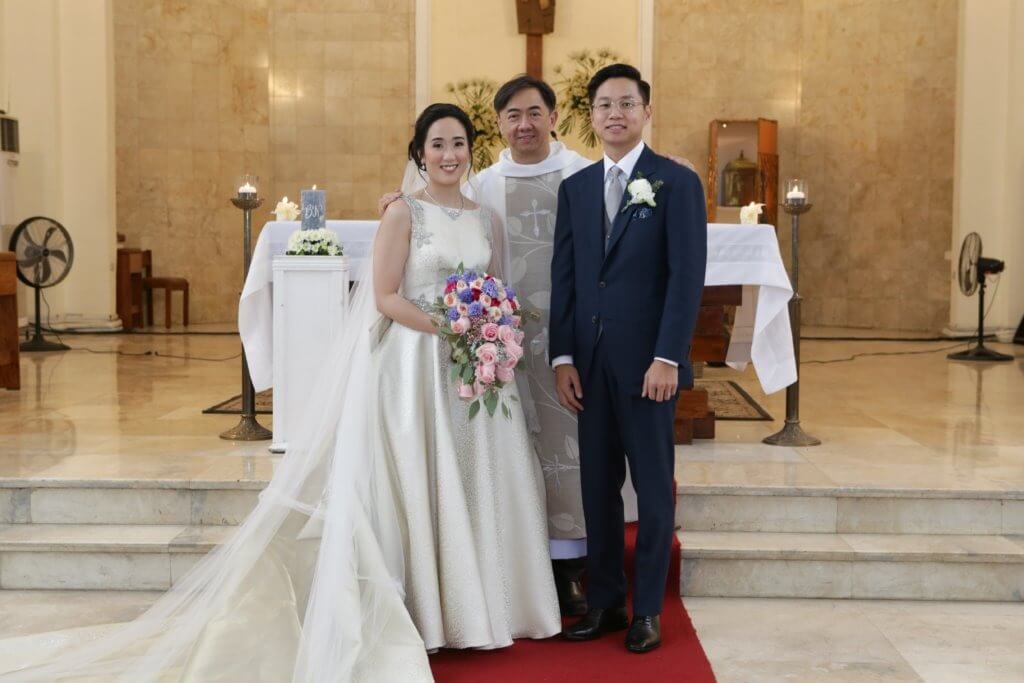 I think we can say that Benny and Noey hit it off at first sight and were off to a good start—except for two problems.

First, Noey has always claimed that Xaverians have generally never been her type—this despite having Xaverians for both her father and brother. But as it turned out, Benny broke Noey's stereotype of a Xaverian. Perhaps it also helped that as many people have observed, Benny has similarities with Noey's dad, not just in looks, but also in personality.

Secondly, that first time they met, Benny wasn't really looking for a serious relationship. He felt pretty content with the single life. But as it turned out for him too, meeting Noey changed all that. Ironically, what first made Benny sit up and notice was–of all things–ICA. Noey at the time had just stopped teaching in ICA, and Benny happened to be coaching an Ultimate Frisbee team just as his dad Benito had coached the Philippine table tennis team before. Incidentally, Benny's sister, Aileesa, also used to teach in ICA and even his mom, Huya, taught briefly after graduating from college. For Benny, there's something noble and attractive about teachers.

Soon after that first date, Noey's folks traveled for six weeks, which left the coast suddenly and conveniently clear for our couple. Both foodies and film buffs, they went out on countless ramen and movie dates. All those dates allowed them to get to know each other better, and to their delight, they discovered that they had so many common interests. They both enjoy binge-watching TV shows, watching movies, having weekly massages, and just going out for coffee, ramen, or pho. It's this simplicity that endears Noey most to Benny, her lack of drama or need for grand gestures.

More importantly, Noey's orderliness balances his sometimes "anything-goes" tendencies. But not once has Noey restricted him from doing the things he loves: be it sports, or hanging out with friends or just enjoying his own "me time."

All this time spent together nursed their relationship and allowed them best of all to just spend time together, almost without need for any activity. They could just enjoy each other's company, even each other's silence, without feeling any pressure even to make conversation.

As their closest friends know, Benny and Noey are self-confessed introverts. So in a world that constantly demands extroversion, the time they spend together doing nothing and just being with each other has become a much-valued time to withdraw from the outside world and simply to recharge. While some couples are uncomfortable with such lulls and silences in a relationship, Benny and Noey eagerly welcome and embrace these opportunities fully. It is their own private "they" time.

Such a habit of spending quality time together has just about made everything easier in their relationship, and even getting over the occasional friction has never been too difficult.

The decision to marry Noey was, for Benny, a no-brainer, but when asked why, Benny said: It's like trying to explain why he breathes, why he eats, or why he sleeps. Noey has become such a huge part of his life now that he cannot even recall or imagine his life before her. Everything just seemed better since he met her, and he still wonders what he ever did to deserve being with such a beautiful person.
As for Noey: The moment she knew that Benny was the right person happened after her emergency appendectomy back in 2014. Benny showed up in the hospital as soon as he found out, and he sat beside her patiently, comforting him as best he could as she was in tears because she was deathly terrified of needles. When Noey woke up from the procedure the next morning, he was the first person she laid her eyes on–and that was when she knew. She knew then that Benny would always be the person that she could lean on for strength and support, someone who would without hesitation be there for her in her times of need.
In keeping with her dislike of grand gestures, Benny proposed to Noey on one of his visits, hanging out and just watching TV. His proposal was everything their relationship is: private, simple, and meaningful. Before that while she was at her yoga class, Benny arranged to meet with her parents, Jeff and Wendy, to formally ask for her hand–and that's how we all ended up here this afternoon.

Benny and Noey, in a little while, you will seal your love for one another before God's eyes and before ours. Surrounded by the people who will always love you, you have the assurance of our prayers and constant support. We pray to God to stretch out His hand over you both to bless you and your love. We join you in thanking God for this precious gift of love that He has given you. It is a gift that He has entrusted to you to nurse and to hold. Cultivate it together so that as it bears fruit, we will always be there celebrating this love with you.