This homily is based on Luke 2:22-40 on the Feast of the Holy Family.
I'm reading Fr. Greg Boyle's new book, Barking to the Choir: The Power of Radical Kinship. Like his first book, every single chapter leaves me in tears.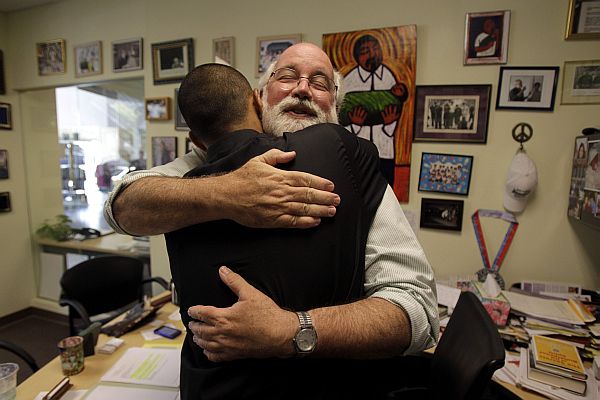 Fr. Greg Boyle is a Jesuit who runs Homeboy Industries, the biggest gang rehab center in Los Angeles, if not all of the United States. He started it years ago because as the parish priest of Dolores Mission, he realized the need to handhold gang members if you want any chance of rehabilitation for them.
Homeboy's tagline says it all: "Nothing stops a bullet like a job!" And that's what he's been working on: Finding and creating jobs for gang members who need a second chance to step out of their lives of violence. But more than that, he also gives them the loving family most of them never really had. Many of these former gang members look up to G, as Fr. Greg is fondly called, and consider him a true father.
Fr. Greg's love for the homies is evident in the affectionate and reverent way he tells their stories–and he tells many heartbreaking stories. If there is one thread that goes through these stories, it is how these homies have themselves been victims–of their own families run by parents who are broken and incapable of parenting.
One particularly moving story that Fr. Greg tells involves Sergio, a young tattooed man who joined a gang at twelve. His mother used to beat him so badly that he had to wear three shirts to school to hide his wounds. His family background is so broken that one wonders how someone like that can crawl out of the ruins of a broken home and broken heart–and actually survive.
But what is remarkable is that even if our own biological families are dysfunctional, miracles of healing and redemption can happen as long as we find any other family that is nurturing and loving–the way Sergio has found it in Homeboy Industries.
I will let Sergio tell his story in his own voice, as recounted by Fr. Greg:
"I guess you could say my mom and me, well, we didn't get along so good. I think I was six when she looked at me and said, 'Why don'tcha just kill yourself? You're such a burden to me'."
"My mom beat me every single day of my elementary school years, with things you could imagine and a lotta things you couldn't. Every day my back was bloodied and scarred. In fact, I had to wear three T-shirts to school each day. The first one cuz the blood would seep through. The second cuz you could still see it. Finally, with the third T-shirt, you couldn't see no blood. Kids at school would make fun of me. "Hey fool…. It's a hundred degrees…. Why ya wearin' three T-shirts?'"
Then he continued, swallowing back his tears: "I wore three T-shirts well into my adult years, cuz I was ashamed of my wounds. I didn't want no one to see 'em. But now, I welcome my wounds. I run my fingers over my scars. My wounds are my friends. After all, how can I help others to heal if I don't welcome my own wounds?"
And as Fr. Greg wrote: "Awe came upon everyone."
Watch this Anderson Cooper's  feature on Fr. Greg and Homeboy Industries: